Look no further than Belfast City for the best summer festivals and biggest music talent in any of the five outdoor concert venues we've listed below.
One of the best things about Belfast is its outdoor concerts and music festivals which take place across the entire city. Tens of thousands of people come together for music of all kinds in one memorable night.
Some of the world's biggest and best artists have graced the best outdoor venues that Belfast has to offer, and there are many among them.
Here are the top five outdoor concert venues in Belfast.
5. Botanic Gardens – for the up-and-comer
Housed in the Queen's Quarter and directly next to the Queen's University, Botanic Gardens is one of the best parks in Belfast and has developed into one of the city's best outdoor concert venues.
The park now hosts the newly established 'Live at Botanic Gardens' festival, which debuted in the summer of 2019 with five live shows.
Van Morrison headlined a superb gig at the park after one of Ireland's best and most popular bands, Picture This, took over South Belfast with two remarkable shows.
The festival will only improve so make sure to keep an eye out for 2020 events and experience one of the best outdoor concert venues Belfast has to offer us.
Address: College Park, Botanic Avenue, Belfast BT7 1LP
4. Falls Park – for the biggest names in music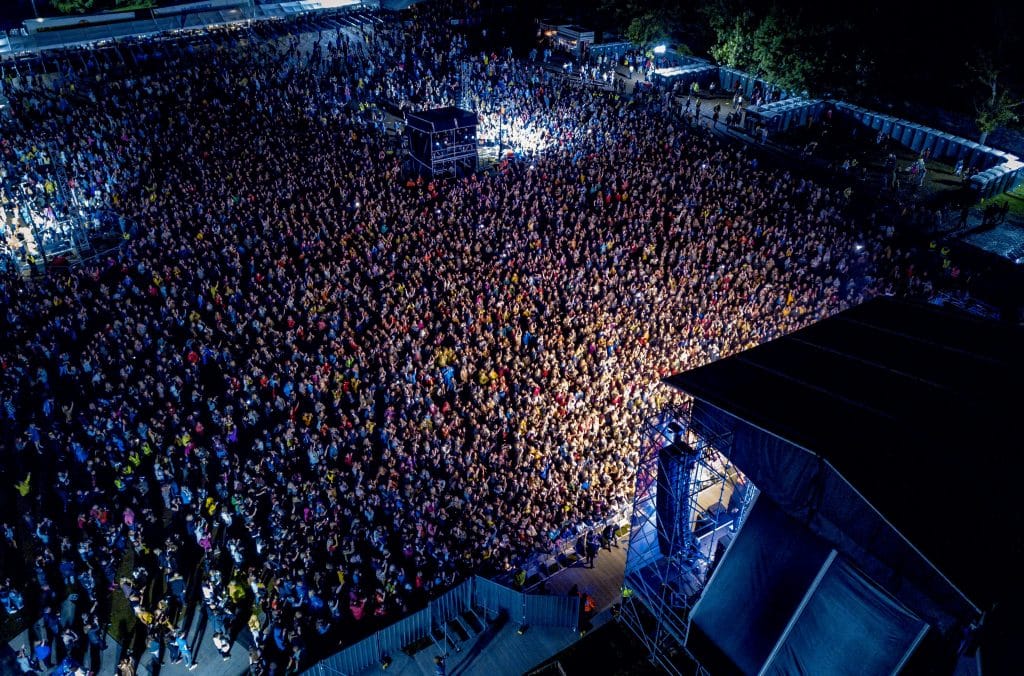 The Falls Park has emerged in recent years to become one of the best outdoor concert venues in Belfast, thanks to the incredible success of Féile an Phobail.
The Falls Park Féile concerts began in a tent and hosted memorable concerts such as home-grown band The Coronas and Kaiser Chiefs.
Recent years have seen a switch to a huge open outdoor space and has since hosted some incredible nights with Boyzone, Olly Murs, and the Wolfe Tones.
There's plenty of food and drink on offer around the venue, and with a capacity of 10,000, it gives the traditional outdoor venues a run for their money.
Address: Belfast BT12 6EQ
3. Custom House Square – for the electric atmosphere
Situated in Belfast City Centre, Custom House Square provides an ideal setting for an outdoor concert in Belfast. The Albert Memorial Clock greets you as you enter and a 360° swoop of the venue will show you fancy apartment blocks, the Custom House, and high-rise offices.
Stylised as CHSq, Custom House Square's music festival has run since 2017 and previously hosted Belsonic events since 2014.
With a capacity crowd of 5,000, Custom House Square is the perfect size for a concert venue. The area is spacious and the crowd provides an electric atmosphere which makes for a memorable evening.
The venue has proved its worth over recent years, as it has headlined some of Ireland's, and the world's, best talent. George Ezra, Gerry Cinnamon, Walking on Cars, Kodaline, and Lewis Capaldi have all graced this stage.
Address: Custom House Square, Belfast, BT1 3ED
2. Ormeau Park – for the stellar lineup
Ormeau Park is the home of Belfast's premiere music festival, Belsonic. Since 2017, Ormeau Park has been an incredible venue for outdoor concerts and has produced some of the best nights in recent memory.
Just this summer witnessed Lewis Capaldi and the Killers in one night, while Green Day, The Script, Martin Garrix, Jess Glynne, and George Ezra have all appeared in the iconic park.
2020 is already stacked with the legendary Iron Maiden and Lionel Ritchie lined up. Lewis Capaldi is pencilled in for a highly anticipated return to headline his gig, too!
The spacious park caters for tens of thousands of fans and provides a truly electric atmosphere. The River Lagan presents a stunning backdrop for your walk home as you reminisce about the memorable night that just passed.
Address: Ormeau Rd, Belfast BT7 3GG
1. Boucher Playing Fields – for the ultimate outdoor concert
Based on the Boucher Road, the iconic Boucher Playing Fields have hosted some of the best concerts Belfast has ever seen and is undoubtedly Belfast's best outdoor concert venue.
Hosting the annual summer Belfast Vital festival (formerly Tennent's Vital), the Fields have witnessed truly world-class acts; Kasabian, The Killers, Snow Patrol, Kings of Leon, Foo Fighters, and Eminem to name a few.
They convert the numerous football pitches into one, huge outdoor venue, flanked by a range of food and drinks options and a domineering stage that toasts the 60,000 strong capacity crowd.
For a taste of Belfast's best outdoor venue, look no further than the Boucher Playing Fields and be one of the many thousands who make the trek every summer.
Address: Boucher Rd, Belfast BT12 6EU
There is no doubt that Belfast is one of the Emerald Isle's best locations for live outdoor concerts. With the world's biggest acts coming back year after year, book your tickets and experience an unforgettable night in any of these five outdoor concert venues.