Hosting a dinner party and fancy some inspiration from your ancestors? Get inspired with the top 5 oldest Irish recipes that have withstood the test of time.
Next month, St. Patrick's Day will grace our calendars once again. And while many will spend the day consuming the quintessential Irish beverage (Guinness), those who prefer a more solid form of sustenance can indulge in the best traditional Irish dishes. What better way to celebrate this day of Irish culture than by trying some of the oldest Irish recipes?
Even if you have Irish heritage but are no longer based on the Emerald Isle, you can still get a taste of home by cooking up a green storm in the kitchen. Here are five of the oldest Irish recipes you need to try.
Ireland Before You Die's top tips for trying the oldest Irish recipes
When making the oldest Irish recipes, do your research and look into the likes of colcannon, stew or boxty. When making these, use fresh and local ingredients for the best taste.
To add to your appreciation of these dishes, you could learn about the historical context of the recipes you are making, delving into their origins and cultural significance.
If you don't to make the foods, head out to a local market or restaurant. Irish stew in particular with a pint of Guinness is always a good plan.
Keep it as authentic as possible – use proper Irish cooking methods, and also use proper authentic cookware, such as a cast-iron skillet or griddle plan when making your food.
Lastly, enjoy the oldest Irish recipes with others. Invite your friends or family round to your home to share this food with you and inspire them to make their own mix of the oldest Irish recipes.
5. Buttermilk – an ancient Irish favourite
When you think of Irish cuisine, you'll probably think of potatoes first and foremost. But while we are fond of our spuds here, there was a time when Irish people hadn't even heard of them – St. Patrick included. Believe it or not, potatoes were a Peruvian import and didn't make their way to Irish soil until the late 1600s.
"WHAT!" we hear you cry. "But what did Irish people eat before potatoes?" The answer is a heck of a lot of dairy. And one of their favourite recipes was buttermilk. They'd even serve this as a swanky drink to guests, and it would go down a treat!
You can buy buttermilk at most supermarkets, but if you need some in a hurry, check out this version of one of the oldest Irish recipes below.
Method
Pour 225g milk into a jug. Stir in either two tablespoons of freshly squeezed lemon juice or white vinegar (the acidity of these ingredients is key). Let the mixture sit for a half an hour unrefrigerated until the milk begins to curdle.
Use the buttermilk right away, or store it in the fridge for up to three days.
RELATED: For more ideas, see our article on the top 5 delicious Irish autumn recipes you need to try
4. Traditional Irish stew – our national dish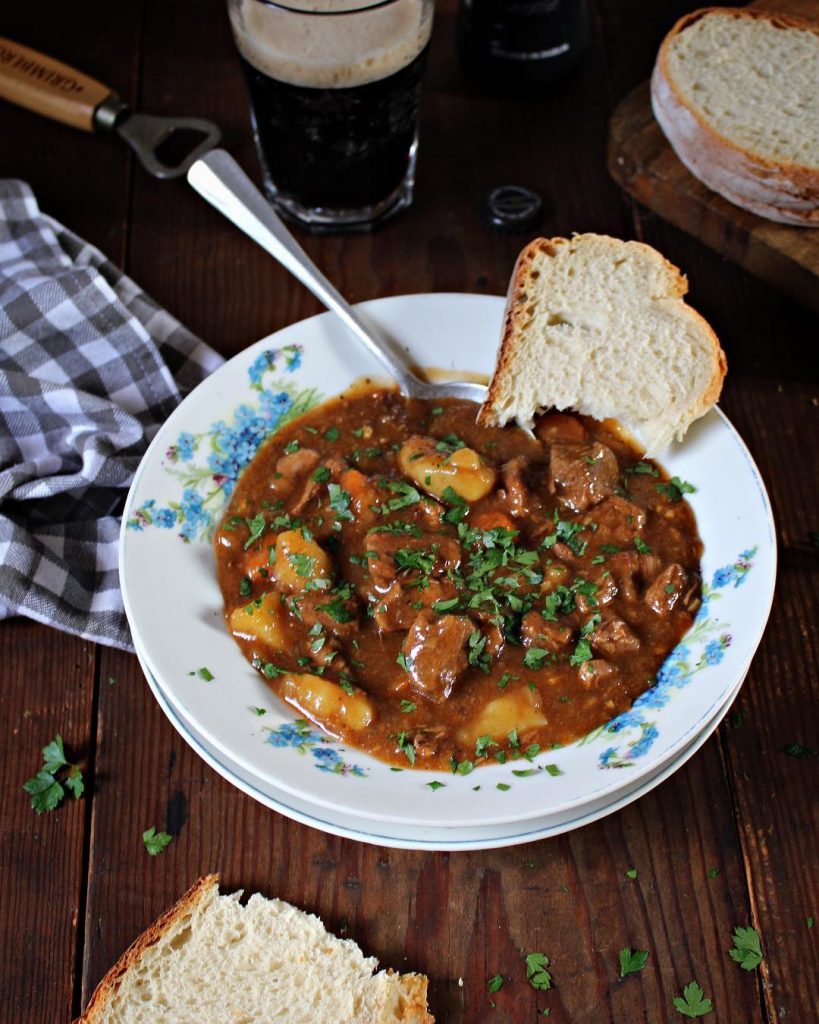 This recipe has been so beloved by generations of Irish people that it has earned the title of our 'national dish'. While a favourite on St. Patrick's Day, this tasty stew is far too good to only be eaten one day a year. It doesn't take long to put together, and it's an ideal winter warmer.
You can find a great recipe for this traditional dish here – but feel free to add more potato to the mix. If you're in a rush, store-bought stock works almost as well.
There are also many kid-friendly recipes for Irish stew, so all of the family can get involved!
READ MORE: See Ireland Before You Die's article on 10 amazing Irish foods and dishes you need to try
3. Colcannon – comfort food at its finest
The Irish have had two favourite vegetables for centuries: potatoes and cabbage. And this recipe makes good use of both of them.
There's an old tradition associated with this dish that you'll hear repeated by many an Irish elder. It was traditional to hide a ring inside a bowl of colcannon that is to be served at a large gathering or celebration.
Each guest or family member would take a spoonful of the stuff, and whoever found the ring was said to be the next to marry. Whether you're superstitious or not, it's a tasty treat.
Method
Tip 1kg well-scrubbed potatoes into a water-filled saucepan. Bring to a boil. Simmer for 15 minutes until the flesh is tender when pierced. Meanwhile, heat 25g butter in a pan. Fry 140g finely chopped bits of bacon and half a shredded Savoy cabbage for five minutes.
Drain the potatoes and peel while they remain hot. Mash until smooth. Heat 150g double cream and 75g butter until almost boiling. Add in the potato, cabbage, and bacon. Mix together and serve.
2. Boiled bacon and cabbage – for a filling traditional main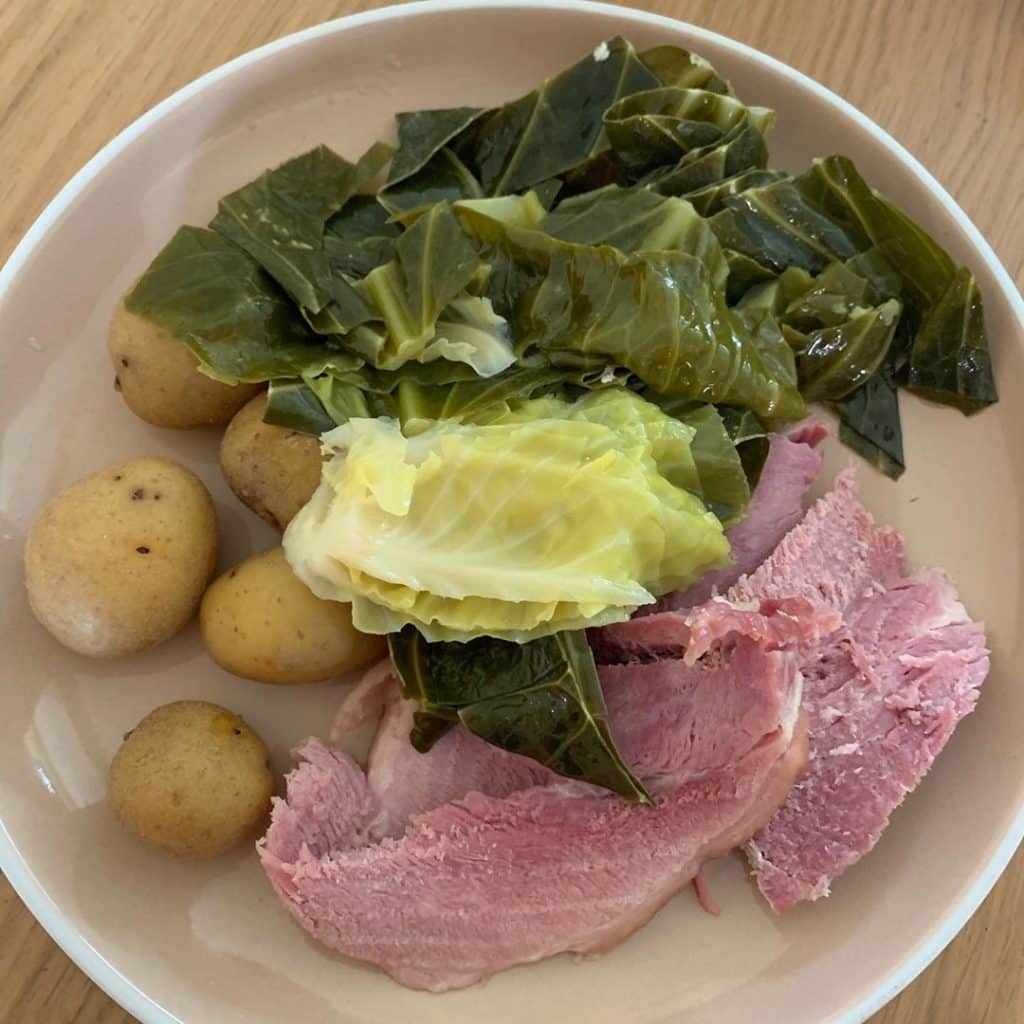 For those who enjoy meat, there's no substitute for traditional Irish boiled bacon and cabbage. Traditionally served with mash or champ (if you've not heard of it, you should get up to speed), this dish is a guest-pleaser and a filling main for any Irish dinner party.
Check out an easy and delicious recipe here.
1. Irish soda bread – an Irish granny's go-to
A staple in most Irish grannies' kitchens and of the oldest Irish recipes around, traditional Irish soda bread has withstood the test of time. After generations, it remains a favourite in Irish homes to this day. It requires no yeast, which makes it pretty easy to make, and there are tons of variations to the traditional recipe you can make to spice it up.
Method
Mix 400g all-purpose flour, one teaspoon baking soda, and 220g buttermilk for two to three minutes. Knead with hands for 30 seconds.
Place dough on a parchment-lined baking tray and bake at 200°C for 40 to 45 minutes. When removed, allow to completely cool before cutting.
READ: An incredible Irish soda bread recipe that will impress anyone
Your questions answered about the oldest Irish recipes
If you still have some outstanding questions, then you have come to the right place. In this section, we have compiled the most frequently asked questions about the oldest Irish recipes from our readers and from online.
What foods did ancient Irish eat?
The main parts of the early Irish diet included milk, butter, buttermilk and cheese. Potatoes arrived in the 1600s.
What is the most classic Irish dish?
Some of the most classic Irish dishes include soda bread, Irish stew, an Ulster fry, Colcannon, potato bread and barmbrack.
What was a traditional Irish meal?
Colcannon was a traditional Irish meal. This includes creamy mashed potatoes with cabbage.
What did the Irish eat in the 1800s?
In the 1800s, wealthy people in Ireland would have eaten meat, fish, grain-based foods, dairy products, and fruit and vegetables.
MORE IB4UD ARTICLES ON IRISH RECIPES AND FOODS
9 traditional Irish breads you need to taste
How to make good feckin' banana bread (Irish recipe)
Video: How to make the best Irish Wheaten bread
10 weird Irish foods that everyone should try at least once
This chocolate Guinness cake recipe may be the best dessert ever