A nation of storytellers, Ireland is known for its spooky fables. Here are the five most terrifying ghost stories in Ireland, ranked.
As it drifts into winter, Ireland often becomes a place of twilight with its quickly shortening days and long dark nights. The low sunlight, when it does appear through clouded skies, casts long shadows.
The darkening atmosphere across the country has influenced folk superstitions, ghost stories, and many famous Irish Gothic writers. We are known for revealing tales of vampires, malevolent ghosts, and paranormal occurrences.
Marion McGarry highlights a selection of Irish ghostly stories perfect for this time of year. Some authentic, some rooted in folklore, but all undoubtedly scary.
5. The haunted cottage of Cooneen, Co. Fermanagh – the site of paranormal activity
The first on our list of most terrifying ghost stories in Ireland takes place in Fermanagh.
In the area of Cooneen, near the Fermanagh/Tyrone border, sits an isolated, abandoned cottage. In 1911, this was the home of the Murphy family, who were apparently victims of poltergeist activity.
Mrs Murphy was a widow who, along with her children, began to hear mysterious noises at night: knocks on the door, footsteps in the empty loft, and unexplained creaks and groans.
Then, other strange occurrences began, such as plates travelling across tables seemingly on their own and bedclothes moving around in empty beds.
Soon, more extreme and frequent paranormal activity began to occur, with pots and pans thrown violently against the walls and furniture elevated from the ground.
A coldness permeated the cottage as mysterious shapes appeared and disappeared through the walls. The house became the talk of the area, and neighbours, local clergymen, and a local MP visited, becoming shocked witnesses to the strange events.
A Catholic priest from nearby Maguiresbridge performed two exorcisms to absolutely no avail. The haunting continued along with the family's terror.
Soon, rumours circulated that the family had somehow brought the demonic activity on themselves.
With no local support and now in fear of their lives, the Murphys emigrated to America in 1913. But the story did not end there as, apparently, the poltergeist followed them.
Their cottage in Cooneen, now a ruin, was never lived in again. Today, visitors say it retains an oppressive atmosphere.
4. A haunted mansion in Sligo – home to Egyptian artefacts
On the Coolera Peninsula in Sligo, William Phibbs built a stately mansion known variously as Seafield or Lisheen House.
The mansion overlooked the sea, and with over 20 rooms, it stood out as an opulent symbol built at the height of the Great Famine by a man who was a cruel and unsympathetic landlord.
By the early 20th-century, his descendent Owen Phibbs housed a collection of Egyptian artefacts, including mummies, at the house. Seemingly this stimulated the activity of a violent poltergeist.
According to some servants, the house often shook, and objects would smash into the walls at random.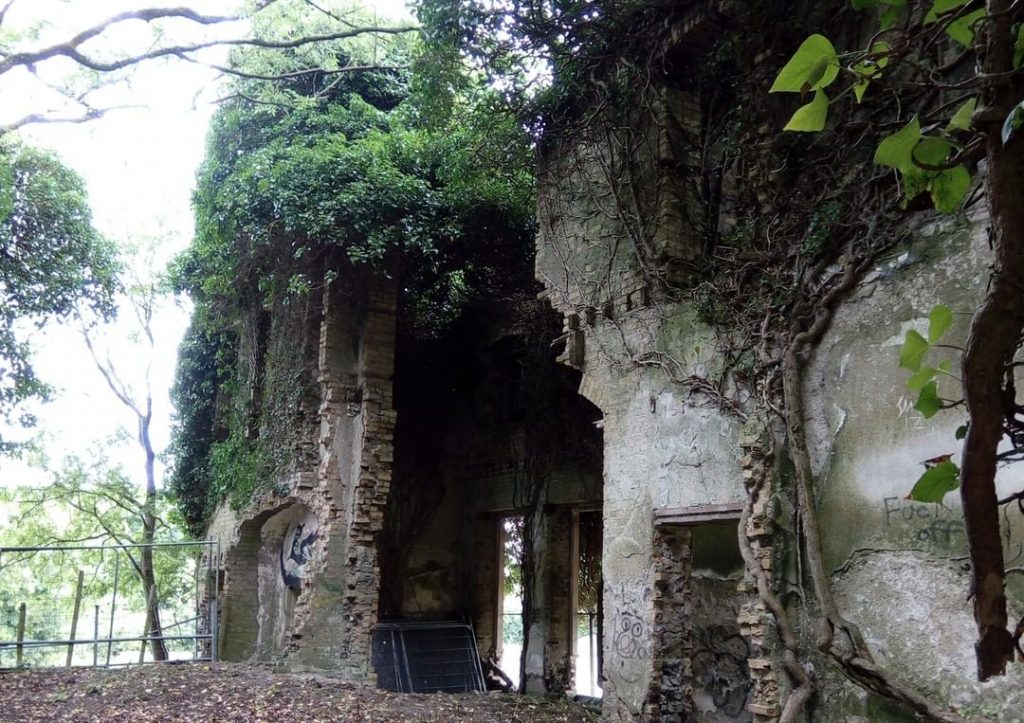 A ghostly horse-drawn coach rumbled up the avenue at night only to disappear at the entrance door. Several exorcisms were conducted at the house, yet the activity did not cease.
The Phibbs family strongly denied the haunting, as it became difficult to retain servants, and no one knows what prompted them to leave abruptly in 1938, never to return.
Agents organized for all the house contents, even the roof, to be sold. It is now a ruin, covered in wild Atlantic ivy, occasionally visited by those interested in its paranormal history.
3. A vampire in Co. Derry – one of the most terrifying ghost stories in Ireland
In Derry, in a district known as Slaughtaverty, you can find a grassy mound called O'Cathain's Dolmen. Marked by a single thorn tree, it is said that a vampire is contained within it.
In fifth-century Derry, a chieftain known as Abhartach was notorious for his vindictiveness and cruelty towards his own tribe. He had a strange deformed appearance, and rumours abounded that he was an evil wizard.
When he died, his relieved people had him buried in a manner befitting a man of his rank. However, the day after his burial, his seemingly alive corpse reappeared in his village, demanding a bowl of fresh human blood or else terrible retribution.
His terrified former subjects turned to another local chieftain, Cathain, and asked that he kill Abhartach.
Cathain killed him three times, and after each murder, Abhartach's gruesome corpse came creeping back to the village, searching for the blood.
Finally, Cathain consulted a holy Christian hermit for guidance. He ordered Abhartach be killed using a wooden sword made of yew, buried head downwards, and weighted with a heavy stone.
Finally, he ordered the planting of thorn bushes tightly in a circle around the burial site. On following these instructions, Cathain at last confined Abhartach to his grave. To this day, the locals there avoid the mound, especially after dark.
2. The faceless lady of Belvelly Castle, Co. Cork – a story of mirrors
Belvelly Castle sits prominently on the shore of Great Island in Cork Harbour, and it is the site of our next tale in our list of the most terrifying ghost stories in Ireland.
In the 17th-century, a woman called Margaret Hodnett lived there. At the time, mirrors were a status symbol with the wealthy and Margaret was known for her love of these to remind her of her renowned beauty.
She had an on-off relationship with a local lord called Clon Rockenby, who asked for her hand in marriage many times, which she refused.
Eventually, Rockenby decided that the humiliation was enough and raised a small army and go to the castle to take her by force. He thought the Hodnetts, used to a luxurious life, would not withstand a siege.
However, they surprised him by holding out for a full year before surrendering. When he entered the castle, Rockenby was shocked to see the state of Margaret. He found her skeletal and starved, a shadow of her former self, her beauty gone.
Out of rage, Rockenby smashed her favourite mirror to pieces. As he did so, one of the Hodnetts killed him with a sword.
After these events, Margaret descended into insanity; she sought out mirrors constantly to check if her beauty had returned. However, it never did.
She died in old age at the castle, and her troubled ghost appears as a lady in white, sometimes with a veiled face and sometimes with no face at all. Those who have seen her say that she looks at a spot on the wall then rubs it as if looking at her reflection.
Apparently, one stone on the castle's wall has been rubbed smooth over the years. Perhaps this is the spot where her mirror used to hang?
Belvelly has largely been unoccupied since the 19th-century but is currently undergoing renovation.
1. The murdered jester of Malahide Castle, Co. Dublin – a tragedy of love
King Henry II of England had Malahide Castle built in the 1100s, and the place boasts many hauntings.
In its early days, opulent medieval feasts were held there. Such events would not be complete without minstrels and jesters providing entertainment.
One of the jesters, nicknamed Puck, is thought to haunt the castle.
The story goes that Puck saw a lady prisoner at a feast and fell in love with her. Perhaps while trying to help her escape, guards stabbed him to death outside the castle, and in his dying breath, vowed to haunt the place forever.
There have been many sightings of him, and many visitors say they have seen him and photographed his spectral features appearing in the thick ivy that grows on the walls.
Places such as Malahide Castle seem to be magnets for strange and paranormal activity. Many have noted other supernatural occurrences in its long history.
In more recent years, a portrait of a lady dressed in white had hung in the great hall of the castle.
At night, her ghostly figure walks out of the painting and wanders through the halls. Might she have also been seeking Puck out to rescue her from her prison?
Well, there are the five most terrifying ghost stories in Ireland to get you ready for Halloween. Do you know of any others?