Discover these pubs and community centres where you can immerse yourself in the richest traditional music in Dublin.
Dublin has no shortage of pubs offering Irish traditional music, but, as locals will soon tell you, they weren't all created equal. If you want to see an authentic folk music performance; the Temple Bar area might not be your best option!
There is a common misconception that tradition and folklore are found only in the countryside and not in the city. Whether you're a long-term traditional music aficionado or simply in search of a unique experience with a more local feel, these venues will show you that traditional music in Dublin is alive and kicking.
5. Piper's Corner – the new kid on the block
The newest venue on our list, Piper's Corner is one of the trendiest spots to catch some traditional music in Dublin.
Owned by uilleann piper, Sean Potts, and conveniently located close to O'Connell Street and the Abbey Theatre, Piper's Corner is fast becoming known as one of the most authentic sessions in the city.
Sessions take place from 9 pm Monday to Saturday and from 7 pm on Sundays. They feature some of Dublin's finest musicians.
Address: 105-106 Marlborough St, North City, Dublin, D01 FD28
4. The Cobblestone – "a drinking pub with a music problem"
Located in the heart of Smithfield and operated by a family of musicians, The Cobblestone is revered as one of the most authentic spots for folk music in Dublin. Sessions take place here daily; from 7 pm on a Monday, from 5 pm Tuesday-Friday, and 2 pm on weekends.
A monthly singing session also takes place here, delightfully named (after a well-known Dublin ballad) "The Night Before Larry Got Stretched". The session particularly welcomes younger singers and each session features a special guest. The Backroom at The Cobblestone regularly hosts concerts and traditional music lessons too.
It's worth mentioning The Cobblestone is also an excellent pub for bluegrass as well!
Address: 77 King St N, Smithfield, Dublin, D07 TP22
3. Cultúrlann na hÉireann – for a céilí by the sea
Based in Monkstown, a short train ride out of the city, Cultúrlann na hÉireann is the head office of Comhaltas Ceoltóiri Éireann, an organisation that promotes Irish traditional music at home and abroad. (The use of the Irish language is encouraged as much as possible here so it's an excellent chance to dust off your cúpla focail!)
The Monkstown Sessions takes place on the third Saturday of every month.
A céilí takes place here every Friday from 9 pm, featuring a live band. This is a fantastic opportunity to feature Irish set-dancing a stone's throw away from the city. Admission is €10, and no dancing experience is required!
A slow session also takes place here every Tuesday from 9:15 pm. If you're a beginner or intermediate trad musician, this is a great traditional music spot in Dublin that you can dip your toe into.
Address: 32 Belgrave Square S, Montpelier, Monkstown, Co. Dublin, A94 XV02
2. Áras Chronáin – a country pub in the suburbs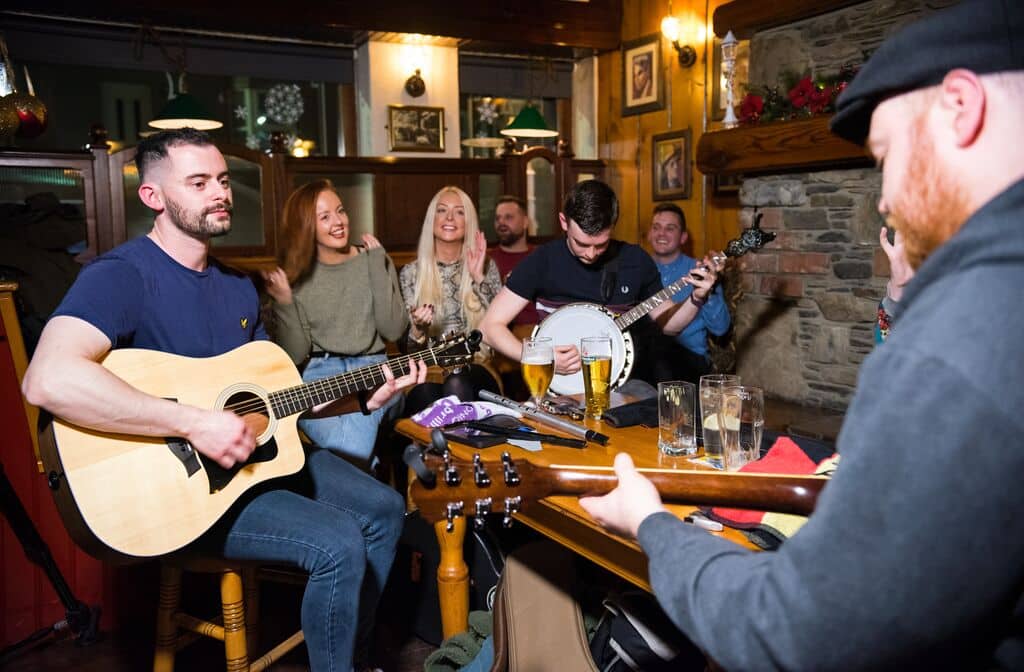 Áras Chronáin Irish Cultural Centre is a hidden gem that not many outside trad circles and Clondalkin residents know about. The centre was set up by the local community to provide a place for Irish language and culture to thrive in Dublin.
Sessions take place in the Áras' bar where the atmosphere couldn't be more authentic. The pub was built by local craftspeople as a recreation of an old-style country pub and comes as a complete shock after the building's grand Victorian entrance hall.
Sessions take place every Thursday, Friday, Saturday, and Sunday night. Be warned, however, the sessions often begin late in the evening and continue into the wee hours!
The Aras also provides music lessons and hosts regular concerts and céilís, keep up to date with their events via their website!
Address: 2 Watery Ln, Clondalkin, Dublin 22, D22 PN26
1. Teachers' Club – for folk songs in the city
A lot of sessions tend to be less focused on singing, so if that's what you're after, there's no better place for traditional singing in Dublin than An Goilín. The club was set up over four decades ago to provide an informal space for traditional singers and those who wish to hear them.
This weekly night of song-sharing takes place at 9 pm every Friday at the Teachers' Club on Parnell Square and plays host to special guest-singers every few weeks. The standard Goilín repertoire is a highly eclectic mix of folk songs, including sean-nós ("old style" in Irish), and ballads ancient and modern.
If you're a singer yourself, An Goilín is the perfect night out. It's a hugely welcoming and cosy environment with plenty of opportunities for both solo and group singing. Patrons are asked to contribute a small fee of €3 on the night.
Address: 36 Parnell Square W, Rotunda, Dublin 1, D01 T6V6