For mouth-watering loaded tacos, toothsome spicy chilli, and delicious cheesy nachos, check out our list of the top five Mexican restaurants in Northern Ireland.
Mexican food is one of our favourite cuisines in the whole world. We wish Mexican restaurants were more popular here on our Emerald Isle because we can't get enough of those tantalising bowls of chilli and the delicious stuffed enchiladas so often found within them. Good thing is, Mexican restaurants are quite a common sight in Northern Ireland.
If you've clicked on this article, we're guessing you probably feel the same way about Mexican food as we do. That's good news, because we've got the five best Mexican restaurants in Northern Ireland listed here just for you. 
Happy eating!
5. Taco Loco – for food full of flavour
This place is fantastic. We don't throw that term around lightly; we only say it of places that truly deserve the claim—and this place is definitely one of them.
Taco Loco will make you wish you grew up in Mexico, surrounded by this cooking all your life. The food is bursting with flavour, and the portion sizes are no joke either. You'll be full to the brim after a meal here. 
The restaurant has a lovely relaxed atmosphere and plenty of options on the menu to choose from. Their burritos are heralded as the "best burritos ever" (as one Google reviewer put it). They're our recommendation if you visit Enniskillen. 
Address: 39 Belmore St, Enniskillen BT74 6AA
4. Little Mexican Deli – for a little taste of Mexico
This fantastic deli has been a pit stop for us many times in the past. Not only are you served terrific Mexican food, but you'll also feel welcomed by some of the kindest staff members we've ever had in a restaurant. 
Their food is perfectly cooked, and again, there's no skimping on portions sizes in this place. We love the wooden booths you sit at and the décor in this place—cactus prints and a painted back wall with "crumbling" bricks make us feel like we're in an old Western. 
Keep your eyes peeled for Clint Eastwood when you're here, you never know (also try the nachos—oh my God they are GOOD!)
Address: Dairyfarm Shopping Centre, Belfast BT17 0AW
3. Guapo Fresh Mexican – a burrito bar worth your money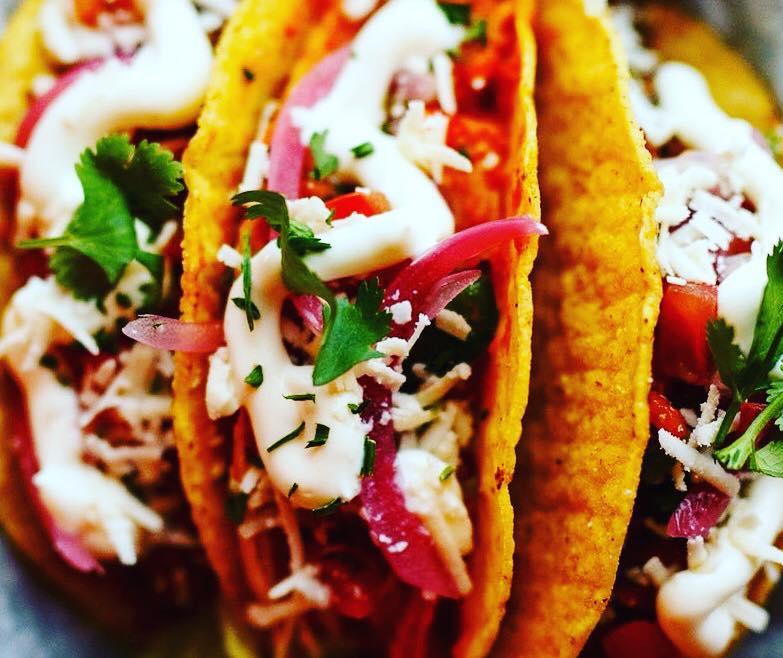 Admittedly, we've only ever been to Guapo Fresh Mexican once before, but the experience was so good that it's made a lasting impression on us, and we're looking forward to going back.
We got the chorizo chicken fajita box, and boy was it amazing. It's our recommendation, but feel free to try something different and let us know what you thought of it. We're always looking to broaden our food horizon and try something new.
The food from Guapo had a delightful kick to it, and we were amazed at its quality considering how reasonably priced it was. The staff deserve a shoutout too—they were incredibly efficient when we visited on a busy Saturday. Really impressive stuff.
Address: 69 Strand Rd, Londonderry BT48 7AD
2. La Taqueria – for spicy food and vegan options
The tacos here are honestly the best we've ever had. We're not 100% certain if La Taqueria's head chef is Mexican, but we'd be willing to bet a decent bit of money on the chance that he is.
The food here is exactly what Mexican food should be; flavourful, spicy, delectable. The chefs have a brilliant control over their menu, and everything is cooked to perfection. It's no wonder this place is so popular. They even have a list of vegan options on their menu; we're planning to try some next time we're there!
We suggest booking ahead of time to get into La Taqueria, it's relatively small and fills up fast because of how great the food is.
Address: 53 Castle St, Belfast BT1 1GH
1. Acapulco – for unbelievably tasty Mexican food and great cocktails
We seriously adore this place. Not only does it serve Mexican food drenched with flavour, but it has some killer margaritas too. Just be warned, they're strong.
Everything is good here, but if we had to pick our favourite dish, we'd say it's the Chili Del Diablo with Mexican rice. The chilli is hot, but not overly hot to the point you have to take massive swigs of water every thirty seconds. It more like a pleasant spiciness that you feel at the back of your throat.
And like we said, the strawberry margaritas are to die for. We can't recommend ordering one of those enough.
The desserts are delicious in Acapulco, too—we were thinking about the cinnamon churros for days after we had left.
Address: 255 Upper Newtownards Rd, Belfast BT4 3JF