From a first edition of Stoker's Dracula to one of the world's most beautiful libraries, here are the top five literary attractions in Dublin.
Dublin, and indeed Ireland in general, is a hotspot for cool and interesting literary attractions. We can boast about having some of the best writers to have ever lived—writers like James Joyce, Oscar Wilde, and Bram Stoker are literary titans whose work still reverberates now, decades after their deaths.
So it's no surprise that us Irish are proud of our literary talent and want to celebrate it. Below is our list of five literary attractions in Dublin we feel you need to see for yourself if you're a fan of books and Irish writers.
Number 1 is seriously impressive!
5. James Joyce Centre – to get to know the writer of Ulysses
Anyone who has read (or attempted to read) James Joyce's book Ulysses has probably wondered what the inspiration behind the doorstopper of a novel was. What was Joyce thinking about when he was writing it? What was going on in his life at the time?
Well, now you can find out all that plus much more at the James Joyce Centre in Dublin.
A really awesome part of the centre is that touchscreen displays will guide you through the structure of the novel and inform you about everything you could ever want to know about the book! You'll be well prepared to write that English essay in no time.
The 1967 film adaptation of Ulysses by Joseph Strick also plays on the ground floor of the centre.
Address: 35 N Great George's St, Rotunda, Dublin, Ireland
4. The Dublin Literary Pub Crawl – a perfect combination of booze and books
Yeah, okay, we're aware we're playing up to the stereotype of the drunk Irishman here, but hear us out.
This is a cultural learning opportunity, not just an excuse to get drunk. At least, that's what we keep telling ourselves.
Seriously though, this pub crawl/tour is such a wonderful way to learn about Irish literature and history. It's been hailed by the London Times as "the most ingenious crash course in Irish literature, history, architecture, and pub bonhomie yet devised."
This tour is full of great craic and good times to be had by all. Its quirkiness and uniqueness make it a literary attraction in Dublin you need to experience.
You can book your tour here.
Address: 9 Duke St, Dublin, Ireland
3. Dublin Writer's Museum – to see a first edition of Stoker's classic Dracula
This place houses an absolutely unrivalled collection of great Irish literature. Wilde, Joyce, Beckett, and all the big hitters are here. Best of all, you get to learn about these writers through their letters, works, and personal items at one of the best museums in Dublin.
A tour here gives you such an amazing insight into these writers; it's like you can get to know them for a little while. Our favourite thing to see at the Dublin Writer's Museum has to be the first edition of Dracula. The yellowed and decrepit looking pages are perfect for the book.
Tours are available here in English, Spanish, French, German, Italian, and Dutch. Get your tickets here.
Address: 18 Parnell Square N, Rotunda, Dublin, D01 T3V8, Ireland
2. Pat Liddy's James Joyce Walking Tour – a literary tour by a Dublin historian
Alright, so this walking tour may not have any pubs along the way, but we promise you it's still worth checking out for the fact you get to explore Dublin through the eyes of Ireland's most famous writer.
Historian Pat Liddy will take you in the footsteps of Leopold Bloom (main character of Ulysses) and allow you to experience Dublin in 1904, the same Dublin that inspired Joyce. Some imagination may have to be applied here, but for the most part, it's pretty bang on.
Quotes and explanations from the book will be given, as well as some biographical information on Joyce. You'll get to visit Sweny's Pharmacy, which is now a Joyce reading centre, along the tour.
Address: Dublin Bus 59, 60 O'Connell Street Upper, Dublin, D01 RX04, Ireland
1. Trinity College Long Room – the most beautiful library in Ireland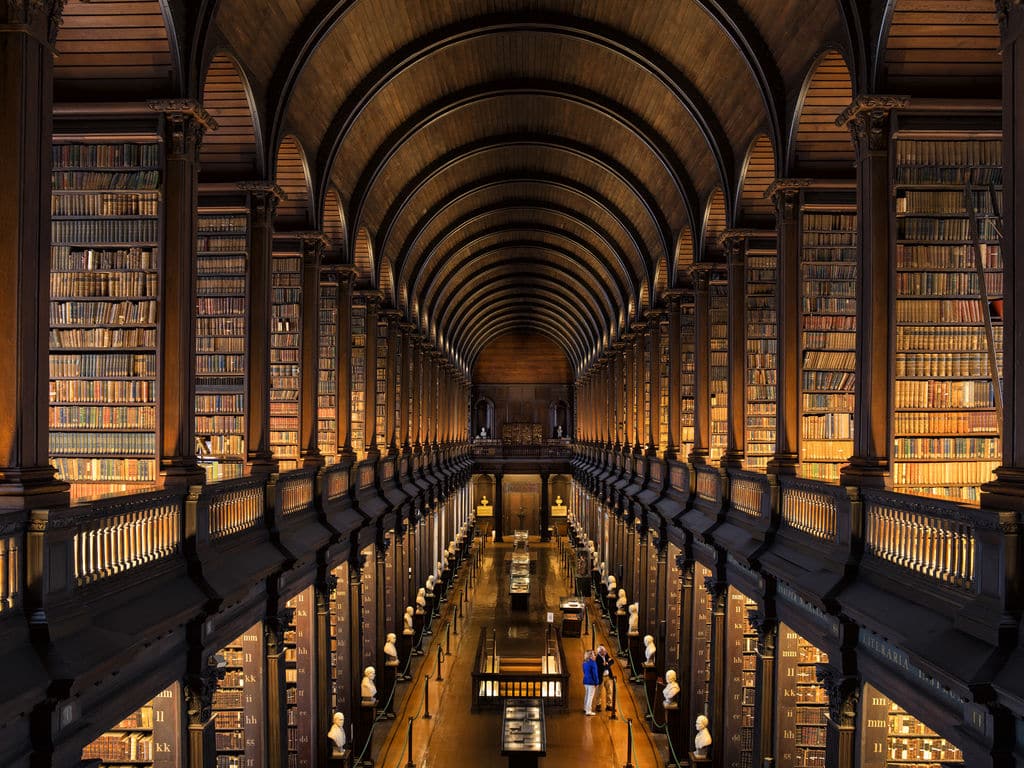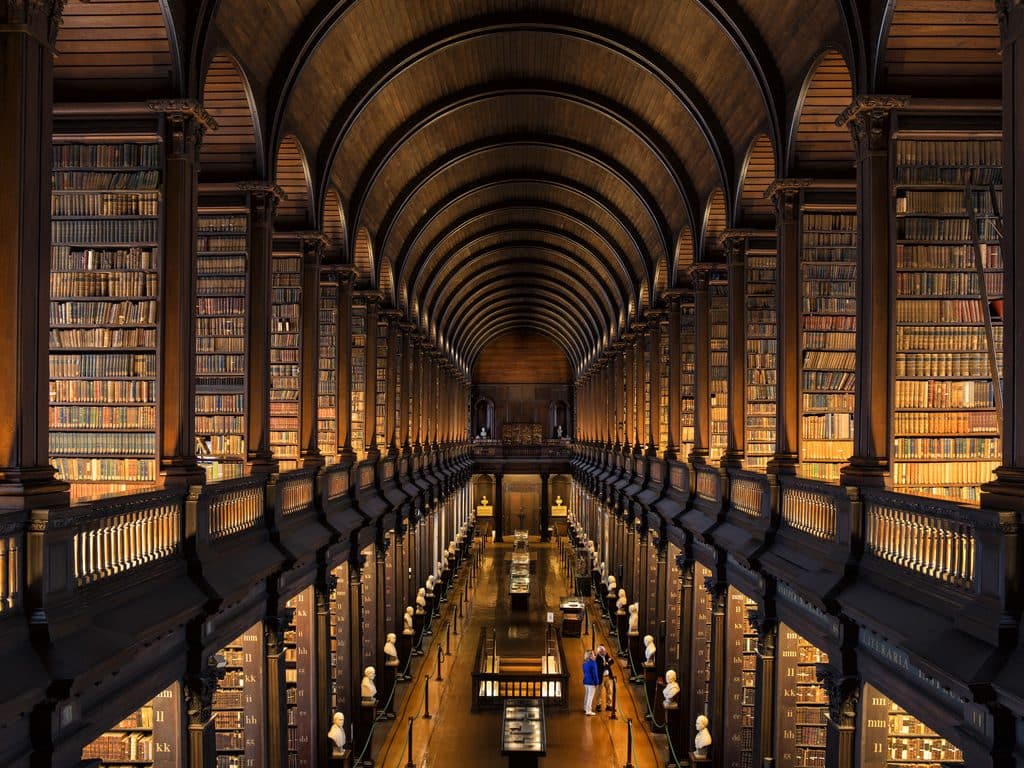 We couldn't not include this place on our list of literary attractions in Dublin. For literary fans, a trip here wouldn't be complete without a visit to the Long Room in the Old Library at Trinity College.
This library is so utterly beautiful (and huge); it's like a library you'd see in a Harry Potter movie. When you enter, you're greeted with that delightful smell of old books and a comforting sense of wonder at everything there is to know in the world, and maybe a little bit of dread as you realise just how little you truly understand about life.
But that's okay—again, it's mostly a comforting feeling here. We love it, and we're looking forward to the next time we see it.
Address: College Green, Dublin 2, Ireland