Wanna feel like the king or queen of your castle? Check out five amazing castles for sale in Ireland right now!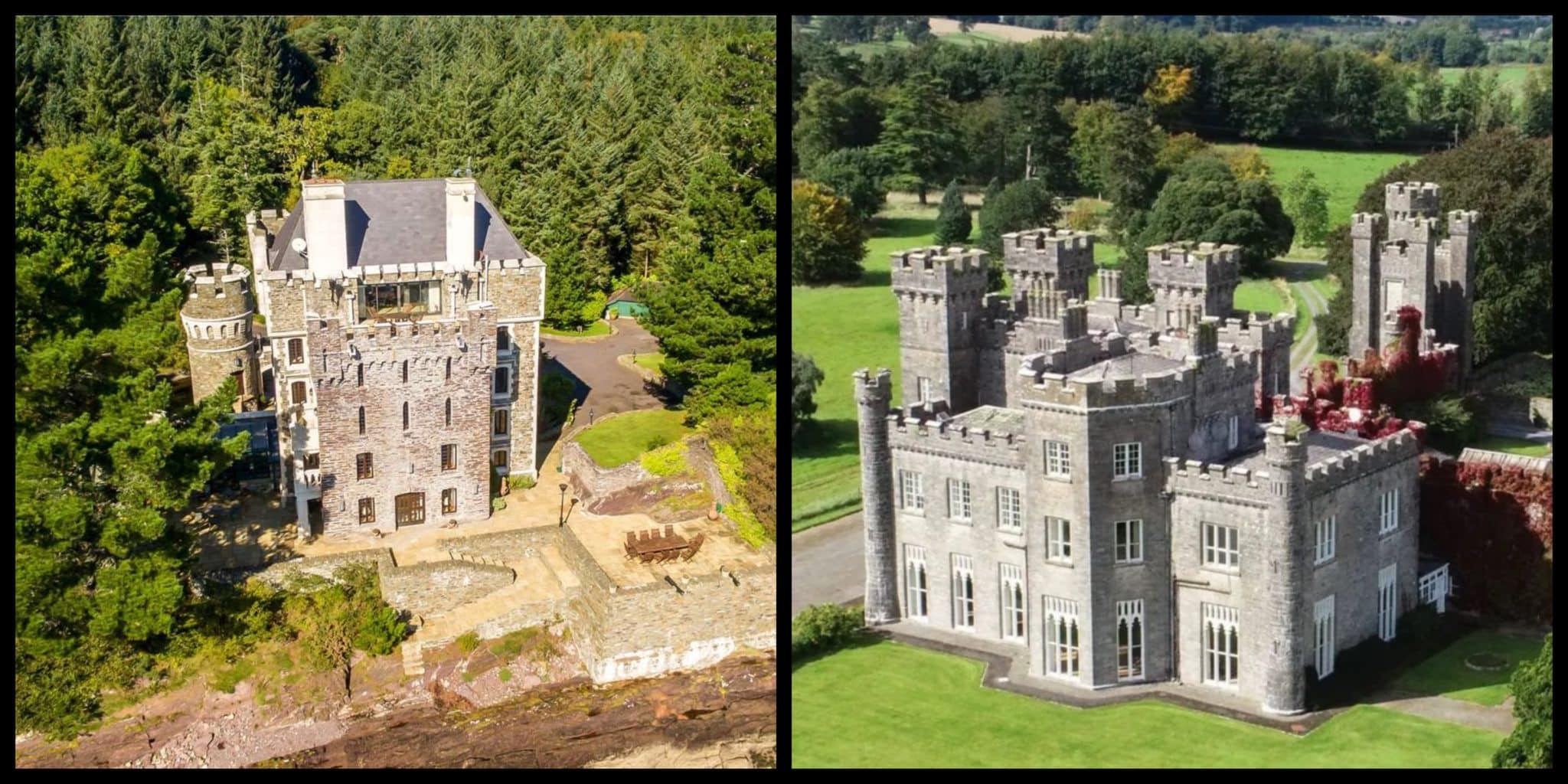 Wondering what castles are for sale in Ireland? Can you imagine waking up in your own castle, surrounded by lush gardens, with a picture-perfect ocean view and all the fancy interiors we always admire in movies. Sounds like a dream? We couldn't agree more! And while we are still saving up every penny (and buying the occasional lottery ticket to hopefully speed things up a little), we've already had a look at what's on the market, just in case.
Check out these five incredible castles for sale in Ireland right now – and if you buy any of them and invite us to your housewarming party, we promise to bring booze and lots of good vibes!
5. Black Castle – a dramatic tower landmark in the heart of Thurles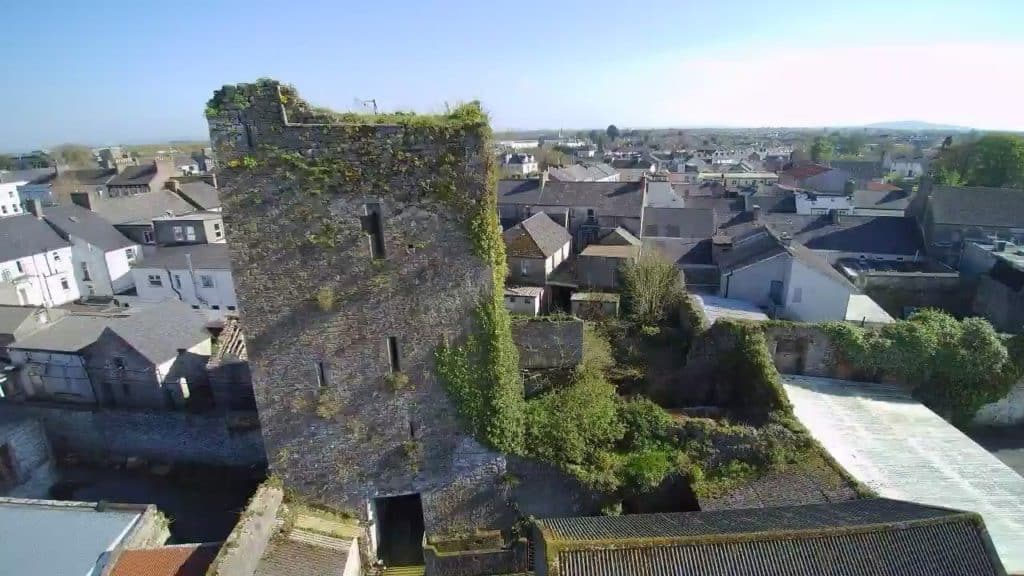 Owning a castle doesn't necessarily mean moving in immediately, so if the thought of putting your name on a town landmark strikes you, Black Castle in Thurles is one of the most interesting castles for sale in Ireland right now – and, compared to other properties, it's for a bargain price!
The historic castle, dating from the 16th century, was home to local celebrity Elizabeth Poyntz, a.k.a. Lady Thurles, in the 1660s and 1670s. It sits in a top-notch location just west of Liberty Square.
It's one of the most photographed buildings in town and has a lot of potential. One of the previous owners planned to turn it into an art gallery and studio space – a great idea we'd love to see turned into reality in the future.
Cost: €95k
Location: Thurles, Co. Tipperary
More info: premierpropertiesireland.com
4. Cregg Castle – a beautiful property with its own bell tower and chapel
This historic Irish castle, just nine miles from Galway City, was built by the Clement Kirwin Family in the 17th century, one of the renowned twelve tribes of Galway. Extended in the 18th and 19th century, it can be used as a spacious country residence, a farm or both.
The three-storey-property comes with beautiful rooms, reception areas, a huge dining hall, courtyards, massive gardens, a rectangular Queen Anne Bell Tower, and a chapel. On top of that, there're 180 acres of woodland and meadow, and a river flows through the estate.
According to the agent, Cregg Castle is one of the last, if not the last "Fortified Mansions" built on the Emerald Isle, making it one of the most exciting castles for sale in Ireland.
Cost: Price on request
Location: Corrandulla, Co. Galway
More Info: premierpropertiesireland.com
3. Tullamaine Castle – a luxury estate with stables and a horse nursery perfect for riding fans
Set on a 186-acre estate full of fertile land, the 18th-century castle, 12-kilometres from charming Cashel, comes with seven main bedrooms, five ground-floor reception rooms, a library, a drawing-room, a greenhouse, stables, and a top-notch nursery for award-winning racehorses.
A dream for both fans of castles and horses, it has iron gates and a long tree-lined avenue for extra privacy, as well as stunning parkland with unbeatable views of the Comeragh mountains. The current owner has put a lot of love and work into the property for the past 30 years and is looking for a buyer that will value the castle just as much as he did.
Looking for a place to celebrate your purchase? We recommend McCarthy's Pub and Dooks Restaurant in Fethard, just a few minutes' drive away.
Cost: Price on request
Location: Tullamaine, Co. Tipperary
More Info: goffsproperty.com
Located on the shore of Kenare Bay, and surrounded by woods for maximum privacy, An Culu is right on the famous Ring of Kerry. It is one of the most spectacular castles for sale in Ireland right now.
The property resembles a real Disney dream, think castellations and turrets, a magnificent moat with a drawbridge and an impressive stone-bridge entrance. The rooms come with fantastic views over the ocean and the Caha Mountains, top-notch hardwood fixtures, ceiling paintings, cornicing, wall linings, and marble bathrooms.
And, if all of this hasn't convinced you yet, there's a spectacular grotto-style underground swimming pool where you can relax in style with a bottle of champagne and your significant other.
Cost: €4.5m
Location: Kenmare, Co. Kerry
More Info: search.savills.com
1. Knockdrin Castle – one of the best castles for sale in Ireland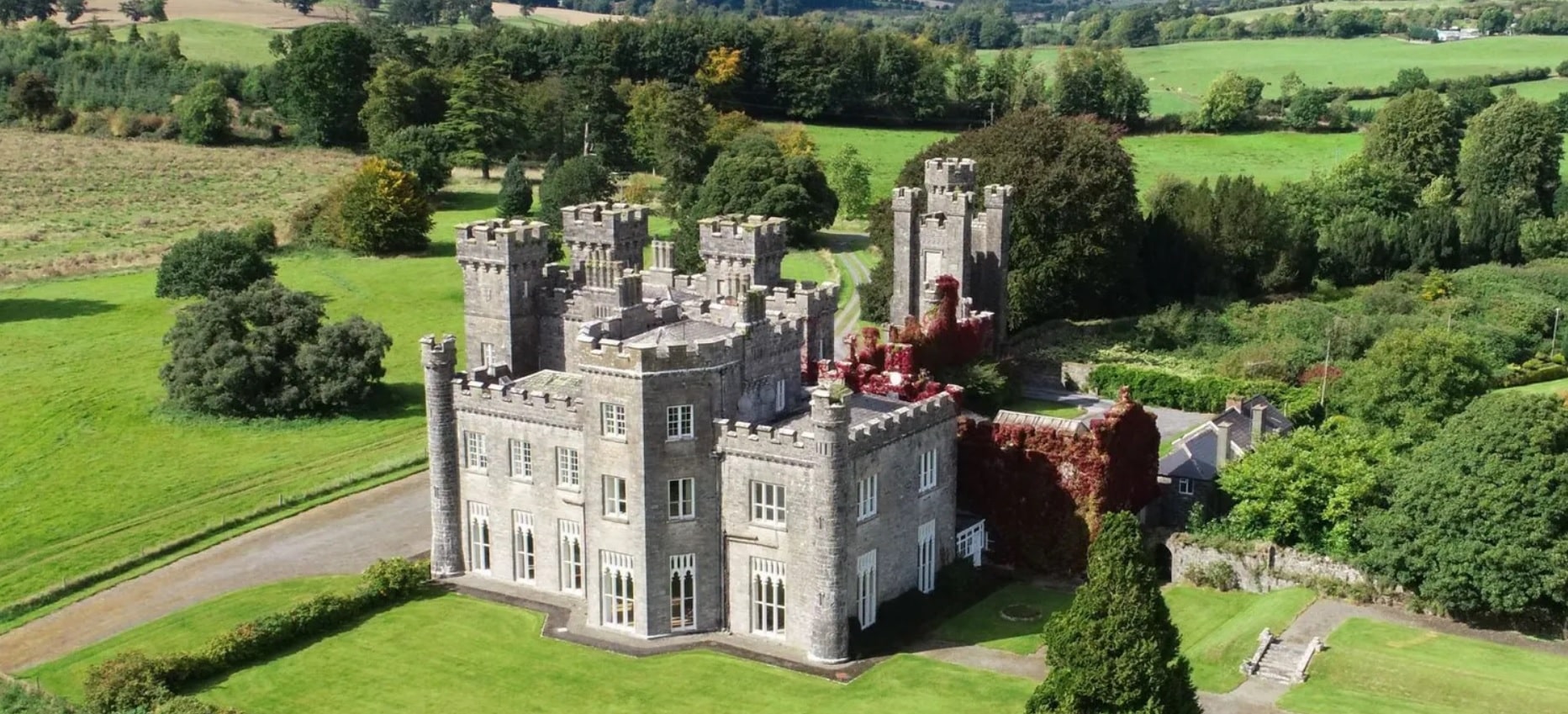 This 18th-century castle sits in a parkland estate of 500 acres. It is described as "a classical Georgian country house in Gothic cress". Think elegant, light-flooded rooms and extra-large windows, minus the heaviness that comes with the Gothic Revival Movement.
Knockdrin Castle features twelve bedrooms and five bathrooms, a top-lit staircase made of carved oak, its own gallery decorated with fluted shafts and ogee-headed niches around the walls, reception rooms, a spacious dining room, ballroom, and a library. It also comes with commercial woodland, arable lands, and a small lake.
In case you are wondering who enjoyed these facilities in the past, British Prime Minister Winston Churchill stayed here during the War of Independence. At the same time, his parents were regulars for the annual hunting season.
Cost: €5m
Location: Mullingar, Co. Westmeath
More Info: sothebysrealty.com