It's almost Halloween! If you're looking for a scare, there are many horrifying Irish ghost stories that will be sure to send chills down your spine.
The Irish have traditionally been superstitious people, so it is no surprise that many horrifying Irish ghost stories have been told over time, been passed down through generations, and become part of the Irish cultural heritage.
The majority of horrifying Irish ghost stories are ones which have been passed on from generation to generation and have become embedded in Irish culture.
In this article, we will list what we believe to be the five most horrifying Irish ghost stories of all time.
5. The vampire of Derry – a deadly Derry terror
During the 5th-century in Derry, there was a chieftain of a local tribe known as Abhartach, who was said to be notorious for his cruelty towards members of his tribe. He had a strange appearance, and there were even many rumours that he was an evil wizard.
When he died, he was given a burial befitting of his rank as a chieftain; however, the day after his funeral, he reappeared in the village demanding human blood.
In fear, his tribe turned to another chieftain called Cathain, who went on to kill Abhartach three times as he kept reappearing in search of blood!
Cathain eventually turned to a holy Christian hermit for help. He was instructed to kill Abhartach with a sword made of yew and then bury him head down and weighted with a heavy stone.
Cathain followed these instructions and Abhartach never reappeared. However, locals are still wary of the mound where he is buried, and many still avoid it at night.
4. The Legend of Loftus Hall – a devil in disguise
The Legend of Loftus Hall dates back to 1766 when the Tottenham family owned the house.
One dark and stormy night, a sailor showed up at the door seeking refuge from the storm.
During a game of cards, Lady Anne, the daughter of the family, dropped a card. When leaning down to pick it up, she was horrified to notice that the stranger had a cloven hoof in place of a foot.
As Lady Anne screamed in terror, the stranger, now exposed as the devil himself, was said to have immediately disappeared through the roof in a flaming ball of fire leaving the family in shock and Lady Anne in a catatonic state from which she never recovered.
The house is said to be extremely haunted to this day – making it the perfect spot for a spooky tour this Halloween.
3. The murdered jester of Malahide Castle – a not so funny matter
Malahide Castle is said to be home to five ghosts but one of the most famous ghost stories to have ever come out of the castle is the tale of a court jester called Puck.
According to the tale, Puck met and fell in love with Lady Elenora Fitzgerald, who was imprisoned in the castle for her rebel tendencies.
When trying to aid his lover's escape, he was stabbed to death just outside the castle. With his dying breath, he vowed in anger that he would haunt the castle for all eternity.
A visitor favourite, there have been many sightings of Puck ever since as he is said to have appeared through the thick ivy that grows on the walls of the castle.
2. The Dullahan – Ireland's headless horseman
The Dullahan is one of the most famous myths and legends in Irish folklore. Tales of a headless horseman tend to be shared in many cultures, and Ireland is certainly no exception as proved by the story of the Dullahan.
At certain times of the year such as Halloween, the Dullahan rides upon a black stallion at night, and if he stops, it is said that someone dies.
If he passes you by, he will cover you with a bucket of blood and blind you in one eye; however, if he stops, he will attempt to suck your very soul from your body.
According to legend, the Dullahan's weakness is gold; if he sees even a small amount of it, he will flee in terror.
1. The banshee – Ireland's most famous folk legend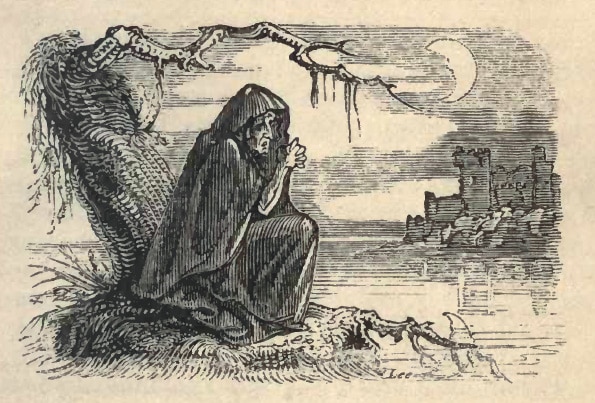 Number one on our list of what we believe to be the five most horrifying Irish ghost stories is the story of the banshee, which has to be one of the most famous figures from Irish folklore.
The Banshee is said to be a melancholy spirit who lets out a high-pitched shriek, which will make your spine tingle when a family member is about to die.
While the banshee isn't vehemently evil, she is still a spirit that no one will ever want to meet or hear because of the ill omen she represents.
That concludes our list of what we believe to be the five most horrifying Irish ghost stories. Have you heard any of them before?