From the moment St Finbarr himself arrived on the marsh that he would christen Cork, Ireland's self-proclaimed "real capital" has had a rich history.
If you're planning a trip to the Rebel County and want a taste of the old Cork, why not check out these five historical spots?
5. Shandon
The iconic Shandon clock tower – deemed the "four-faced liar", as each of its faces reads a slightly different time – dominates the Cork skyline north of the River Lee. But even a Corkonian may be surprised to hear that  Shandon's official name is, in fact, the Church of St Anne, and it was erected in 1722 on an already ancient site.
Before Shandon existed, a medieval church stood in its place, surviving for at least 500 years until it was destroyed in a fire during the siege of Cork in 1690. The name Shandon itself comes from the Irish "Sean Dún", or "old fort".
Today, tourists can climb the famous bell tower and chime the bells for all of Cork to hear!
4. The English Market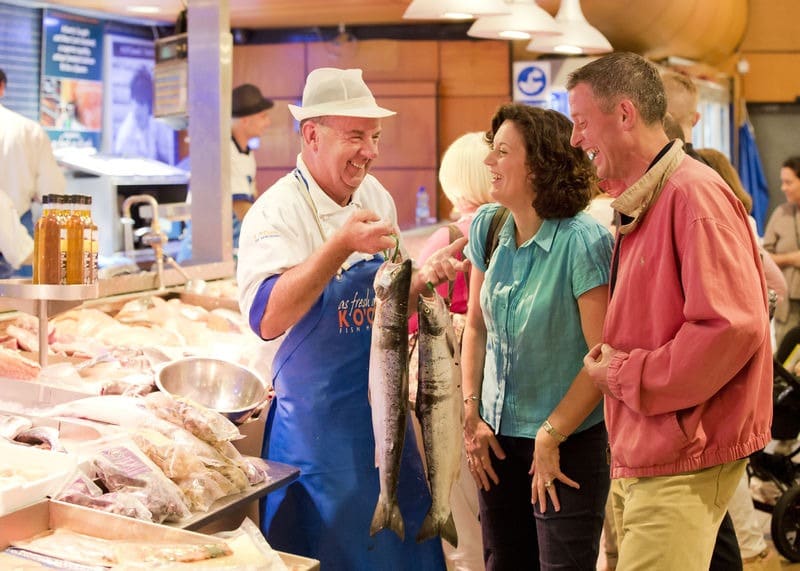 Right in the city centre is one of Cork's greatest institutions – the English Market. So named to distinguish it from its rival Irish Market (which it has long out-lasted), the English Market has hosted royalty in recent years, with Queen Elizabeth II famously receiving a roaring welcome there during her first state visit to Ireland in 2011.
But, more importantly, it is visited by thousands of tourists and native Corkonians every year.
A market has existed on the site since 1788, but the English Market as we know it was built in the mid-19th century.
An architectural gem designed by Sir John Benson, the Market was sadly damaged by fire in the 1980s and had to be refurbished, remaining true to its Victorian architectural roots.
Today, visitors to the Market can sample a range of traditional Cork delicacies, including drisheen, tripe and spiced beef, as well as plenty of international fare from the wide variety of food stalls.
Another destination for those who love to peruse the stalls is the Mother Jones Cork Flea Market.
Address: Princes St, Centre, Cork, Ireland
3. The Butter Museum
Celebrating the city's long and fascinating butter trade, this quirky museum details the establishment of the Cork Butter Exchange in the nineteenth century, which became the largest butter market in the world.
Butter, and dairy in general, has long been crucial to Irish life, and the museum showcases not just the economic value of butter, but the role that it has played in Corkonian's homes throughout the centuries.
And centuries is putting it mildly – in Early Ireland, people would preserve their butter in bogs, and one of the museum's most interesting features is its keg of thousand-year-old "bog butter".
We probably wouldn't recommend eating it, but it is certainly an incredible piece of ancient Irish history!
Address: O'Connell Square, Shandon, Cork, Ireland
2. Charles Fort
A historical tour of County Cork would not be complete without a trip to Kinsale.
This seaside town is dripping with history, and one of its most famous sites is Charles Fort, built in the 17th century on the site of an even older stronghold called Ringcurran Castle.
Charles Fort was originally built to defend the strategic harbour of Kinsale from sea-faring invaders.
In later centuries, it was used as a British Army barracks but fell into disuse following the Anglo-Irish Treaty of 1921 and lay eerily abandoned above Kinsale harbour for many decades.
Not anymore – in the 1970s Charles Fort was regenerated and enshrined as a National Monument of Ireland, a site of great historical significance.
Nowadays, tourists flock to the famous Fort for its stunning views of the beautiful Kinsale town and harbour, and to experience the old barracks and citadel defences.
Address: Summercove, Kinsale, Co. Cork, Ireland
1. Spike Island
Also known as Ireland's Alcatraz, Spike Island is famous for its notorious prison, housing convicts before penal transportation to Australia and, later, prisoners during the Irish War of Independence.
Located at the mouth of Cork Harbour, the island played a key role in the city's defence for centuries, with numerous barracks and fortitudes erected there since the 1600s.
Between defence and correction, the island has had a violent history.
It is therefore surprising to think that Spike Island had much more peaceful beginnings, with sources suggesting that it was home to a monastery in the Middle Ages.
Today, of course, Spike Island is similarly peaceful, albeit busy, with an estimated 10,000 tourists visiting the island each year!
Ireland's Alcatraz it may be called, but a proud Corkonian may tell you that Alcatraz is, in fact, America's Spike Island!