As we all know, Guinness is the king of stout. It is probably the most iconic example of a drink defining a nation.
It has developed the cultural iconography of Ireland and no matter where you are in the world, Guinness is likely to be served.
With all that aside, there are some pretty tasty alternatives to this "king of stout", or as the locals like to call it the "black stuff".
Guinness sure is not going anywhere; so do yourself a favour: next time you are down at the local pub and are feeling a bit thirsty, look to these alternative stouts.
Now you may argue "what's the point? Guinness will always win out", and although you may be right, it's always good to try alternatives because you might actually find they are just as good, if not, better than what you're used to!
5. Kilkenny Irish Cream Ale
Kilkenny Irish Cream Ale is brought to us by the makers of Guinness, so we're off to a good start. This nitrogenated Irish creamy ale originated in Kilkenny and is popular worldwide with Canada, New Zealand and Australia being its biggest foreign fans.
The drink is similar in taste to Guinness and also calls for a similar pouring technique, with a ¾" to 1″ head on top. It resembles Smithwick's Ale but has a less hoppy finish and a creamy head. This alternative stout has the same ABV (alcohol by volume) as Guinness, 4.3%.
Kilkenny Irish Cream Ale can be purchased by the bottle and can and is also commonly found on taps in pubs and bars across Ireland.
4. O'Hara's Irish Stout
O'Hara's Celtic Stout is a fine alternative to Guinness and well worth a try if you ask us! This stout is brewed by Carlow Brewing Company, who brew the rest of the O'Hara's range as well as an intriguing selection of IPAs, seasonal brews and collaboration drinks.
They consider O'Hara's Irish Stout to be the "flagship" of the O'Hara's range and we are not going to fight them there; this is one fine stout. The brew has won a tonne of awards since its inception in 1999 and has firmly established itself as a Guinness contender.
It is a full-bodied and smooth stout in equal measure, with a gloriously creamy head that offers "rich complex coffee aromas mingled with light liquorice notes".
It has a 4.3% ABV and is served like Guinness. This stout can be found in craft beer bars and major off-licenses (also known as liquor stores or bottle shops).
3. Porterhouse Brewing Co. Oyster Stout
This is your slightly more alternative, alternative to Guinness. As it blatantly states in the name, this stout has oyster in it, so safe to say, it is not suitable for vegetarians.
Brewed by the craft company Porterhouse Brew Co. (that even have bars around Dublin city), this Guinness alternative is one of their most popular drinks.
This stout has a "delicate and toasty" aroma with "a slightly bitter, fragrant twist", and has an ABV of 4.6%.
This stout is widely distributed in Ireland, but if you can't seem you find it in your local pub, head to a craft specialist off-licence or to one of the three Porterhouse bars in Dublin.
2. Murphy's
Murphy's Irish Stout has got to be one of, if not the, most popular Irish stout on the go. It is brewed in Cork by Murphy's Brewery and distributed internationally by Heineken to Italy and Norway, who have developed quite a taste for this Irish stout.
It is most popular and widely found in its native Cork, where it surpasses Guinness in popularity any day. Murphy's can often be found in pubs alongside Guinness and is regularly sold by the can in off-licences.
It has a creamy, balanced texture and a smooth, caramel and malt flavour. It is served cold with an inch "head" of cream on the top, like Guinness.
1. Beamish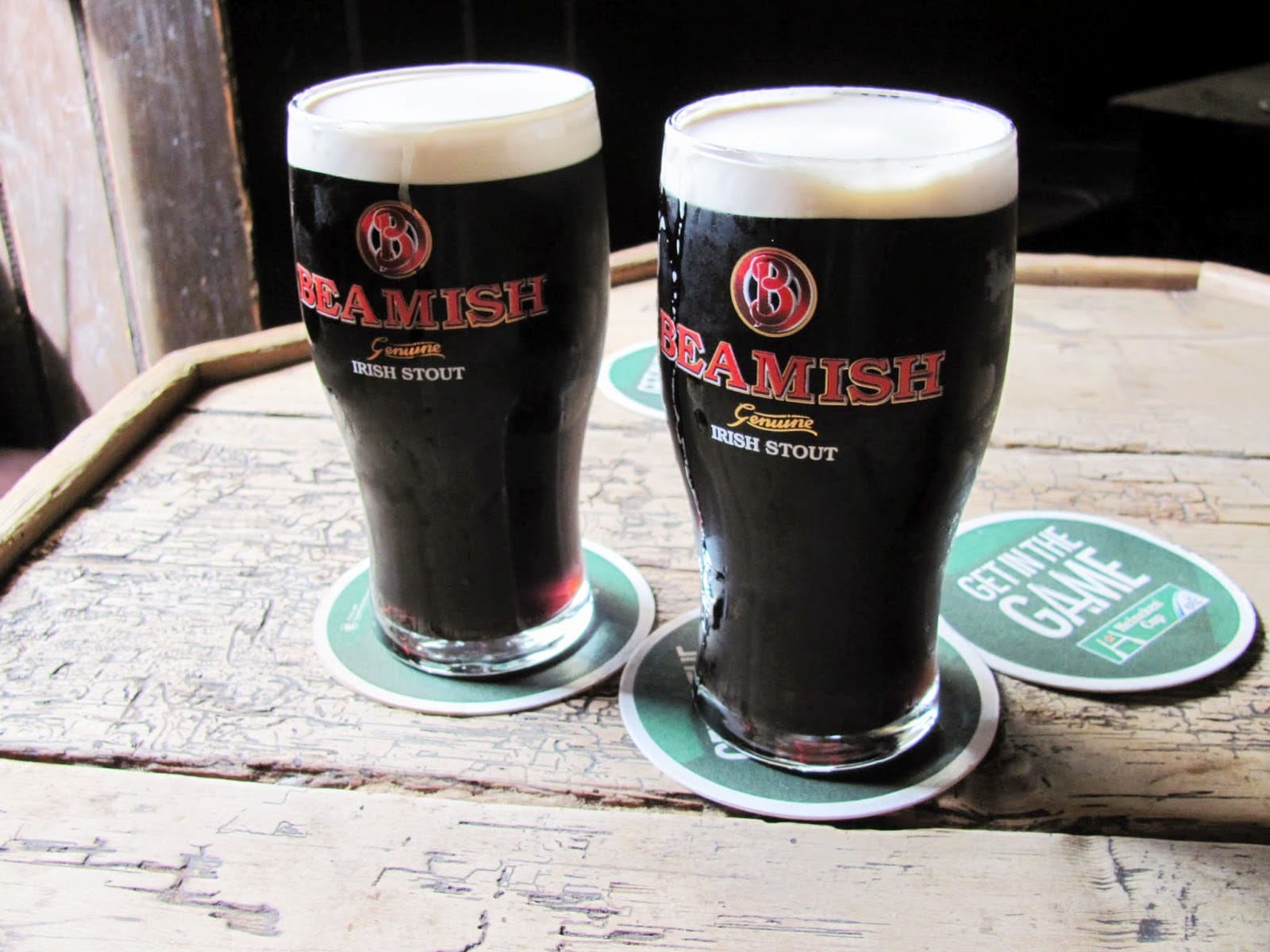 This classic Irish stout is also a Cork native, having been brewed in the locale since 1792. It is now produced in the city by Heineken and remains as popular as ever.
It is seen as the young, cool and trendy alternative to Murphy's and Guinness and has even been called the "hipster's stout". The drink has a rich and creamy taste with a classic 1" head on top.
In 2009 Heineken stopped distribution of Beamish outside of Ireland, so you'll have to visit the Emerald Isle for this one. It can be found on draft in pubs and bars and is sold in off-licences, too.
Get featured on Ireland Before You Die
Do you want to get your Irish business more online exposure? Especially to those interested in travelling the best places in Ireland? Then why not get a dedicated feature on Ireland Before You Die. Find out more 
here.