With so many new spots opening across the city and its growing popularity, it's almost shocking that so many people are yet to have tried a burrito.
Imagine living life without experiencing that tender, juicy first bite into a burrito as your mouth explodes with flavours of succulent meat, rice, guacamole, sour cream, cheese and whatever bundle of joy is wrapped up in soft, warm tortilla just for your taste buds. How can one deprive themselves of such satisfaction?
It's time to set things right. Whether you love it, hate it, eat it every week or have never had it, you must heed to this list if you want to experience some of the best burritos Dublin City has to offer.
5. Burritos & Blues
Burritos & Blues is the 1st ever Burrito place I remember seeing in Dublin. The brand has been around a whopping 13 years. With locations in Wexford Street and near the IFSC on Mayor's Street they have expanded even further to Cork.
The best thing about Burrito & Blues is its consistency across the board which keeps customers coming in through the door not only for its food but it's funky tunes too.
The menu is simple and catered to meat lovers, vegetarians and the plain ole bean and cheese folk.
Prices are relative to most other burrito places and portion sizes decent. It won't leave you loosening your belt or a skirt button or two but it'll keep your belly topped up. To make the most of your buck they have Magic Mondays where burritos are €5 all day!
4. Little Ass
Fun fact: The word burrito in Spanish means 'little donkey'. And another word in English for donkey is Ass. So if you're smart enough and have been able to put two and two together…you already know where this next spot got the inspiration for their quirky name.
Located in Rathmines and more centrally Dawson Street. On the dearer end of the burrito price scale, there is redemption in the variety of fillings they supply.
With fun ingredients like lime rice, roasted sweet potato coriander and fancy Greek feta or jack cheese, it's every healthy hipster's dream.
And even better yet, all are welcome no matter your place on or off the hipster scale.
Portion size could be better but I'm a greedy cow so for most people they'll keep you going from one meal to the next.
3. Mama's Revenge
Located beside Trinity College on Leinster Street is Mama's Revenge. I haven't spoken to many Trinity students that haven't ventured out to this sweet burrito spot.
Probably the cheapest on this list and no less in quality or quantity. You can grab a very well portioned burrito for as little as €5 if you're a student (with a valid Irish student card) or €6.50 if you're past the student days.
And, for 20c extra you can upgrade your burrito to add up to 5 toppings for students.
You can even design your own with as many ingredients as can fir on a 12" tortilla for €8.50.
2. Pablo Picante
When it comes to the top of the burrito chain, the fight between Pablo's and Boojum for the top spot is as subtle as a gun. The biggest burrito lovers all have their say in it. Pablo's Picante is great at burritos, no doubt about it.
With locations of Clarendon Market, Baggot Street and Ashton Quays, Pablo's is seeded in the heart of the city and probably one of the easiest places to find. It's cheap enough and has an amazing collection of sauces and has a very fine collection of beers, which they advertise and live up to pretty well.
1. Boojum Mexican Burrito Bar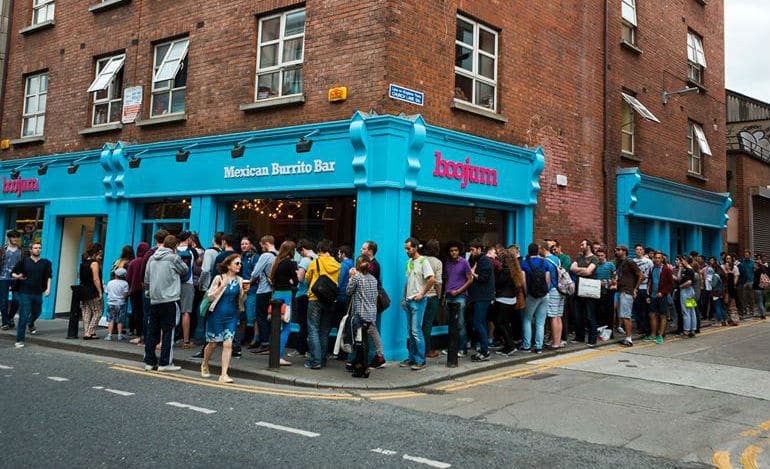 With four locations in Dublin City alone, Aungier Street and Mepsil Road on the outer skirts of the city and more centrally Abbey Street and Millennium Walkway.
Boojum wins with constant high-quality food that equals their prices and the quantity you get. A single boojum burrito could make up for two substantial meals.
Add in their amazing burrito bowl quality which will lead you crawling into a blissful food coma if you can manage to finish it in the 1st place. Their popularity is evident in their growth across the entire country.
The menu is simple and not as fancy as that of Little Ass but there's plenty to love about it's delicious creations which although come with a cost, if you're looking at beef, pork or chorizo ( which are all €7.15 ) is most definitely worth it.
If you haven't already fallen in love with it, it's never too late to start the love affair with the tasty burrito.
Thanks to Ama Addo at Albatroz & Co for this article contribution.