Ireland is famous for its good, hearty and deep-rooted traditional dishes. From pub favourites to family favourites, we have the top five.
5. Coddle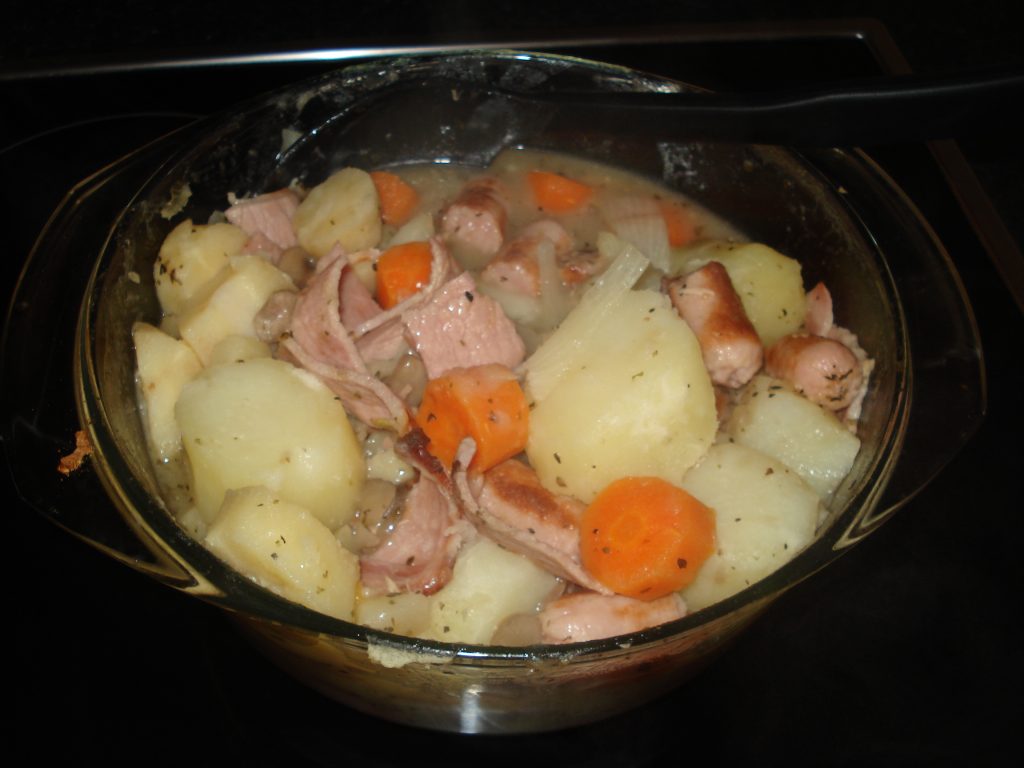 Sometimes referred to as Dublin Coddle, it is a traditional Irish dish that consists of meaty leftovers. Chunks of pork sausage, thinly sliced bacon, potatoes, onions a sprinkle of herbs and a sometimes a generous dash of Guinness.
Usually seasoned with salt, pepper and a bit of parsley, Coddle is often seen as comfort food in Ireland and is cheap to make. The dish was traditionally eaten during the winter and on Thursdays, the night before Catholics abstained from meat on a Friday. This allowed leftover meat to be used and provided much-needed warmth in the cold Irish winter.
4. Boxty
Depending on what part of Ireland you find yourself in, the Boxty can also be referred to as a Poundy. The Boxty is a mixture of finely grated raw potato and mashed potato, flour, baking soda and buttermilk which is fried on a griddle, much in the same way a pancake would be.
Some recipes add garlic and spices to the mixture and it can be served either as a dumpling, a pancake or as a wrap with beef and squash. This dish is getting so popular around Ireland that it can be found on the menu of restaurants that aren't even in the areas with which it is traditionally associated.
3. Colcannon and Champ
Colcannon and Champ are two traditional Irish mashed potato dishes. Colcannon is typically made up of mashed potatoes, cabbage, butter, salt, pepper and boiled ham or Irish bacon.
In the autumn time, Kale is normally used instead of cabbage. Champ is very similar and is made up of mashed potatoes blended with green onions and butter. At Halloween, small coins are traditionally hidden in Colcannon.
2. Classic Irish Stew
As is the case with all traditional folk dishes of Ireland, Irish stew differs from region to region and place to place. It is typically made up of lamb or mutton and root vegetables like potato, onions and parsley. Stewing found its way to Ireland in the 7th century AD with the arrival of the first bronze cauldrons from Britain and Europe.
After that, stewing became the primary means of food preparation for the ancient Gaels. Although there are a few standing disputes over the correct and traditional ingredients of the Irish stew, it still remains a relevant and well-loved dish in Ireland.
1. Barmbrack
Now a list of favoured Irish dishes wouldn't be complete without mentioning Barmbrack. A sweet bread filled with raisins and sultanas. Barmbrack is often toasted with butter over a cup of tea. During Halloween, items such as coins, a pea or a ring would be baked into the bread and it was used to tell fortunes.
All the dishes are mentioned traditionally Irish and wherever you find yourself in the country, each will be made and prepared according to a regional preference or recipe. There's no reason why you shouldn't try them all though. With companies like Deliveroo Dublin, all you have to do is make your order of delicious Irish dishes online and you can experience our culinary culture in your own living room.