Cork is awash with delicious restaurants and cafes to suit every palate and budget. However, being on a budget doesn't mean that you should have to compromise on taste.
Luckily, when on a visit to the Rebel County you don't have to choose between cheap and tasty!
Here are the top five restaurants and cafes in Cork that will fill you up without breaking the bank.
5. White Rabbit Bar & BBQ, Maccurtain Street
When thinking of Cork cuisine, American style barbecue may not immediately spring to mind, but the White Rabbit is an absolute must-visit for US food fans in the city.
From heaving meat plates packed with half a pound of slow-smoked meat and two sides for under fifteen euro to indulgent long stack pancakes for less than a tenner, eating at the White Rabbit is certainly a lot more affordable than booking a trip to the States!
With the generous portion sizes and fun, authentic atmosphere, you'd be forgiven for thinking that you were in fact in the US of A – but don't worry, the White Rabbit is very proud of its beautiful home by the Lee, with all food locally sourced.
If you're popping by for lunch and not hungry enough for a giant meat plate, try the gooey Mac Daddy grilled sandwich. Mac and cheese in a sandwich – you can't go wrong!
Address: 56 MacCurtain Street, Victorian Quarter, Cork, Ireland
4. Pompeii Pizza, Franciscan Well
We love a good pizza here at Ireland Before You Die, and Cork is full of tasty pizzerias. Pompeii offers an extensive range of fresh wood-fired pizzas for an average price of only €10.
Situated in the beer garden of the popular Franciscan Well Brew Pub, the laid back atmosphere and friendly staff make Pompeii a favourite Cork venue for relaxing and enjoying tasty food with a pint of delicious local beer!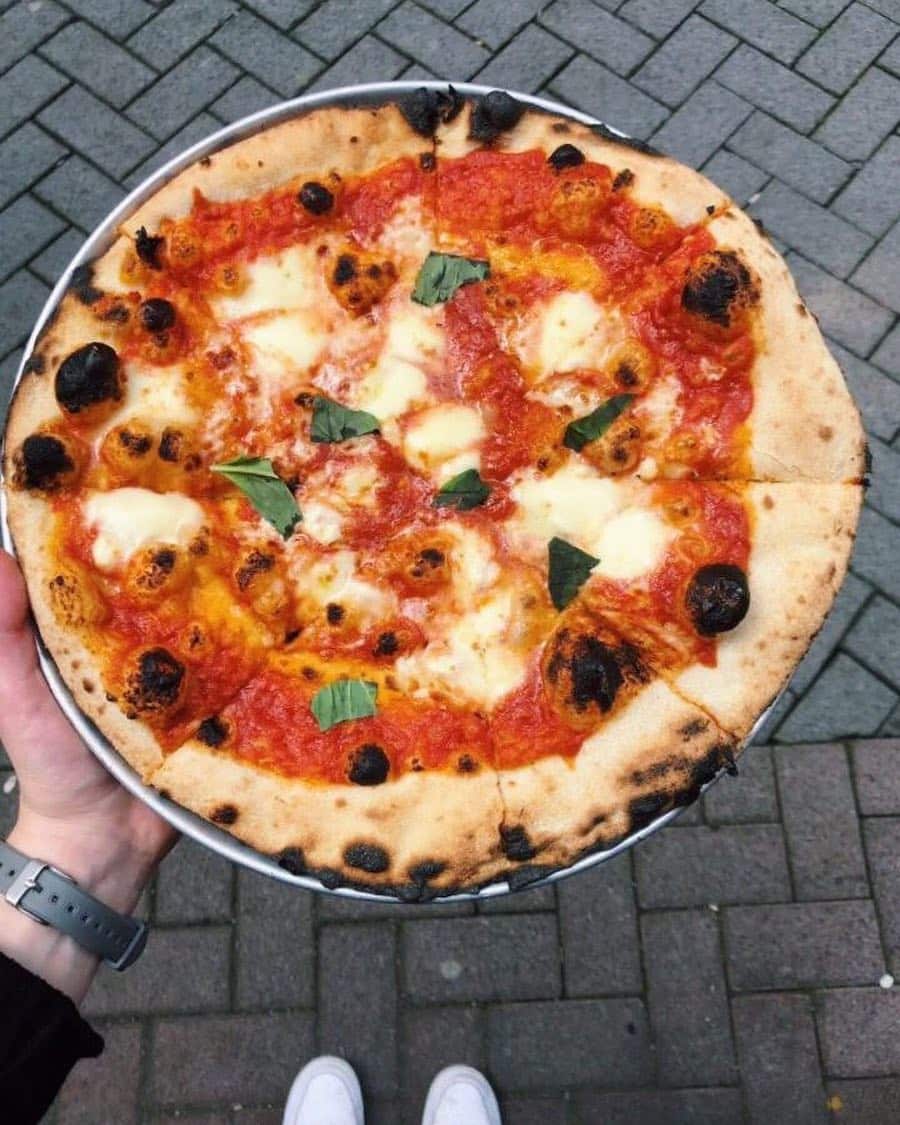 If you're a cheese lover, we can heartily recommend the Quattro Formaggi, but there really is a pizza for everyone on Pompeii's inventive menu.
3. Rocket Man, Winthrop Arcade
Cheap food doesn't have to mean unhealthy. The Rocket Man Food Company takes this to heart, offering healthy, tasty salads and sandwiches to the people of Cork at affordable prices.
The founders of Rocket Man themselves abide by the mantra, "if it doesn't taste great then what's the point?"
Their vegetarian-friendly food certainly does taste great, and at approximately €7 for a generous salad, there's no bitter aftertaste either!
All their food is seasonal, guaranteeing that you are always eating the freshest possible ingredients.
In the winter months (or even on a cloudy summer's day), warm up with one of their lovely hearty stews – delicious!
Address: 14 N Mall, Sunday's Well, Cork, Ireland
2. Myo Cafe, Pope's Quay
In a city renowned for its friendliness, to describe Myo as one of the friendliest cafes in Cork is high praise indeed! Small but perfectly formed, Myo offers a range of tasty, healthy sandwiches and soups alongside not-so-healthy but delicious cakes and other sweet treats, all at very reasonable prices.
A cosy spot for catching up with a friend over lunch or coffee, Myo is a peaceful gem amidst the hustle and bustle of the banks of the Lee.
If you're musically inclined, you might even get the chance to play one of the instruments that the cafe often has available for visitors.
Cork pubs may be known for trad music sessions, but an impromptu performance in a cafe is certainly unique!
Address: 34 Pope's Quay, Shandon, Cork, T23 F590, Ireland
1. KC & Son & Sons, Douglas Village
If you've ever passed through Douglas, the lively South Cork suburb approximately ten minute's drive from the city, on a Friday evening, you might be forgiven for thinking that a noteworthy event was taking place.
Every weekend the main street of the village is thronged with a long line of people waiting for… The local chippy, believe it or not! KC & Son & Sons, or KC's as it is best known, is a Cork institution.
A takeaway like no other, don't let the poky interior of KC's fool you – the food here is mouthwatering and very reasonably priced. Best known, perhaps, for its chicken pittas – all freshly made to order – we heartily recommend the famous King Creole.
A delicious mix of chicken, Cajun spices, mayonnaise, lettuce and, of course, a few chips thrown in for good measure, it really needs to be tasted to be believed.
Corkonians love KC's, so next time you're in the Rebel County go and see what all the fuss is about – you won't be disappointed!
Address: Douglas, Cork, Ireland