Dublin is a coastal county with stunning beaches, idyllic islands, and sandy shores just waiting to be discovered. Curious to learn more? These are the best wild sea swimming spots in Dublin.
Whether you're a seasoned swimmer or new to the open sea, Dublin is a fabulous place to test the water. A treasure trove of secret spots dotted along the coastline, there are so many types of places to take a dip.
Sea swimming is an everyday activity in Ireland, and whether it is for exercise, recreation, or socialisation, it brings together people from all walks of life.
If you're keen to take a dip in the Irish Sea, read on! These are the best wild sea swimming spots in Dublin.
5. Bull Island – the island by the city
Bull Island is a landmass located in Dublin Bay. The island sits parallel to the coastline and has two access points for cars, bikes, and those on foot, making it easily accessible year-round.
Measuring around 5 km (3.1 miles) in length and 2625 ft (800 m) wide, Bull Island is an ideal destination for those seeking natural surroundings close to the city.
With stunning views of Dublin City, Dublin Port, and Howth Head, dense sand dunes, and even a cafe, there's much to love about Bull Island.
With relatively shallow and serene waters, Bull Island is one of the best wild sea swimming spots in Dublin.
Address: Co. Dublin, Ireland
4. Killiney Beach – a Blue Flag beach
If you'd prefer to enjoy a dip with the knowledge that the beach and water both exceed health and safety standards, you best head to a Blue Flag beach – and Killiney Beach is a great go-to and is one of the best paddleboarding places in Dublin.
Located on the southside of Dublin City, this pebblestone beach is a sight for sore eyes, with views over the bay.
For those seeking the most scenic of swims, go at sunrise or sunset. Just don't forget the camera!
Address: Killiney, Co. Dublin
3. The Forty Foot – an Irish tradition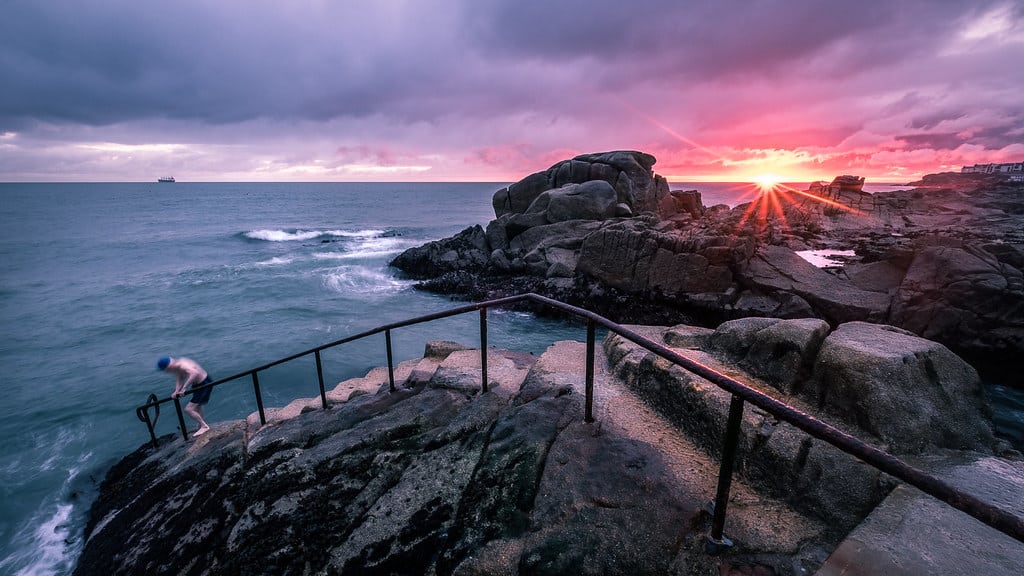 If you're new to sea swimming, we suggest you check out The Forty Foot in Dún Laoghaire on Dublin's southside.
Not far from the city, this sleepy seaside town can be found. The Forty Foot is its claim to fame: a famous swimming spot that has been popular with Irish sea swimmers for over 250 years!
If you're struggling to muster the courage to take the plunge, it's best to start here. Expect to see people of all ages take to the water every day of the year.
One of the most popular days to visit The Forty Foot is, in fact, Christmas Day!
Address: Sandycove, Dublin
2. Sandycove Beach – neighbour to The Forty Foot
Only a short distance from The Forty Foot is Sandycove Beach, another idyllic place to deep dive and one of the best wild sea swimming spots in Dublin, without a doubt.
Well maintained with lifeguards on duty during the season, this is a peaceful place to wade into the Irish Sea.
Small in size, Sandycove Beach is somewhat of a hidden gem. And, to top it off, you may even spot a seal or two splashing about in the water.
Address: Sandycove, Co. Dublin
1. Howth Cliffs – for adventurers to explore
The Howth Cliff Walk is perhaps one of the most epic experiences in all of Dublin. Tracing the Howth Peninsula, this trail is a treasure trove of hidden coves and remote beaches hugging the shoreline.
Due to its uneven paths, sheer cliff drops, and steep ascents and descents, it's not suitable for those who are less able or very young children.
Still, this is the place to find the best wild sea swimming spots in Dublin for those up for the adventure.
Just bear in mind that, to access most of these beaches, you'll have to work your way down the cliff – suitable footwear is strongly recommended, as well as water, sunscreen, and any other essentials.
Address: Howth, Dublin