From top-class food to medieval heritage and some brilliant bars, the 'Marble City' is one of Ireland's most up and coming destinations.
Kilkenny has something to offer everyone, but let's face it: a day out in Ireland is never predictable when it comes to the weather, so whether you're a seasoned local or just visiting for the day, grab your wellies and get ready for the top five things to do in Kilkenny on a rainy day.
1. Dunmore Caves – for a subterranean experience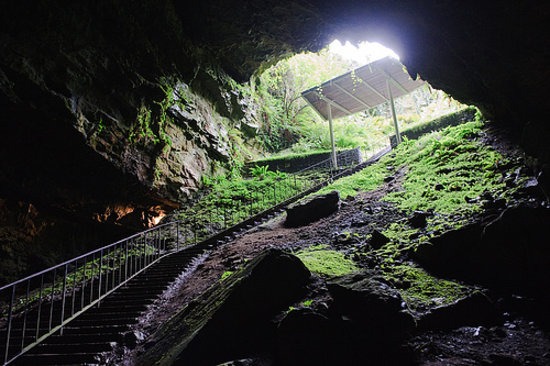 For those more adventurous people among us, a visit to the Dunmore Caves on Castlecomer Road has to be one of the top things to do in Kilkenny.
This guided adventure through fascinating underground chambers allows visitors to see some of the finest calcite formations Ireland has to offer.
If that's not enough to convince you, rumour goes that it is the third darkest cave in the world. Find out for yourself when they turn off the lights and try not to get too creeped out as you experience the darkness that thousands of local people endured as they sought refuge there in 928 AD, only to be massacred by the Vikings.
Learn more about this and impress people with your newfound geological knowledge after taking a look at its excellent exhibition centre.
Address: Castlecomer Rd, Inchabride, Kilkenny, Ireland
2. Smithwick's Experience Kilkenny – for Ireland's oldest brewery
In Kilkenny, we also have The Smithwicks Brewery. Founded in Kilkenny in 1710, Smithwicks actually predates Guinness in Dublin by almost 40 years.
The Smithwicks Experience is in a beautiful old Victorian building in the heart of Kilkenny city and will take you through the site of a Franciscan Abbey where monks first started brewing ale in the 14th-century. Who knew we could thank a crowd of monks for a good pint?!
Finish off by getting hands-on with the brewing process as you learn how to stir the mash and smell the hops. Don't worry, you won't leave thirsty, as you will be served a perfect pint of the delicious ale before you head home.
Make sure to check out the online discounts before booking if you decide to give this a go.
Address: 44 Parliament St, Gardens, Kilkenny, Ireland
3. The Oasis Spa @ The Lyrath Estate Hotel – for a spa day
If the rain is getting you down and you feel like treating yourself then this is one for you.
The five-star Lyrath Estate hotel is home to the award-winning Oasis Spa where you can choose from an extensive range of luxury treatments.
While it might be a bit pricey, this is one of the best spas in the country, and with the increasing stresses of the hectic modern-day, it is so important to take some 'me-time'.
So, whether it's a personalized facial or a full body massage, relax and enjoy yourself amongst the serene surroundings of the Lyrath Estate and its 170 acres of mature parkland.
Address: Dublin Rd, Lyrath, Kilkenny, Ireland
4. Lanigan's Legends Hurling Bar – for an Irish sports bar experience
Hurling is the pride and joy of Kilkenny, so a trip to the hurling capital of Ireland wouldn't be complete without making a stop here:  Lanigan's Legends Hurling Bar.
Enjoy hand-painted murals and prints of some of Kilkenny's finest hurling moments in its unforgettable hurling museum, or relive the glory days by browsing through its archive of hurling games.
Make sure to enjoy a drink afterwards at the bar, catch a game of the world's fastest sport on the big screens or listen to a local recall one of the many All Ireland Finals Kilkenny has won over the years.
If you are seeking an even more immersive hurling experience, check out the Kilkenny Way tour – a two-hour journey which takes you to the Lanigan's hurling museum, as well as to Nowlan Park where you can learn how to play hurling like a pro.
Address: 29 Rose Inn St, Collegepark, Kilkenny, Ireland
5. Ireland's only dedicated reptile zoo – for an exotic experience on the Emerald Isle
The Reptile Village in Gowran is completely indoors so great for when the rain is lashing down outside and the cabin fever is reaching an all-time high.
The zoo is open seven days a week, all year round, and boasts over 50 exhibits and some of the world's rarest and most unusual reptiles.
An entire day could be passed here exploring the exhibitions. And, to top it off, there is also a soft play area for the younger ones, a snack bar, and both an indoor and outdoor picnic area – if the rain ever decides to relent.
Address: Demesne Road, Gowran, Co. Kilkenny, Ireland