Heading to the Marble City? Here are the five best restaurants for foodies in Kilkenny that you need to try!
Over one million people head to the medieval city of Kilkenny every year in search of history, culture, and, of course, good food. That's why we're listing the very best restaurants in Kilkenny you need to visit.
With dozens of restaurants to choose from, it is undoubtedly foodie heaven. We have made it easier for you by ranking the best restaurants for foodies in Kilkenny.
So, whether you're after fine dining or perhaps something a little more rustic, Kilkenny is the place for you. Home to countless award-winning restaurants, the food scene in Kilkenny is thriving.
Here are the five best restaurants for foodies in Kilkenny.
5. Rive Gauche – represents local dining at its finest
Rive Gauche only came on the Kilkenny foodie scene in recent years, but it has definitely left its mark. Although inspired by French cuisine, it has combined this inspiration with a passion for Irish food producers.
This street front setting and extensive drinks menu make for the perfect date night location. Serving generous portions of deeply flavoursome dishes, Rive Gauche know how to impress.
There is an in-house baker who serves perfectly baked bread and confectionery. Indulge in some of the classic French dishes while basking in the relaxing ambience. This truly is one of the best restaurants for foodies in Kilkenny.
Address: 2 The Parade, Gardens, Kilkenny
4. Truffles Restaurant – a beautiful wine bar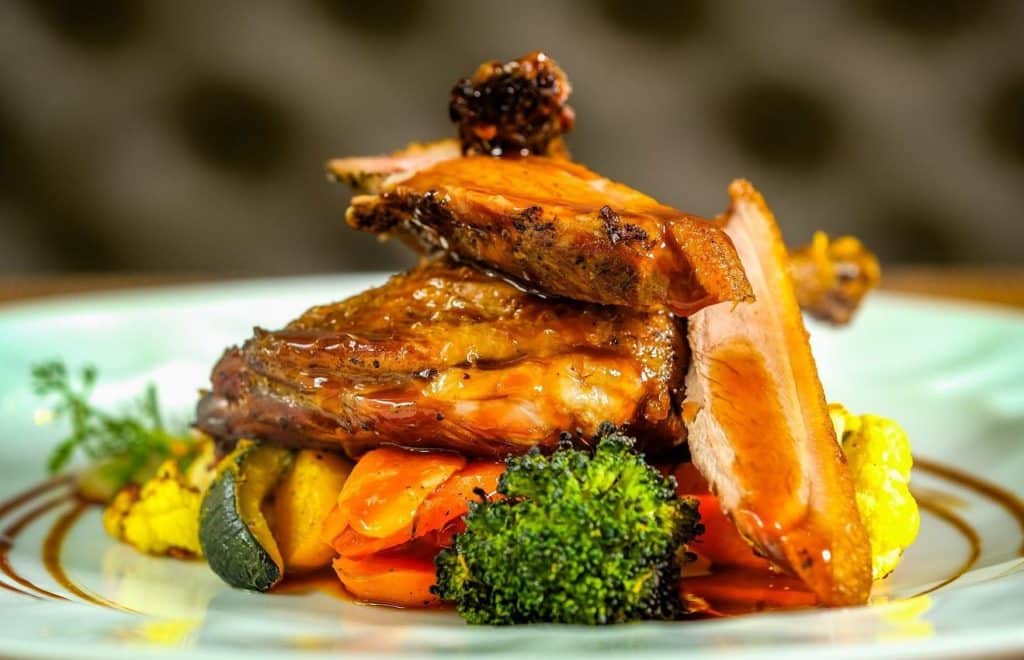 Nestled in the heart of Kilkenny, this restaurant and wine bar is truly a hidden gem. This intimate restaurant serves imaginative dishes, with each customers' allergens and dietary requirements catered for.
Enjoy casual yet upscale dining while enjoying the very finest of European food. Using modern French cooking techniques with an Italian hint, their menu is extensive.
From delicious duck liver paté to braised beef and vegetarian moussaka, the options are endless. Your severer will be able to inform you of a hand-picked bottle of wine that pairs beautifully with your meal.
Address: 22 William St, Gardens, Kilkenny
3. Campagne – an award-winning restaurant
Campagne is a top Michelin Star restaurant in Kilkenny City. Boasting a stunning interior and serving delicious food, this restaurant is sure to catch any foodies' attention.
Here, the emphasis is on serving food that is based on high-quality seasonal produce, with French influences. The menu at Campagne is guided by the seasons and its produce.
If you're looking for one of the best restaurants for foodies in Kilkenny, be sure to head to Campagne. Enjoy three Michelin Star courses for just €68, which is an absolute steal for the quality of dishes on offer.
Address: The Arches, 5 Gas House Ln, Highhays, Kilkenny, R95 X092
2. Petronella – great for vegetarians and vegans
Situated on one of the most famous lanes in Kilkenny, Butterslip Lane is the beautiful and historic Petronella. Named after the first woman in Europe to be burned at the stake for witchcraft, this restaurant is steeped in history and mysticism.
Admire the original stone walls and beams that were there when Petronella lived here. Petronella prides itself on its collective dining experience and warm, friendly service.
The menu is brimming with a mix of Irish and European dishes that cater to all. Drawing on the chefs' wealth of experience and creativity, the menu is exciting and delicious.
Address: Butter Slip Lane, Co. Kilkenny
1. The Lady Helen Restaurant – one of the best restaurants for foodies in Kilkenny
For those who know the foodie scene in Kilkenny, it will come as no surprise that The Lady Helen Restaurant is the best restaurant for foodies in Kilkenny.
Located in the stunning manor house of the Mount Juliet Estate, this Michelin Star restaurant is absolutely breathtaking. The mesmerising patrol views across the grounds and surrounding countryside are the perfect complement to your meal.
Using high-quality locally sourced seasonal produce, the chef here portrays his culinary vision through magnificent and exquisite dishes.
They offer varied tasting menus that showcase the local area and skilled chefs. Every dish contributes to the fine-dining experience of a meal at the Lady Helen Restaurant.
Address: Mount Juliet Estate, Autograph Collection, Walton's Grove, Mount Juliet, Co. Kilken