Westport is one of the best towns to visit in Ireland. In 1842, an English novelist, William Makepeace Thackeray, visited Westport and reflecting on his visit he wrote:
"The most beautiful view I ever saw in the world. It forms an event in one's life to have seen that place so beautiful that is it, and so unlike other beauties that I know of. Were such beauties lying on English shores it would be a world's wonder perhaps if it were on the Mediterranean or Baltic, English travellers would flock to it by hundreds, why not come and see it in Ireland!"
We couldn't agree more! Whether you're in Westport to climb Croagh Patrick or you went down the slightly less adventurous route of touring Westport House gardens, you can be sure of a perfect pint waits for you at the end of the day in any of these pubs.
5. The Towers – for a seaside setting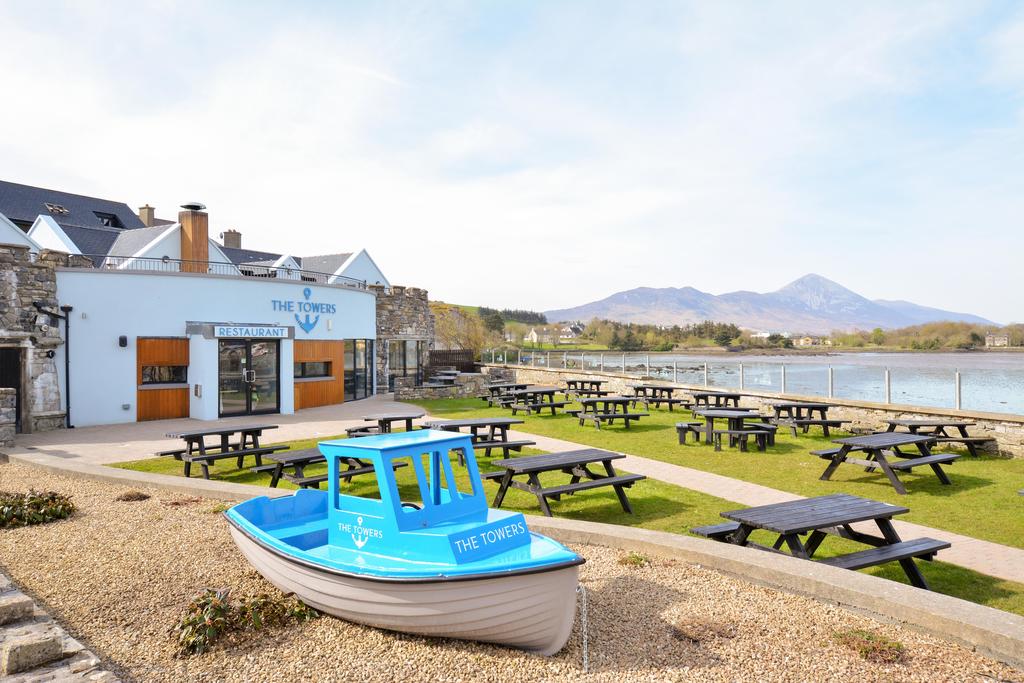 The Towers is usually a bustling spot, especially in summer months because its situated by Westport quay. Enjoy the stunning panoramic views of Clew Bay, Croagh Patrick and Clare Island. Since it reopened in 2016 it's modern nautical design has been a huge hit.
There's a covered beer garden, with the benefit of being protected from all the elements while still being able to enjoy the view. As well as drinks and food you can also get canapés and finger food at The Towers. Besides the beer garden is a fully enclosed children's play area which is fully visible from both the beer garden and the restaurant area. So it's perfect to occupy the kids while you wait for your food or supervise them while you catch up with friends.
Address: The Quay, Cloonmonad, Westport, Co. Mayo, F28 V650, Ireland
4. The Clock Tavern – for sports games and dancing
In the heart of Westport, The Clock Tavern is in an ideal location. There's a great atmosphere here for sports games.  They often have live music, and there's always a fun crowd and dancing. There's a great selection of bar food, 'From the Sea' and 'On the Grill' menus and their 'Traditional Irish Meals'.
It's a great pub for Instagram as it's bang slap in one of the prettiest streets in Westport. The Clock Tavern itself is painted green and purple (but lovely pastel hues) and the building beside it is pained a vibrant red.
Address: High St, Cahernamart, Westport, Co. Mayo, Ireland
3. The West Bar & Restaurant – for people-watching
Located on Bridge Street, The West is a spacious, bright spot to meet with friends. Established in 1901 it had a few refurbishments over the years, updating it for locals and tourists alike. The bar has excellent service, as well as a wide selection of hearty food that should keep everyone happy. The West Bar & Restaurant overlooks Westport's Famous Mall, so it's also an excellent spot for people-watching.
Address: Bridge St, Cahernamart, Westport, Co. Mayo, Ireland
2. Mac Brides – your classic Irish pub
Mac Brides is just your typical Irish pub. The décor is in keeping with Irish pubs your great-grandfather would remember. The staff are friendly, and you're greeted by a warm, friendly environment.
It's a great place to watch the match or rest your legs and relax with a pint after a day of climbing Croagh Patrick. It's a beautifully lit, clean place with great staff and an open turf fire. It's a lovely cosy little pub. You can easily imagine three generations of men drinking together here.
Address: Bridge St, Cahernamart, Westport, Co. Mayo, Ireland
1. Matt Molloy's – for the love of music
Matt Molloy's is the most famous pub in Westport. It's renowned for traditional music. Not only that, but it's also renowned for being owned by Matt Molloy, member of the legendary traditional Irish band The Chieftains. The Chieftains are a classic Irish band formed in Dublin in 1963, by Paddy Moloney, Sean Potts and Michael Tubridy. Matt grew up in Roscommon, and a child, he began playing the flute and won the All-Ireland Flute Championship at just 18 years of age. He was tremendously talented and became well known. He was invited to join The Chieftains by his friend Paddy Moloney. Matt joined The Chieftains in 1979 as one of the two non-Dubliners in the group, replacing Michael Tubridy on flute.
Matt often frequents the pub and oversees the mighty sessions. It's usually jam-packed with tourists and locals alike. Matt also recorded a live session album in his pub, which makes it even more special.
Molloys has traditional Irish music on seven nights a week, so you'll never be disappointed to miss it, and no matter what night you go out it will be a good one. The pub is well known for having sessions including many different musicians. The atmosphere is excellent. It's the perfect place to enjoy a pint and a tune.
Address: Bridge St, Cahernamart, Westport, Co. Mayo, Ireland
Written by Sarah Talty.
Get featured on Ireland Before You Die
Do you want to get your Irish business more online exposure? Especially to those interested in travelling the best places in Ireland? Then why not get a dedicated feature on Ireland Before You Die. Find out more 
here.