Looking to spot some amazing creatures during your visit to the Emerald Isle? Here are the five best places to spot native wildlife in Ireland.
Are you an animal lover visiting the Emerald Isle? If so, read on to discover our top five places to spot native wildlife in Ireland.
There are some places in the world that are simply synonymous with wildlife. Australia has its koalas, Canada its bears, and the Amazon its monkeys.
But while wildlife spotting may not be the first thing that comes to mind for visitors to Ireland (or even locals), that doesn't mean we don't have a wealth of native animals waiting to be discovered.
Ireland has many amazing birdwatching spots, there's an entire coastline with opportunities galore for seeing marine life, and a host of national parks to explore. So, here are five of the best places to spot native wildlife in Ireland.
5. Lough Ennell, Co. Westmeath – for breathtaking murmurations
There are a few places around Ireland to see murmurations, which are huge gatherings of starlings moving in synchronicity that seems to defy belief.
However, one of the most reliable is Lough Ennell in County Westmeath, where huge numbers of these native birds nest each year.
The best time of year to see a murmuration is late autumn to winter. They don't occur daily, so it might take a couple of trips to the lake to see this fascinating display of nature.
Ireland is one of the few countries that can boast stable starling populations, making it one of the best places to spot these native animals.
Murmurations can last up to 20 minutes, made up of tens of thousands of tiny starlings twisting and turning together in the sky like a giant shoal of flying fish.
Lough Ennell's starling population became famous in 2021 thanks to an incredible photograph that made the front page of the Irish Times (and which took the photographer several months and thousands of photos to capture).
Address: Carrick Wood, Lough Ennell, Co. Westmeath
4. Howth, Co. Dublin – marine life within easy reach of the city
One of the easiest places to see native wildlife in Ireland is Howth, just a short drive from Dublin City. With several walking trails, this peninsula at the northern end of Dublin Bay makes for a great day trip from the city.
Seals are a particularly common sight here, as they often follow the fishing boats returning to the harbour. The cliff trails also offer seal spotting opportunities.
Balscadden Bay Beach is known for them, though we recommend getting there early in the day before the beach-going crowd arrives.
Just off the coast of Howth is Ireland's Eye, a small island with even more wildlife to see. As well as seals, there's a chance to spot puffins, nesting cormorants, and other marine bird species.
The island – just a 15-minute boat ride from the peninsula – has its own set of hiking trails and a historical Martello Tower, making for a perfect addition to your time there.
Address: Balscadden Bay Beach, Howth, Co. Dublin
3. Cliffs of Moher, Co. Clare – iconic views and incredible birdwatching
While the entire 2,500 km (1,600 miles) length of the Wild Atlantic Way could be considered one incredible wildlife spotting location, the famous Cliffs of Moher are a particular hotspot.
Alongside those stunning cliff views are hundreds of bird colonies, including the largest mainland colony of puffins and nationally-important populations of guillemots, razorbills, fulmars, and kittiwakes. It's a birdwatcher's paradise.
The Cliffs of Moher are actually so important as a nesting area for seabirds that it has been designated a Special Protected Area for Birds by the EU.
As well as the tens of thousands of nesting birds on the cliffs, if you're lucky, you might even spot a few endangered species, including the peregrine falcon. For the best wildlife spotting, we recommend moving away from the areas near the tourist centre and car parks.
Put on a good pair of walking shoes or boots and head along the cliff-top trails to some quieter spots. Here, you can really take in all the facets of nature the area has to offer.
Address: Cliffs of Moher Visitor Centre, Co. Clare
2. Killarney National Park, Co. Kerry – for the widest range of wildlife diversity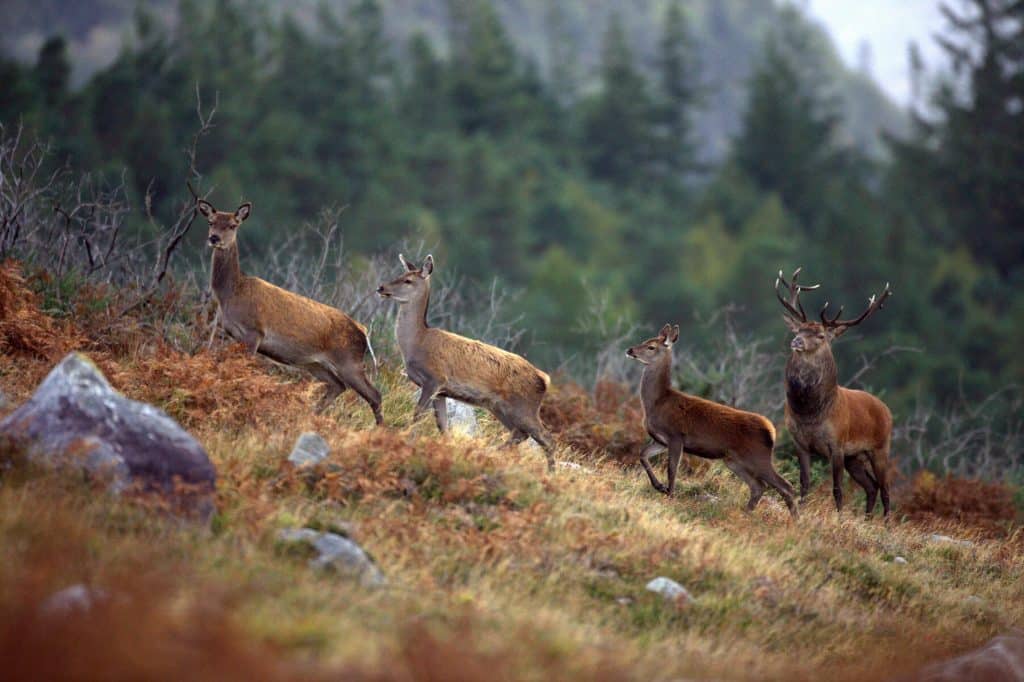 There are very few places on this island with as much fauna diversity as Killarney National Park. Thus, making this one of the best places to spot native wildlife in Ireland.
The park is home to Ireland's only native reptile, the viviparous lizard, many important fish species, frogs, butterflies, newts, and other small animals. The last surviving indigenous herd of red deer in Ireland also occurs in this valley area.
Though red deer – the only deer species native to Ireland – can be found in other parts of the country, these other populations are descended from reintroduced herds. In contrast, the lineage of the Killarney National Park red deer goes all the way back to neolithic times!
Other mammals that can be spotted in the park are bats, pine martens, otters, badgers, hares, and foxes.
Address (most popular/central area): Muckross House, Killarney, Co. Kerry
1. Skellig Islands, Co. Kerry – for birds that became film stars
Situated off the coast of the Iveragh Peninsula, Little Skellig and Skellig Michael are two incredibly important islands. The former is home to Ireland's largest northern gannet population and is such an important nesting site that the island itself is closed to the public.
Skellig Michael, the larger of the two, is not only a UNESCO World Heritage Site because of its ancient monastic site. Rather, it has become very well-known in recent years due to a certain popular movie franchise filming there.
We are talking, of course, about Star Wars. But what has this to do with spotting native wildlife? When filming for the final two Star Wars movies occurred on the island, the crew soon discovered an unforeseen problem: several hundred curious puffins.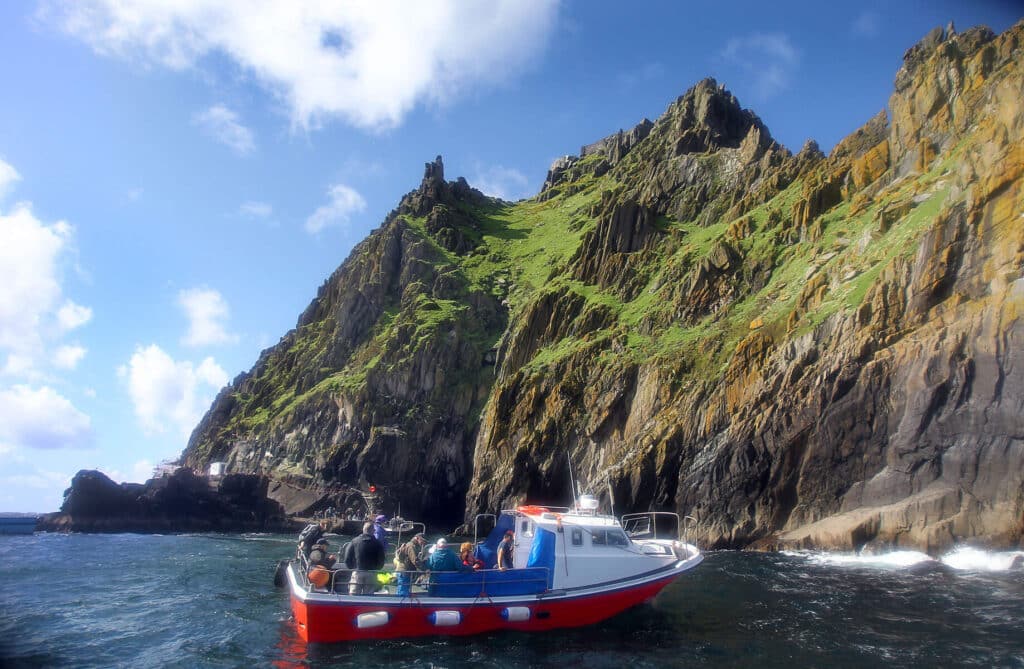 Though the birds kept getting in the shots, the crew couldn't interfere with them in any way due to their protected status.
After filming was completed, they realised it was easier to digitally alter the puffins into something else rather than remove them entirely. And thus, the very adorable 'porgs' were born.
The Skellig Islands would be worth a visit even without their wealth of wildlife. Still, visitors can also hope to see seals, basking sharks, minke whales, dolphins, and even leatherback turtles in the waters around the Skelligs.
This really is one of the best places to spot native wildlife in Ireland. Tours to visit Skellig Michael and its puffins go between April and August each year. Trips are limited in number, so we recommend booking in advance to make sure you don't miss out.
Address: Co. Kerry, Ireland
by Dearbhaile Ní Dhubhghaill (www.thiswildlifeofmine.com)