Exploring Waterford is sure to work up an appetite, so here are the top five best places for outdoor dining in Waterford City.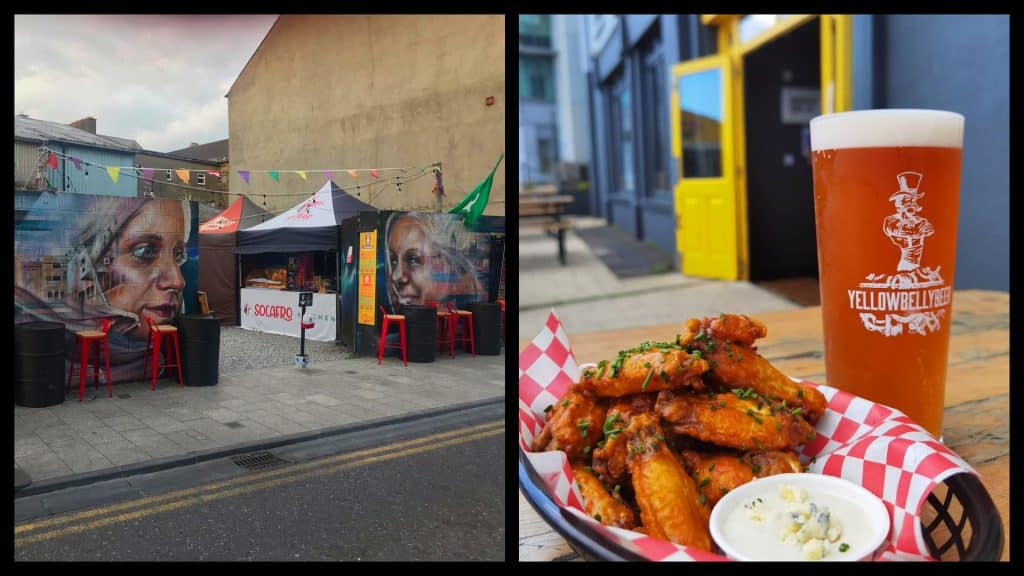 Waterford is Ireland's oldest city, which means there is a lot to see and do.
If you're a history buff, you'll want to visit 33 the Mall, the birthplace of the tricolour flag. If you're a fan of street art, then you will find plenty to see, thanks to the annual Waterford Walls festival.
Whatever reason you're visiting Waterford, you'll surely be hungry for some good food while you're there.
With the current demands for outdoor dining spots, we've decided to list the five best places for outdoor dining in Waterford City to help in the decision-making process.
5. Little Loko – a small space with significant portions
Coming in at number five on our list of the best places for outdoor dining in Waterford City is Little Loko. Waterford natives will all know about Loko, based in Ardkeen, a short drive outside the town centre.
We rejoiced when we discovered they were opening Little Loko. This new micro restaurant is located just a five-minute walk from the centre of town, meaning less of a journey to travel to get our fix.
Little Loko offers huge portions at reasonable prices and has some of the friendliest front of house staff you will encounter. Special shout out to their macaroni and cheese and millionaire fries!
This spot is ideal if you want to catch a quick bite before a cinema date, too, as it's located right across the road from Waterford's Odeon.
If you're lucky, you might even catch a live music performance while you're visiting. Be sure to check out the beautiful mural painted inside the restaurant by Waterford's own Caoifhionn Hanton.
Address: Unit 3 Aylesbury Manor, Johnstown, Co. Waterford, X91 V063
4. The Phat Cow at Grady's Yard – for vegans and meat-eaters alike
Located just two minutes away from Waterford's busy Apple Market, Grady's Yard is an excellent spot if you're still nervous about socially distancing at restaurants.
The Phat Cow is the newest venture from Waterford's Bear Grillz food truck, serving up dishes such as mouth-watering burgers and nachos to suit both meat-lovers and vegans.
They also cater for those following a gluten-free diet, which is always a bonus. They have a great selection of drinks in stock, too, and their bar staff are always delighted to help you find your new favourite beverage.
Address: John's Bridge, Johnstown, Waterford, X91 R3WV
3. Kyoto – for sushi, glorious sushi
If you're feeling like something more adventurous, Kyoto is going to be your new favourite place for outdoor dining in Waterford City.
With a gigantic menu and staff who are only too happy to help you decide, Kyoto serves something to suit everyone. From delicious vegan and vegetarian options (special mention for their veggie bento box) to hot stir fry and curry dishes.
Located on High Street, outdoor seating is available in front of the restaurant, providing a nice ambience to the area.
Address: John Collyn House, High St, Waterford, X91 EF8F
2. The Park Lodge Café – for great atmosphere and fabulous desserts
Located in an old gatekeeper's lodge in the People's Park, The Park Lodge Café is an excellent spot for breakfast and lunch and has the most divine bakery section. Seriously, it's overwhelming trying to select which cake you want!
Menu items include sandwiches, omelettes, French toast, accompanied by a great tea, coffee, and hot chocolate menu.
It's a perfect spot for people-watching; you can observe anything from dog walkers to skaters, and you might even catch a cricket match if you arrive at the right time.
It's an ideal spot if you want to bring the family to the playground and the skatepark is only a stone's throw away.
Address: People's Park, Newtown Road, Waterford City
1. Phoenix Yard Market – for fantastic street food and a great menu selection
Our number one choice for the five best places for outdoor dining in Waterford City had to go to the Phoenix Yard Market.
A relatively new addition to Waterford, Phoenix Yard hosts various street food stalls to arouse your taste buds. Opening in 2020, they have already taken Waterford City by storm.
If you're vegan, then we recommend The Crazy Vegetable – their seitan shawarma is perfection.
Other dishes you can try include Polish-style hot dogs from Grill Bike, a fusion of Caribbean and African dishes from Socafro Kitchen, and Mexican food from Chingon (otherwise known as Badass Burritos).
This is a great place for outdoor dining in Waterford City if you're eating with a group with very different tastes and dietary needs.
They have great on-street seating within Waterford's cultural quarter. Here, you'll be able to check out plenty of street art while enjoying your street food.
Once you're finished with your main meal, you'll have to pick up some dessert from The Donut Cabin. This spot has the best selection of doughnuts in the city. Too full? Bring one (or three) home to eat later!
Address: 39 O'Connell Street, Waterford City, X91 CDC7
By Gráinne Kavanagh