There is nothing that tastes better than freshly caught fish and homemade chips. So, we have the best places to get your hands on them in Belfast.
With Ireland being an island in the Atlantic, there is no doubt that the fish and chips you will find here will be some of the best you have ever tasted.
Thanks to the sheer freshness you cannot find everywhere, fish and chips just taste better in Ireland. Quality fish and chip shops, also known as chippers, can be found everywhere, and if you see a long queue, take it as a good sign.
So, if you find yourself craving some delicious fish and chips while in Belfast, it is imperative to add these top five eateries to your list and indulge in some freshly caught produce.
So, without further ado, let us show you our top picks. Here are the five best places for fish and chips in Belfast, ranked.
5. John Dory's – a popular chain of fish and chip shops in Belfast
With over three decades of catering experience, John Dory's ensures that its food is of the best quality. Everything they serve, they "fry with passion and serve with pride", according to their website.
One of the main reasons why this is one of the best places for fish and chips in Belfast is the fact that they consistently reward their customers for their custom, with every tenth order being free.
They also offer some great online discounts, ensuring you can enjoy some top-class food without having to splurge all the time. We love this kind and caring aspect!
They have many locations scattered across the Belfast region. So, you will never be too far from a fantastic fish supper from John Dory's.
Address: 636 Saintfield Rd, Carryduff, Belfast BT8 8FQ, United Kingdom
4. Mourne Seafood Bar – for a classy fish and chip supper
If you are looking for a sit-down fish and chips meal in a bustling seafood restaurant, then this classy option is for you.
This is an ideal option for a nice dinner with family and friends, where you can indulge in the freshest seafood while sipping on some delicious wine from their extensive wine list or a pint or two of ale.
Customers are drawn to the attractive décor, featuring an exposed brick wall, barrel tables, and outdoor seating, which is ideal for a sunny day. Meanwhile, oyster lovers can enjoy freshly hand-selected oysters.
With two locations to avail of, one being in Belfast and the other being in Dundrum, County Down, you will have every excuse to keep revisiting this delicious seafood restaurant.
Address: 34-36 Bank St, Belfast BT1 1HL
3. Browns Fish & Chips – for a multi-award-winning fish and chip shop
If the words, 'award-winning fish and chips', don't capture your attention, then let us tell you a little more about why you need to visit Browns in Belfast.
Browns has been in the fish and chip business for over ten years, so they know what they're doing; plus, they offer a very welcoming and genuine service, always ensuring that their food is as fresh as possible, as well as fast delivery right to your door.
This spot is a firm favourite amongst locals in Belfast, with customers ordering repeatedly. So, if it is good enough for them, it is certainly good enough for us.
Address: Unit 6 Woodbourne Cres, Belfast BT11 9PG
2. John Long's – a 100-year-old chipper
This traditional fish and chip restaurant and takeaway calls itself "the best-kept secret in Belfast", and we would have to agree.
For 100 years, customers have been relying on this family-owned business to cater to their quality fish supper needs. Today, nothing has changed, making this one of the most historic chippers in the city.
On the menu, you will find many classics. However, we suggest the popular fresh battered fish and Maris Piper chips – a real winner! Even Hollywood legends Brendan Fraser and Sean Bean have popped in for a feed.
Address: 39 Athol St, Belfast BT12 4GX
1. Fish City – an award-winning seafood restaurant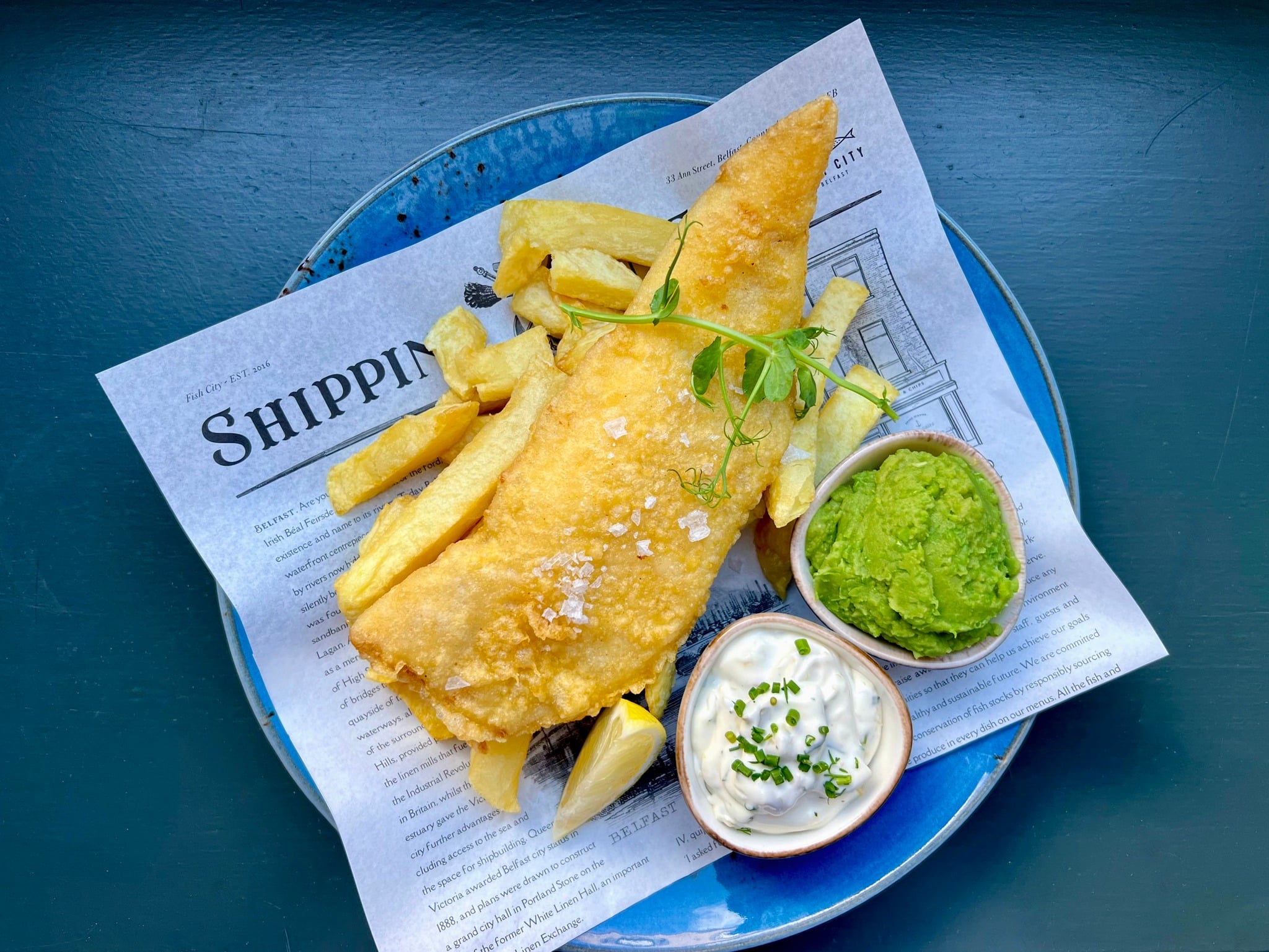 This seafood restaurant in Belfast city centre is the place to go for the ultimate fish and chips in a wonderful setting. Serving everything from a classic fish supper to quality seafood dishes, you will be guaranteed amazing food here.
This family-owned business has welcomed customers since 2013, offering both dine-in and takeaway services. Thus, making it one of the best places for fish and chips in Belfast.
You will experience true Northern Irish hospitality, fresh produce, and a lively atmosphere at this award-winning seafood eatery, which is why it is one not to be missed.
Address: 33 Ann St, Belfast BT1 4EB
Notable Mentions
Simply Fish and Chips: Located on Oxford Street, this super affordable chip shop is ideal for fish and chips on the go. Don't miss their meal deal Mondays!
Smyth's Fish and Chips: For good prices, generous portions, and fresh food, Smyth's has to be considered for a delicious fish and chips dinner.
The Sea Fry:This place is sometimes privy to a long queue, which means that the food is pretty good. So, be sure to check this one out. It will be worth the wait.
Manny's Fish and Chips: Located on Antrim Road, Manny's is a popular choice amongst locals, with their reasonable prices and fresh ingredients.
Cafe Fish: Located on the Lisburn Road, Cafe Fish is a must-visit for fresh fish and delicious chips.
Kings Chippy: Located on the busy Ormeau Road, Kings Chippy is is known for its delicious food and fresh fish suppers.
FAQs about the best places for fish and chips in Belfast
Where is best for fish and chips in Belfast?
John Long's is great for takeaway, Fish City for a casual sit-down meal, and Mourne Seafood Bar for a fancier occasion.
Does Ireland have good fish and chips?
Yes, fish and chips on the island of Ireland are always fresh and tasty.
Is Belfast good for fish and chips?
Yes, whatever the occasion, there are plenty of options for fish and chips in Belfast.
Belfast has a huge variety of places to indulge in fish and chips.
So, maybe you are out for a celebratory meal, grabbing some quick food on the go, or are on the hunt for your new favourite chipper. Whatever, be sure to check out these five best places for fish and chips in Belfast. You certainly won't regret it!