Any day out sightseeing is not complete without a good hearty breakfast to get you started. So, let us guide you with our definitive list of the best places for a full Irish breakfast in Galway.
Galway is known as Ireland's cultural heart and is always a very popular spot. It is also an inspiring place to visit for both locals and tourists alike, especially if you are a foodie.

There are many things to do in Galway that will keep you busy. Still, every jam-packed day must start with a wholesome breakfast – a wholesome Irish breakfast.
So, if you have a big day of exploring ahead of you or are just looking for some breakfast inspiration for the weekend, then this is the place for you.
Warning – this will make you hungry! Here are our five best places for a full Irish breakfast in Galway that you cannot miss.
5. Ard Bia at Nimmo's – a casually hip place to dine out for an Irish brekky
This quirky restaurant has been a long-time favourite for both locals and visitors, and their full Irish breakfast is to die for.

They pride themselves on having seasonal dishes that change daily. So, you are guaranteed ultimate freshness and quality in the heart of Galway city.
With a tempting array of the quality Irish foods on offer, whether you are looking for an afternoon feed or some amazing breakfasts, you will not leave disappointed.
This is the place to try out some creative Irish dishes. Still, their classic and ever-popular full Irish is a must, of course, featuring all locally sourced ingredients.

They aim to provide great food in a fun environment, and that is precisely what you get, no matter what time of day you arrive. With a genuinely delicious breakfast menu, this is one of the best places for a full Irish breakfast in Galway, which should not be missed.
As well as their cooked breakfasts, they also offer an array of buttermilk pancakes, and other delicious breakfast offerings.
Address: Spanish Arch, The Long Walk, Galway, H91 E9XA
4. Cupan Tae – the best place for an Irish breakfast in a cosy environment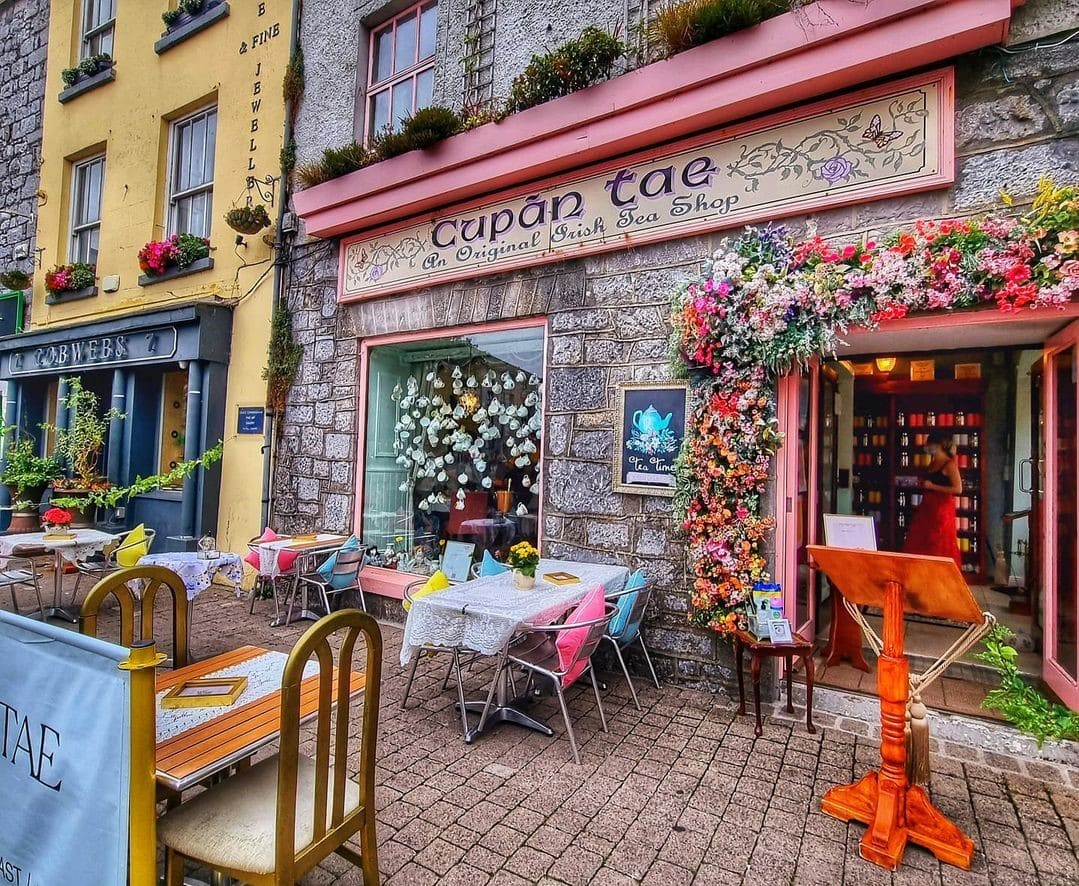 This iconic tea room is the ideal place to pop into, not only for a cup of top-class teas but also for their delicious full Irish breakfast, which is served with a range of fresh ingredients and a smile.

This is the place to feel at home, enjoy a cosy atmosphere and even take away a tea or two from their gift shop to try at home.
Located on Galway's Quay Street, you cannot miss this quaint establishment, a favourite for many years and attracting tourists and visitors year in and year out.
Address: 8 Quay Ln, Galway, Ireland
3. Gourmet Tart Co. – a must-visit on the Galway breakfast scene for tasty treats
The Gourmet Tart Company, located in Salthill, is your perfect stop off for wholesome excellent breakfasts in the area. You will be amazed by their selection of baked goods, which they certainly take seriously.
However, we advise you order the full Irish breakfast here, which comes with locally sourced meats and their tasty freshly baked multi-seed bread, which goes hand in hand with melted Irish butter.
You will be guaranteed service with a smile here, and that, along with their incredible food, is why people keep coming back for more. Thus, making it one of the best places for a full Irish breakfast in Galway.
If you're in the mood for a lighter breakfast or a sweet breakfast, Gourmet Tart Company serve an array of pastries, tarts galore, and other Irish goodies.
Address: Jameson Court, opposite Salthill, Co. Galway
2. Revive Café – for a fresh breakfast in a traditional setting
Revive Café is a cute little traditional café that offers a fantastic full Irish breakfast and plenty of vegetarian options. They even offer a vegan breakfast option of their Irish breakfast.
They boast an excellent location, right in the heart of Eyre Square in the centre of Galway City. This is yet another reason Revive is among the favourite restaurants of Galway locals.

Since opening in 2001, this local café has always been trendy. You will find this in the taste of their fresh amazing food and the smell of the freshly baked goods, which are homemade from 6.30 am.
Their full Irish comes with the traditional ingredients we all love, such as bacon rashers, pork sausages, pudding, fried eggs, and toasted soda bread farls.
Every full Irish is served with a choice of tea or coffee and is available until noon Monday to Saturday and until 2 pm on Sundays. 
Address: 35 Eyre St, Galway, H91 R8Y9
1. 56 Central – one of the best places for a full Irish breakfast in Galway
Offering up a hearty full Irish breakfast, 56 Central is the place to be. This is not only for their epic lineup of food options but also because their environment oozes fun vibes, which is fitting considering their tagline is 'Our Happy Place'.
The helpful staff aim to make sure that you leave with a smile on your face. How could you not when this whole place has a relaxed atmosphere based on a wholehearted community spirit?

You can tell everything's been made with love and happiness when it comes to their delicious food, especially their incredible breakfasts. 
Address: 5/6 Shop St, Galway, H91 FT5D
So, if you spend a few days in Galway, you have a great range of breakfast options to check out there, none of which will disappoint and all of which are at quite a reasonable price.
As we all know, there is no better way to start your day than with a hearty full Irish breakfast.
Other notable mentions
B.C Restaurant & Coffee Shop: The Galway Bakery Company, known locally as the GBC, is the perfect spot to get your full Irish breakfast served as they have an all-day breakfast menu.
Deeley's Café: A great full Irish breakfast with tea or coffee in the heart of Galway at a decent price. This is definitely one of the most popular Galway breakfast spots.
Esquires – The Organic Coffee Company: This coffee chain provides some of the finest coffee in town alongside an unbeatable full Irish breakfast. With delightful staff and plenty of hearty morning meals, this is a must.
Finnegans: A traditional Irish restaurant with friendly staff, a slap-up full Irish breakfast, mini-Irish breakfast, and a vegetarian meat-free option, perfect for everyone.
Kai Cafe and Restaurant: Kai Cafe and Restaurant are known for their brunch specials, excellent coffee, and friendly staff, making this a much-loved central spot.
Gourmet Food Parlour: Gourmet Food Parlour is one of the most well-known breakfast cafes in Ireland, serving amazing breakfast foods and excellent coffee, making it a paradise for foodies.
FAQs about the best Irish breakfast in Galway
What is the best breakfast Galway has to offer?
If you're looking for quality breakfast options in Galway, you'll be spoilt for choice. Aside from the above, some of the best places for breakfast in this beautiful city are McCambridges, Dela Restaurant, and Caprice.
Where does the best brunch in Galway?
If you're looking for brunch in Galway, we highly recommend Dela, Esquires, and Temple Cafe.
Where can you get the best pancakes in Galway?
If you're looking for delicious fluffy pancakes, Mr Waffle and Dela.