Ireland is regarded by many as a top-class gambling destination. So, here are our top five best-known casinos in Ireland.
People decide to visit Ireland for many reasons.
Some like the culture and mentality of the people here and have heard that Irish people are too welcoming, friendly, and positive. Others visit lovely nature spots, try out different specialities, or simply experience the nightlife in some of the major towns.
However, there is one thing that is, somehow, under the radar. Some tourists consider Ireland a perfect gambling destination. Indeed, that makes sense because some brick-and-mortar casinos here are well worth visiting.
So, we are here with the top five best-known casinos around Ireland you need to visit.
Irish brick-and-mortar casinos aren't the only option ‒ plenty of ways to play
Before we answer the question from the previous paragraph, there is one more thing that we have to say. We do understand that some people simply love gambling. It relaxes them and makes their journey more interesting.
So, brick-and-mortar casinos are not the only form of gambling available in this country. You can also enjoy different casino games from the comfort of your hotel by visiting some of the online casinos!
Online casinos have become viral in the past few years. More and more licensed gambling operators are offering their services to the Irish market.
You can find some of the best online casinos in Ireland at www.bestcasinosites.net/ireland/ and ensure that your data is completely safe and secure.
But why would someone decide on this move? If you want to avoid crowds or simply spend more time in other locations, this will be a tremendous replacement.
Yet, if you still want to visit some traditional gambling venues within the country, then you deserve to get more info about the best-known casinos around Ireland. Next, we highlight five of them. So, let's find out more facts about them together!
5. Dr Quirkey's Good Time Emporium, Co. Dublin ‒ one of Ireland's most unique venues
We will start the list with the most family-friendly casino in the country. Indeed, there are many amazing things families can do in Dublin. But, if parents or family members older than 21 insist on testing their luck, then this place is going to be ideal!
So, why is this casino so special? First and foremost, it offers a variety of casino games such as slots, different table games, and more. But, it also offers typical games for youngsters in case they do not want to gamble or are younger than 21.
Little ones can play ski ball and basketball and enjoy similar entertaining activities. The casino is located at O'Connell Street Upper.
Address: 59 Phibsborough Rd, Phibsborough, Dublin 7, D07 WP58, Ireland
4. The Sporting Emporium, Co. Dublin ‒ one of the best-known casinos around Ireland
If you are looking for Dublin's hotspots, then this casino certainly is one of the locations you must visit. It doesn't matter if you have a car or explore the town by bus. This casino is accessible to everyone as it is located on Grafton Street.
The casino is often full, which can be a disadvantage. We suggest you come here earlier to grab the free spot. Additionally, there are certain requirements you must respect.
You won't manage to gain access without a valid ID. Customers will have to register at the entrance. That way, the casino wants to ensure that there are no underage customers that try to sneak in.
Address: Centenary House, 5 Anne's Ln, Anne St S, Dublin 2, D02 AK30, Ireland
3. Carlton Casino Club, Co, Dublin ‒ a fancy casino experience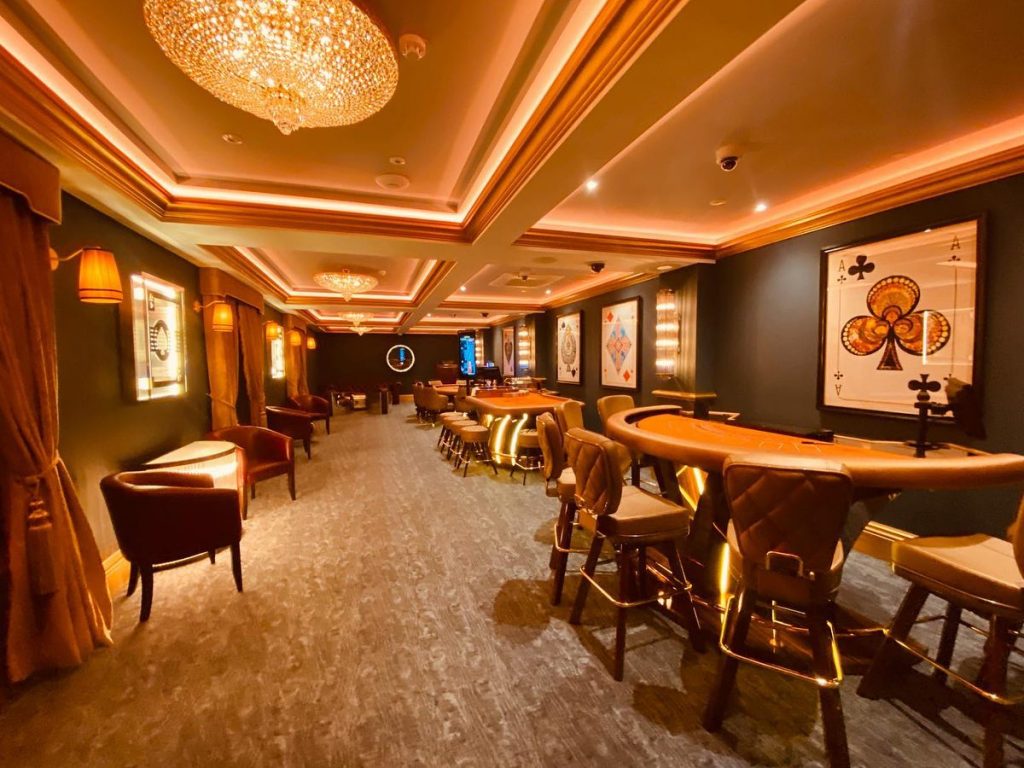 Are you a fancy type of person? Look no further! Carlton Casino Club is the best thing you could visit while spending time in Dublin.
Apart from the gaming floor, you will also find a lot of bars as well as a dining area. That is a great option for gambling lovers that want to try out different Irish drinks and traditional meals.
Speaking of games you can find there, the casino truly offers a variety of gambling options. The most popular options are blackjack, roulette, and pontoon. But that's not it!
All guests will get the chance to access some of the poker tournaments that are organized every day. You will find this casino on O'Connell Street Upper.
It is not far away from Dr Quirkey's Good Time Emporium. We suggest you visit them both if you want to discover the best-known casinos around Ireland!
Address: 55/56 O'Connell Street Upper, North City, Dublin, D01 AW60, Ireland
2. Macau Sporting Club, Co. Cork ‒ one of the best casinos in the south
If you do not plan to spend the entire holiday in Dublin, then going to Macau Sporting Club in Cork is a great plan. This is a casino that is open every single night during the week.
Here, you can enjoy different traditional Irish specialities, music, and drinks. But, if you are a passionate gambler, the gaming floor will be more interesting to you. You can play different variants of poker, table games, and punto banco.
Address: 16 St Patrick's St, Centre, Cork, Ireland
1. Fitzpatrick's Casino, Co. Dublin ‒ open seven days a week
Have you ever heard about the Plaza Hotel Complex? Well, this casino is part of that resort. Fitzpatrick's Casino is not the type of gambling venue where you can find all the games. It is mainly focused on slots and roulette.
All visitors will get the chance to win different daily prizes. Best of all, the casino is open the entire day, seven days a week. According to our research, it offers some pretty huge jackpots. They're drawn daily, somewhere between 2 pm and 2 am.
Address: The Plaza Complex, Belgard Square S, Tallaght, Co. Dublin, D24 P9CC, Ireland
Conclusion ‒ our thoughts on the best-known casinos around Ireland
So, there you have it; the five most popular casinos around Ireland. Most of them are located in the capital of the country. If you want to avoid crowds or spend some time in some other places, check out online casinos that can be a great alternative.
If you insist on visiting them, figure out from our reviews which one is the most suitable. And, most importantly, enjoy your trip!
Get featured on Ireland Before You Die
Do you want to get your Irish business more online exposure? Especially to those interested in travelling the best places in Ireland? Then why not get a dedicated feature on Ireland Before You Die. Find out more 
here.
Legal Disclaimer
We cover articles relating to many activities. Some of our articles showcase gaming and gambling as activities. While we do not take money for bets or own any gambling venues, we feel it is important that our readers know the risks of such venues or sites that we may mention in our articles. Gambling involves risk. Please only gamble with funds that you can comfortably afford to lose. See our legal disclaimer for more info.