The gin revolution is here, with more and more people opting for the versatile spirit as their drink of choice. Here are the five best Irish gins you need to try before you die.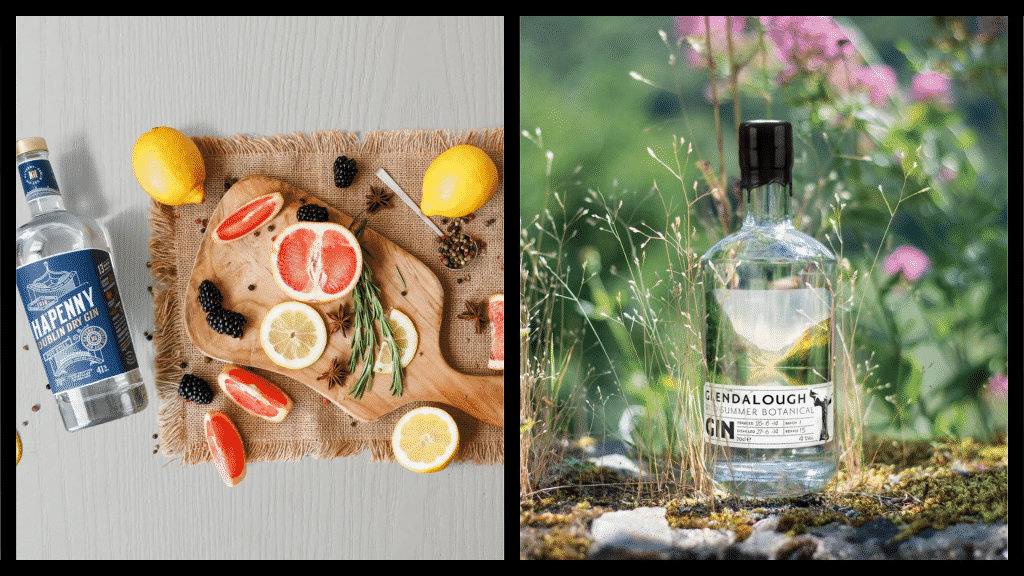 Whether you opt for a simple but effective gin and tonic or prefer to try a fancy, fun, and flavour-filled cocktail. Gin is one of the most versatile drinks, suitable for any occasion.
Irish gin brands have taken the market by storm, with delicate flavours that are sure to delight even the fussiest gin drinker.
Although the Emerald Isle is traditionally known for its beers, stouts, and whiskeys, the gin market in Ireland has grown exponentially in recent years.
So, if you fancy trying some local botanical flavours on your next trip to Ireland, here are the top five best Irish gins you need to try before you die.
5. Ha'penny Gin, Co. Dublin – for a feel of Ireland's capital city
Inspired by Ireland's bustling capital city, Ha'penny is an Irish handcrafted small-batch dry gin.
Featuring 13 expertly selected botanicals, including juniper berries, blackberries, dandelion flowers, lavender, geranium and more, sipping on Ha'penny Gin is a true flavour experience.
Also, known for its sweet aromas, you can choose between the original Ha'penny Dry Gin or try out their pink Rhubarb Gin for something a little different.
The history of Dublin is part of this gin's appeal. It is made using botanicals grown in Pheonix Park since the Ha'penny Bridge was built in the 19th-century.
4. Jawbox Gin, Co. Antrim – a Belfast favourite
This Belfast-based gin brand has become a firm favourite in the city and further afield, making it one of the best Irish gins you need to try before you die.
Distilled in a wooded estate just outside the city, Jawbox is a classic dry gin often paired with a thick wedge of honeycomb.
Offering bold juniper and pine notes balanced by a peppery coriander aftertaste, this complex gin comprises 11 botanicals. This gives it the distinct flavour that gin drinkers keep coming back for.
Using a 'vapour extraction' method of distillation, botanicals in Jawbox are juniper berries, black mountain heather, cardamon, angelica root, and more.
If you fancy something a little different, opt for their tasty Pineapple and Ginger or Rhubarb and Ginger Gin Liqueurs, perfect for a sweet summer drink.
3. Shortcross Gin, Co. Down – for Ireland's most awarded gin
Shortcross Gin is another favourite based in Northern Ireland. It is made by Northern Irish craft gin distillery, Rademon Estate.
As 'Ireland's most awarded gin', we couldn't make a list of the best Irish gins you need to try before you die without mentioning this award-winning spirit.
Located on a 500-acre estate in Downpatrick, County Down, Shortcross has become a firm favourite among gin drinkers since its founding in 2012.
Named after the Gaelic meaning for the local village of Crossgar, husband and wife team Fiona and David Boyd-Armstrong have created a spirit to be proud of, firmly placing Ireland on the gin world stage.
Botanics include wild clover, elderflowers and elderberries, juniper berries, apples, and more. Thus, a unique flavour is sure to be enjoyed when sipping on Shortcross Gin.
2. Glendalough Gin, Co. Wicklow – fresh with mountain flora
Set up by a group of friends from Dublin and Wicklow, Glendalough Gin has grown to become one of the most popular gins in Ireland.
Distilled in the mountains of County Wicklow, Glendalough Gin is inspired by the stunning scenery of the so-called 'Garden of Ireland'. In fact, personally, we can think of no better setting for a botanicals distillery.
Foraging wild plants sustainably from the mountains to come up with gorgeous flavours and aromas, Glendalough Gin offers up truly Irish flavours using Irish botanicals.
The delicate flowers used in the distillation of their Wild Botanicals Gin elevates this drink to the next level. Make sure to drink with lots of ice.
1. Drumshambow Gunpowder Irish Gin, Co. Leitrim – for an oriental flavour experience
Topping our list of best Irish gins you need to try before you die is Drumshambow Gunpowder Irish Gin.
Distilled near the local village of Drumshambow in County Leitrim, Drumshambow Gunpowder Irish Gin has made a great name for itself on the Irish and global gin market.
With the ethos of 'bringing together unrelated things for the first time', this is a truly original tasting gin. Furthermore, inspired by oriental flavours, a tingle of this drink on your tongue will take you on a journey to the east.
Botanics include meadowsweet from Drumshambow paired with gunpowder tea from China, and oriental grapefruit from Indonesia. The flavours of this gin are truly wonderful and unique.
Other notable mentions
The Ninth Wave Gin: The Ninth Wave gin hails from Hinch Whiskey Distillery in Ballynahinch, County Down. It is a superb, award-winning gin, made with nine distinctive and delightful botanicals.
Maharani Gin: Maharani Gin is made by Rebel City Distillery in Cork and is definitely not one to be missed.
Silver Spear Gin: Silver Spear Gin is a premium artisan gin that hails from County Carlow. Enjoy with some sliced strawberries and fresh lime and you're in heaven.
Mór Irish Gin: From Arderin Distillery in Tullamore, Co. Offaly, comes a sharp, sweet and citrusy gin that uses Slieve Bloom mountain water and boasts hints of floral rosemary.
FAQs about Irish gin
How many Irish gins are there?
Ireland has had somewhat of a gin revolution. There are now 68 gins made across the island of Ireland.
How do you enjoy Irish gin?
Well, It depends on the gin. You can garnish you're beautiful Irish gin with the likes of a lemon peel, fresh lime or pink grapefruit. As well, of course, as a premium tonic.
Is gin popular in Ireland?
Yes, gin is very popular in Ireland. It's actually the fastest-growing spirits category among Irish consumers right now.