Home to iconic tourist attractions like the Giant's Causeway, Dunluce Castle, and the Dark Hedges, County Antrim is also home to some fantastic off the beaten track stops.
With plenty of iconic attractions along the Antrim Coast and Causeway Coastal Route, you may want to discover something new just off the beaten path.
From secret waterfalls to hidden caves, historic castles, and more, there is always something new to discover. So, read on to find out our top five best hidden gems in County Antrim.
5. The Mermaid's Cave – a truly magical experience
You've probably heard of the iconic Dunluce Castle that sits on the edge of the cliff overlooking the wild waves below. But we bet you didn't know about this hidden gem that hides below it.
The Mermaid's Cave is definitely one of the best hidden gems in County Antrim, and many locals don't even know it exists!
This huge cavern, situated 82 ft (25 m) below the castle, is a true gem to discover. To reach the cave, you will have to climb down a whopping 115 steps, but we promise it's worth it.
Address: 87 Dunluce Rd, Bushmills BT57 8UY
4. Kinbane Castle – a lesser-known clifftop castle
If you haven't quite had your fill of historic castle ruins after visiting Dunluce Castle, then we recommend making the trip to Kinbane Head, which is on your journey from Belfast to the Giant's Causeway.
You will find these impressive ruins sitting atop a headland jutting out into the Atlantic Ocean just half an hour along the coast. Plus, it's completely free to visit.
Dating back to the 16th-century, a visit to these impressive ruins is a must-visit for any history buffs.
Even if you're not a big history fan, Kinbane Head is still worth a visit for incredible views of Rathlin Island and the Antrim Coast stretching to the east and west.
Address: 81 Whitepark Rd, Ballycastle BT54 6LP
3. Antrim Castle Gardens – for historic floral gardens
Next up on our list of the best hidden gems in County Antrim is the stunning Antrim Castle Gardens.
These stunning 17th-century Anglo-Dutch water gardens are one of only three in Ireland and Britain. After undergoing a recent regeneration project, they are a true treat to visit.
Located in Antrim town itself, these stunning gardens are the perfect spot for walking on a sunny day. These 400-year-old gardens are the only ones of their kind in the whole of Northern Ireland, making them a true historical gem.
Some of the best bits to check out while you're here are Clotworthy House, the Large Parterre, Her Ladyship's Pleasure Garden, and the Yew Tree Pond.
Address: Randalstown Rd, Antrim BT41 4LH
2. Cushendun Village – a quaint seaside village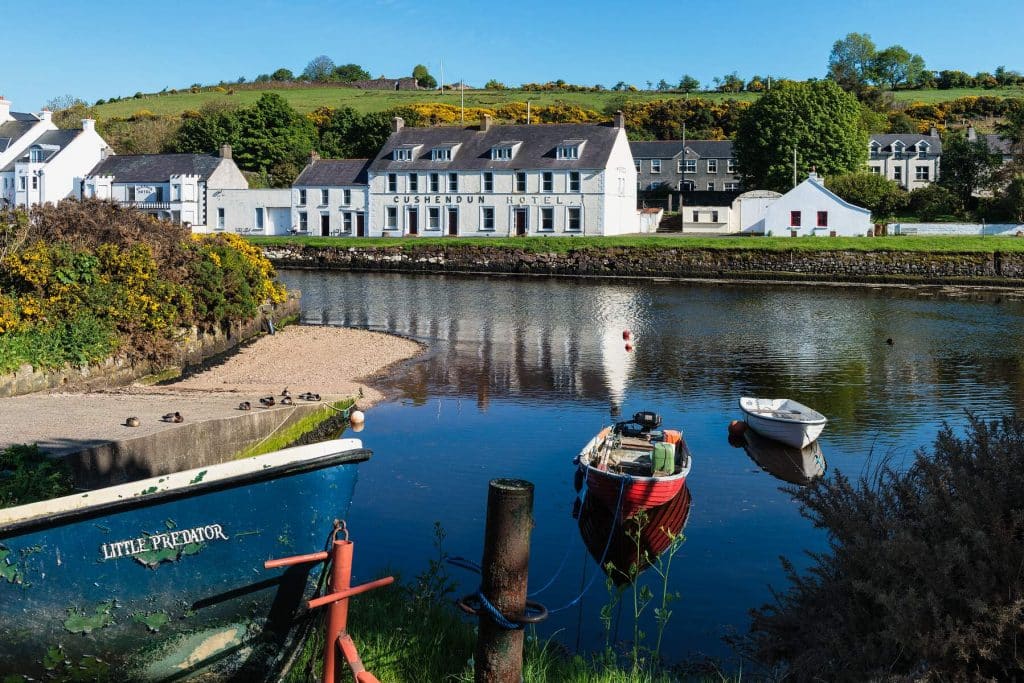 No visit to the Causeway Coast is complete without visiting some of the quaint coastal villages dotted along the coastline.
One of the best examples is Cushendun Village, hidden in the Glens of Antrim, close to Torr Head. A stop off at this cute little village will make you feel like you've taken a step back in time to Ireland of yesteryear.
This village has a distinctive Cornish feel and plenty to explore, full of charming architecture and natural wonders.
While you're here, pay a visit to the incredible Cushendun Caves, the historic Glenmona House, and the infamous Castle Carra ruins. Also, make sure to say hello to the village's resident goat, Johann.
Address: Cushendun, Ballymena BT44 0PG
Not far from the coastal town of Larne is one of the best hidden gems in County Antrim, Gleno Waterfall.
Popular with newlyweds looking for a picturesque backdrop for their wedding pictures, this spot is a true hidden treasure to discover.
The magnificent 30 ft (9 m) waterfall cascades in a cove deep in the Glens of Antrim. Stopping here, you'll feel like you've stepped into a fairytale land.
This stunning waterfall is also popular with cold water swimmers if you fancy a dip in the water. Can you think of a more perfect way to spend the day than heading for a swim in a hidden waterfall? We sure can't!
Address: Waterfall Rd, Gleno, Larne BT40 3LE