Whether you're a seasoned cyclist looking to get out on two wheels or just want somewhere new to go for a family walk, Ireland has an abundance of scenic greenways to explore.
Ireland's greenways offer an abundance of scenic off-the-beaten-track trails for those looking to get out in nature. These are the five best greenways in Ireland.
Often created from old abandoned Irish rail routes, Ireland's greenways pass through some of the most beautiful parts of the Irish countryside.
As we move into the summer months with brighter days and longer evenings, many will be spending more time outside. So, Ireland's greenways are some of the best places to get out, get some exercise, and explore the natural world.
5. Grand Canal Greenway – from Dublin to Offaly
Setting off from Lucan Bridge near Adamstown in Dublin, this 117 km (73 miles) long greenway stretches west to Shannon Harbour in County Offaly.
Typically completed in its entirety in five days, this mammoth trail passes through Ireland's midlands. Thus, visitors can marvel at beautiful surroundings and nearby towns as they follow the route along the historic Grand Canal.
If you don't fancy taking on the trail in its entirety, there are plenty of shorter sections. These are perfect for an afternoon stroll or a day spent out on the bikes.
An oasis of flora and fauna and filled with historical sights, this trail winds its way through the beautiful and relatively untouched Irish countryside. As well as this, you will pass the towns of Tullamore, Edenderry, and Sallins.
For these reasons, Grand Canal Greenway is definitely one of the best greenways in Ireland.
4. Great Southern Trail – an improved trail
This 96 km (60 miles) long trail makes its way from County Limerick to County Kerry. You will pass through Ireland's rolling green countryside along the old Limerick to Tralee railway line.
Perfect for walkers, hikers, and cyclists, ongoing development has been underway by voluntary group Great Southern Trail Ltd. in recent years to transform the old railway line into a recreational amenity.
Passing through the towns of Rathkeale, Ardagh, and Abbeyfeale, there is plenty to explore on this scenic trail.
3. Waterford Greenway – explore Ireland's sunny southeast
Explore Ireland's sunny southeast on the majestic Waterford Greenway, one of the most popular and best greenways in Ireland.
At 46 km (29 miles) in length, this trail makes its way from the historic Viking city of Waterford to the beautiful coastal town of Dungarvan.
It follows the old railway line from Waterford to Mallow and forms part of the EuroVelo 1 route. Some of the best sights include Dungarvan Bay, King John's Castle, Mount Congreve Gardens, which is one of the romantic date spots in Waterford, and the famous Ballyvoyle Viaduct.
2. Royal Canal Way – Ireland's new and improved greenway trail
Following the historic Royal Canal from Dublin to Longford, through counties Kildare, Meath, and Westmeath, this iconic trail is a must. Whether you're looking to take on a challenge or just explore part of the stunning route, you won't regret it.
After a programme of improvements and developments to the route, the 144 km (89 miles) long greenway was completed in 2021. Since then, it has proved popular with walkers, runners, and cyclists.
Explore the Irish midlands and the rolling countryside as you wind your way along this stunning riverside trail. Along the way, you will pass towns such as Cloondra, Keenagh, Ballymahon, Mullingar, Enfield, and Maynooth.
Passing through a variety of rural and urban settings, there is always something new to discover on this historic trail. Thus, making it a popular choice for those wanting to get out in nature.
1. Great Western Greenway – some of the best views in Ireland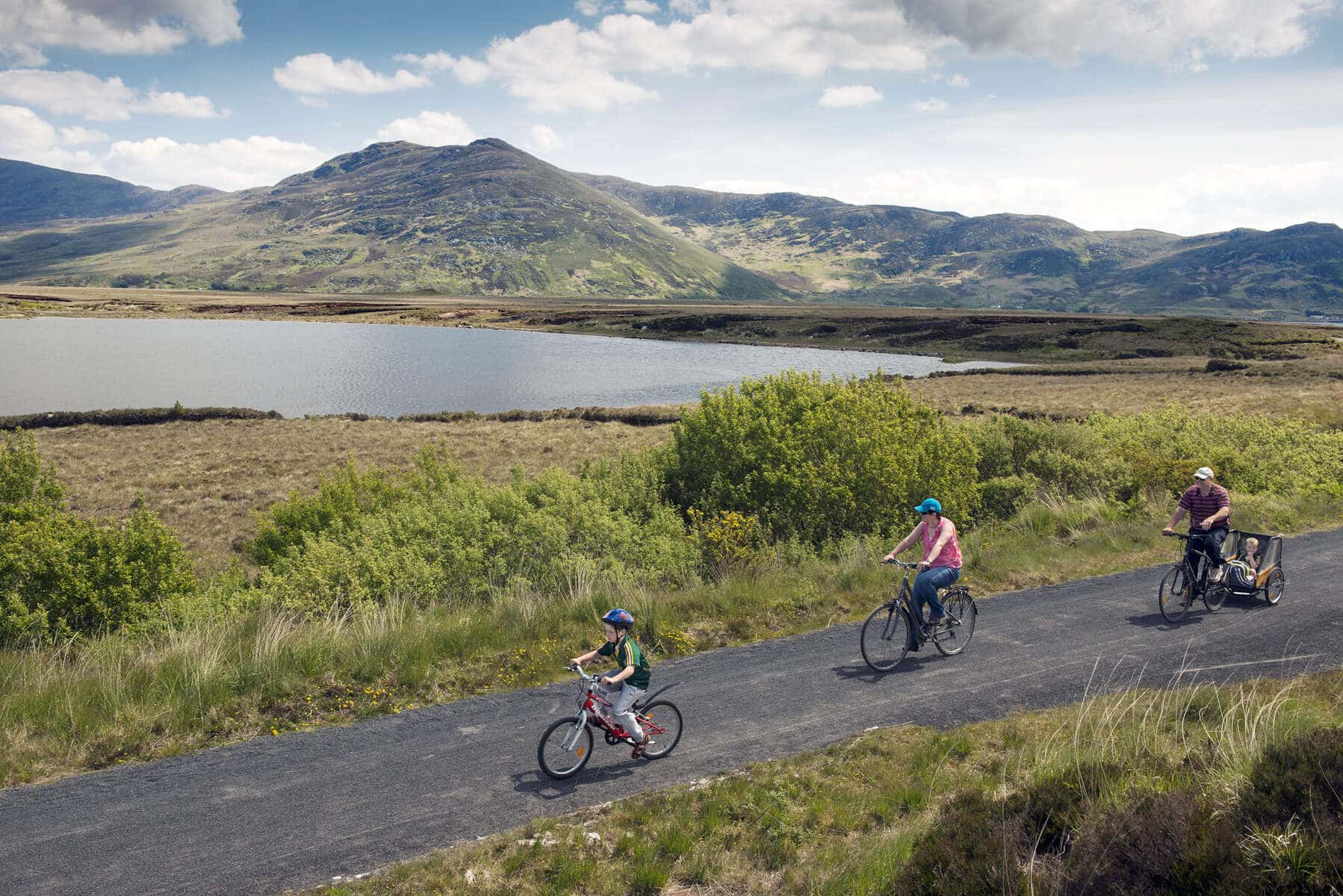 Topping our list of the best greenways in Ireland is the Great Western Greenway in County Mayo, which is one of the most scenic cycle routes in County Mayo.
A popular choice for cyclists, this greenway takes in some of the best scenery in the west of Ireland. You will enjoy spectacular views of Clew Bay and Achill Island, Croagh Patrick, and the shimmering waters of Keem Bay.
At 42 km (26 miles) in length, this trail is a much more manageable feat than many others on this list, but its beauty squeezed into a much shorter distance is unrivalled.
A must-visit for cyclists and those who just want to immerse themselves in some of the best views that Ireland has to offer, the Great Western Greenway is a truly spectacular trail.