Golfing in Killarney is a very popular pastime, and with these five golfing hotspots to choose from, it's not hard to see why.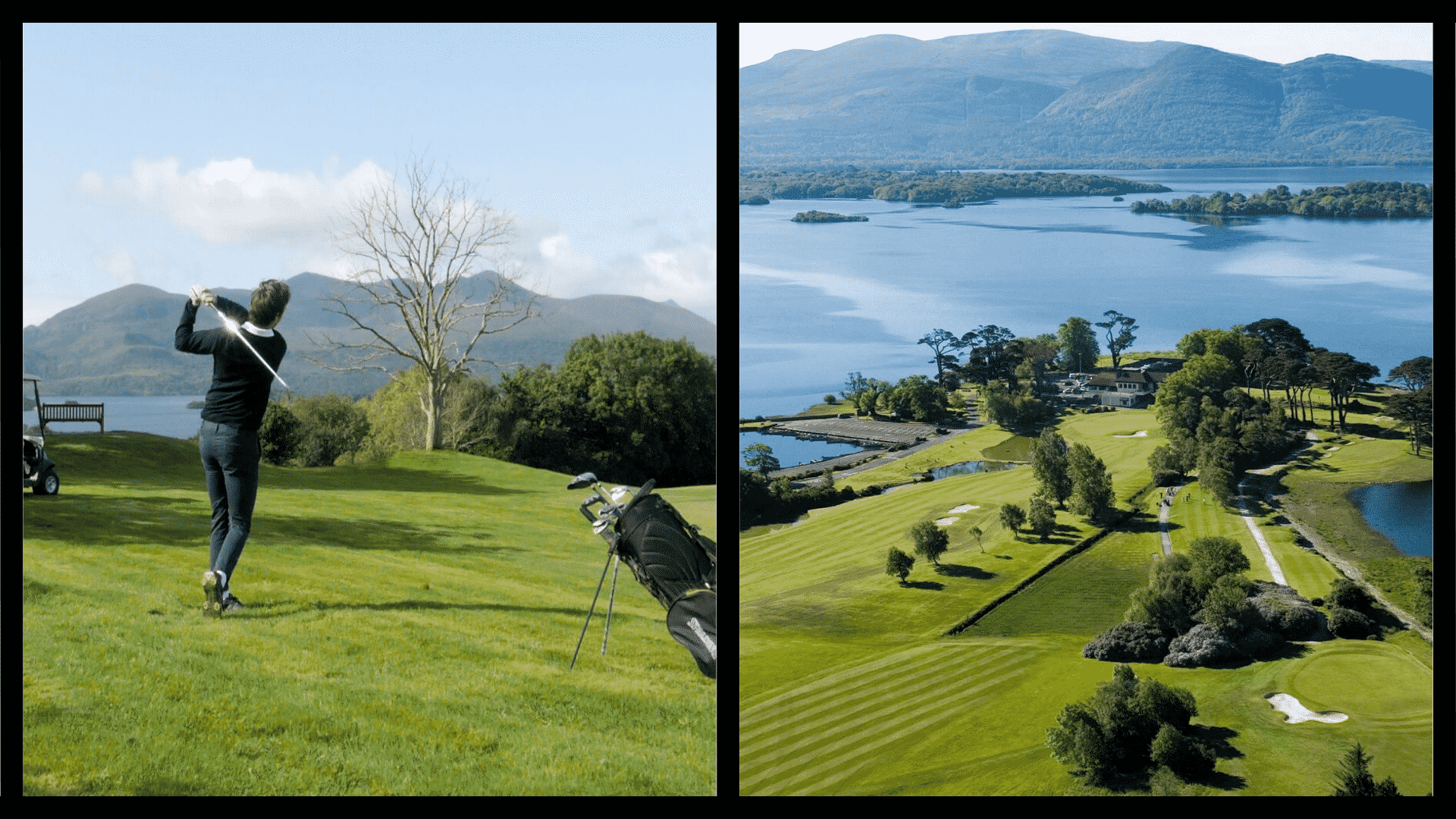 There are many reasons to spend time in Killarney, and golf is certainly one of them. So, if you consider yourself an avid golfer, then you will want to stay tuned for these hot golfing spots in the region.
Killarney, in the southwest of Ireland, has long been a destination for those looking to experience excellent views, Killarney National Park, one of the most stunning national parks in Ireland, incredible history, majestic scenery, and, of course, fantastic golf.
Home to some of the most magnificent golf courses in Ireland, Killarney is your one-stop shop for a golf holiday like no other, where you are guaranteed to have a memorable experience.
Here are the five best golf courses in Killarney, ranked.
5. Waterville Golf Links – the place that attracts everyone
Just an hour's drive from Killarney, you will find one of Ireland's highest-ranked golf courses. Waterville Golf Links has hosted plenty of famous faces over the years, including American golfer Tiger Woods.
There is no doubt Woods must have been fond of the golfing, the Irish cuisine they offer, and the epic golfing opportunities by the coast.
Is it any surprise that Waterville has attracted many golfers over the years when it has been considered the number one golf links in Ireland?
Address: Murreagh, Waterville, Co. Kerry, Ireland
4. Ross Golf Club – one of the best in Ireland
This unique course is, in fact, built around the Killarney Racecourse, which encompasses some insatiable views of the surrounding areas, mountains, lakes, and green hills, making it one of the best golf courses in Killarney.
Ross Golf Course gets a lot of attention from those with a love of golf – and tranquil vibes, of course. Not only Is this a top spot in Killarney, or the county of Kerry. Rather, it is highly regarded as one of the top 9-hole courses in the entire country – now isn't that a title?
Address: Ross Rd, Bunrower, Killarney, Co. Kerry
3. Castlerosse Golf Course – the ideal course for all levels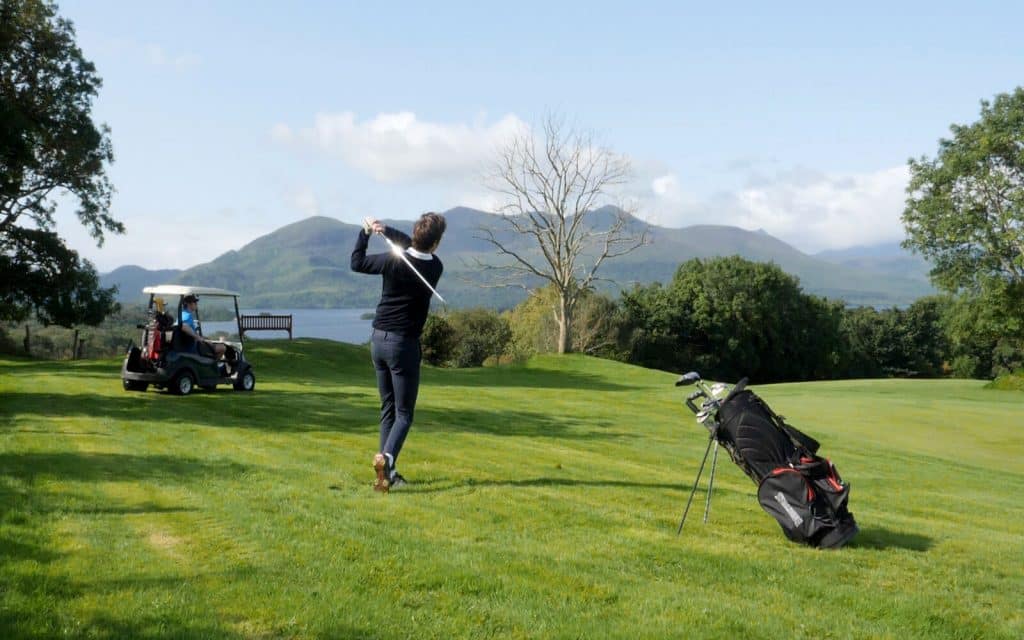 Hugging the lakes of Killarney and with amazing views over the majestic Mcgillicuddy Reeks and its magnificent mountain peaks, this 9-hole course is a popular choice when in the region and is considered one of the best golf courses in Killarney.
Whether you are a novice golfer looking for a casual game or a serious golfer looking for your next challenge, then this is the place that is suitable for all skill levels, allowing you to enjoy this course to your heart's content.
Address: Gortroe, Fossa, Killarney, Co. Kerry
2. Beaufort Golf Club – a strategically located golf course
If you are in Killarney, chances are you will be driving the stunning Ring of Kerry, where this spectacular Beaufort Golf Course is located. So, why not pop in for a few rounds in this perfect location?
This prestigious 18-hole course is also just a ten-minute drive from Killarney town centre.
With stunning surroundings and unbeatable golfing conditions, this is the ideal place for budding and avid golfers looking to tee off with a backdrop of the highest mountain range in the country.
Address: Beaufort, Killarney, Co. Kerry, V93 E8HW
1. Killarney Golf & Fishing Club – the best golf course in Killarney for championship golf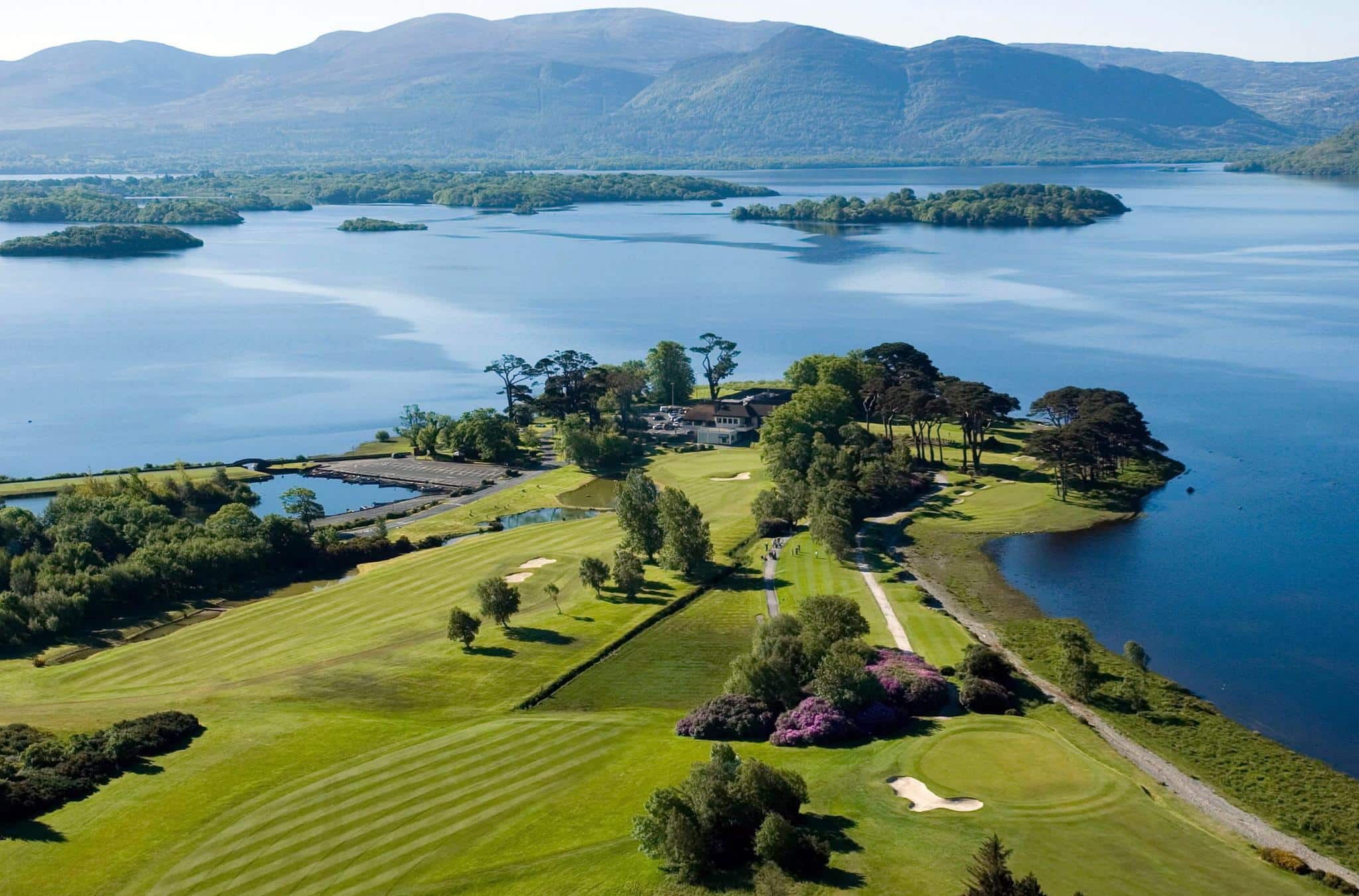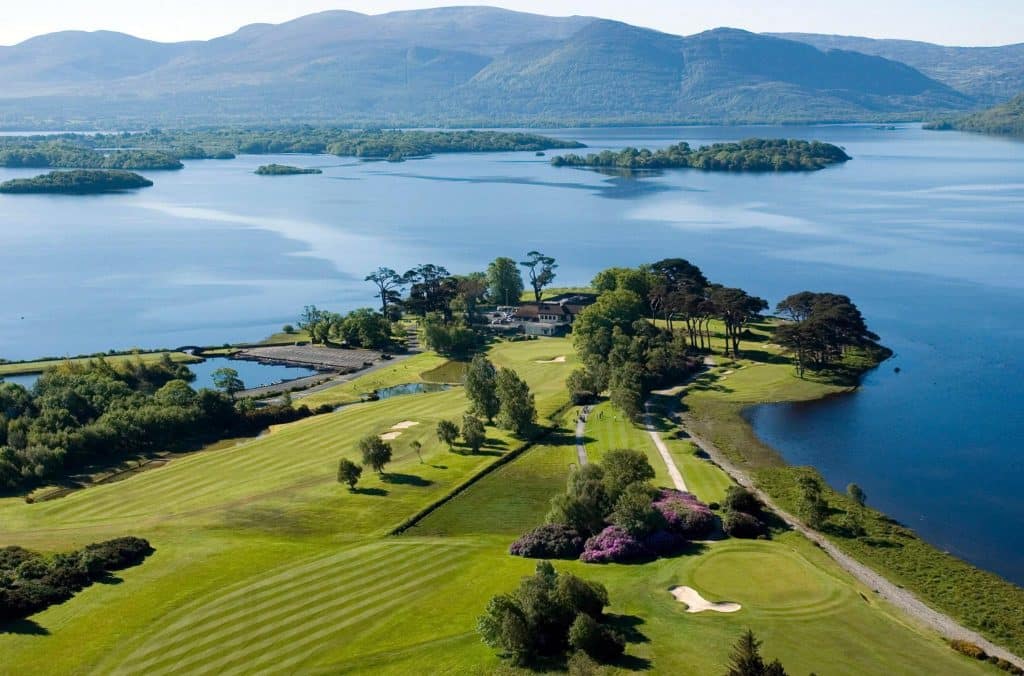 Killarney Golf & Fishing Club must be one of the best golf courses in Killarney and should be on any golf enthusiasts' radar, for many great reasons and is perfect for a day of golfing.
Not only is this a private, members-only golf club, which makes it highly acclaimed. Rather, it is also set on the shore of Lough Leane in amongst some beautiful scenery, and it has two 18-hole golf courses to choose from – Killeen Course and Mahony's Point.
This respected Killarney golf club has had the honour of being the location for the Irish Open on several occasions, as well as the Curtis Cup. So, it's no wonder everyone wants to get involved with its spectacular views.
Address: Mahonys Point, Lackabane, Killarney, Co. Kerry
Other notable mentions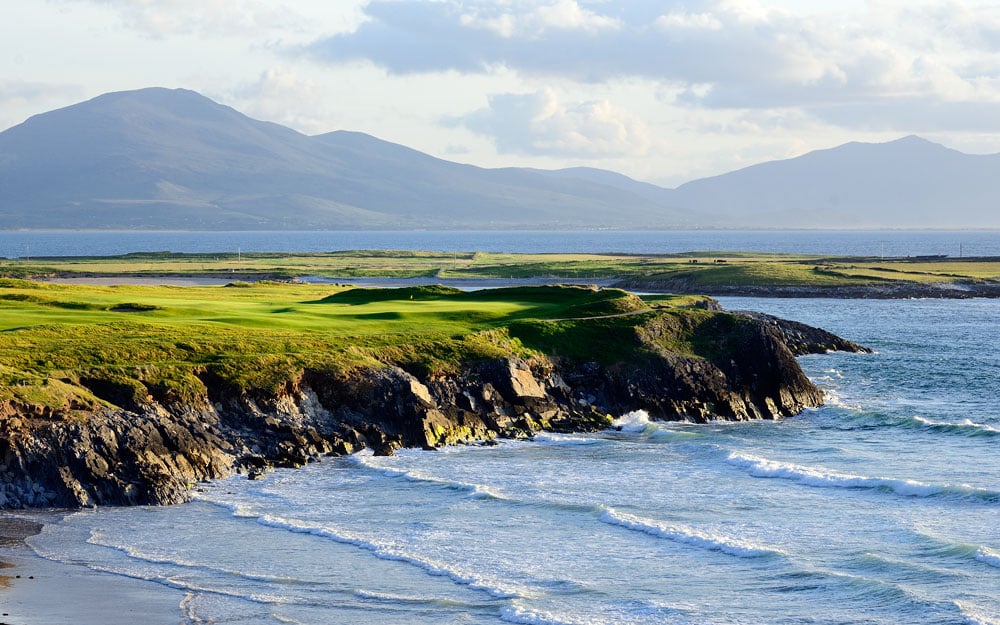 Dooks Golf Club: Combine golfing with the sheer sight of the mountains of the Mcgillicuddy Reeks and the calm waters of Dingle Bay, and you've got yourself Dooks Golf Course – a popular golfing paradise in Glenbeigh.
Tralee Golf Club: For a golf holiday along the Wild Atlantic Coast, you cannot overlook Tralee Golf Club, which is a legendary links golf course in the country with stunning views.
Kerry Golf & Country Club: Situated close to Kenmare on the Ring of Kerry, this spectacular golf course is a must for anyone visiting the southwest of Ireland for a great golfing experience.
Ballybunion Golf Club: Here, you can play a round of golf in one of the leading golf clubs in the country and bed down at their onsite Boutique Golf Hotel, it's a match made in golfing heaven.
FAQs about the best golf courses in Killarney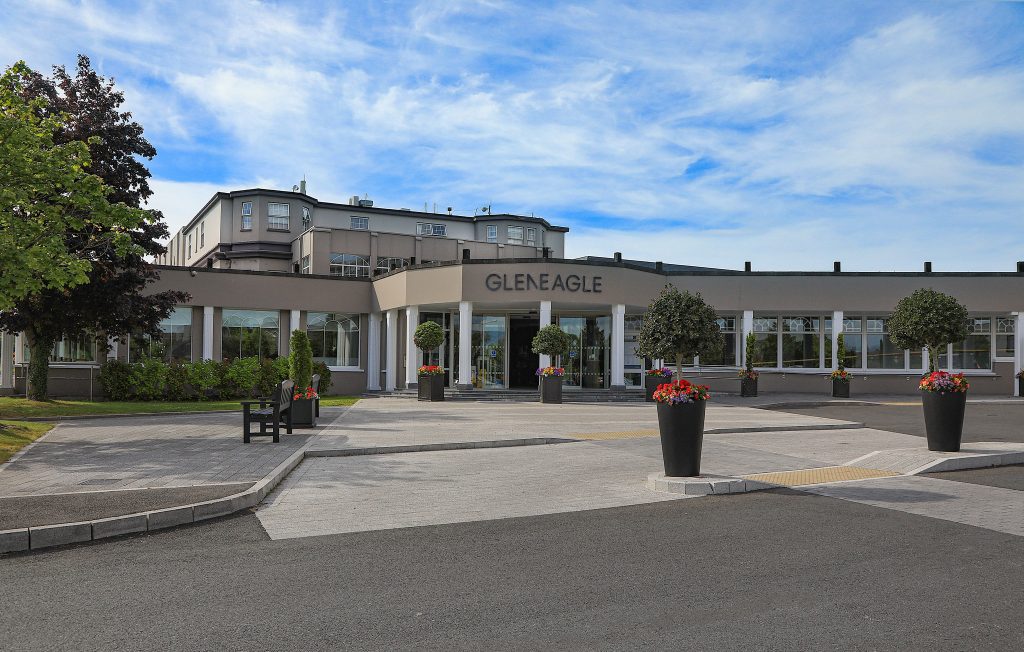 What makes a Killarney golf break so special?
Killarney is steeped in natural beauty, which makes it a top destination for everyone, but for golfers, there is the bonus of having access to some of the best golf courses in the country, and this combination makes it such a special place to plan a golfing holiday.
How much is a golf hotel in Killarney for this weekend?
For a golf break at the Gleneagle Hotel in Killarney, it costs approx. €345 for two people for two nights including breakfast. However, there are some incredible package deals. Muckross Park Hotel & Spa is another with plenty of accommodation options for a memorable golfing holiday.
How far is Killarney from Dublin?
The journey from Dublin to Killarney takes just under four hours, and is a distance of 302 km (187miles), making it an easily assessable destination within Ireland.
So, if golfing was on the cards for you during a trip to Ireland, then these five best golf courses in Killarney have to be at the top of your bucket list.
Featuring stunning scenery, which the Kingdom of Kerry is well known for, some top-class golf courses to try out, and the Irish hospitality that is always awaiting you, Killarney is a fantastic golf destination for golfers of all skill levels, so what are you waiting for?
Get featured on Ireland Before You Die
Do you want to get your Irish business more online exposure? Especially to those interested in travelling the best places in Ireland? Then why not get a dedicated feature on Ireland Before You Die. Find out more 
here.