Ireland is a country that welcomes golfers year in and year out, and any golf travel that you have planned must include at least one of these five best golf courses in Wicklow.
The county of Wicklow, just south of Dublin, is a golfer's dream, with an array of world-class golf courses on offer, set amongst the renowned and unspoilt Wicklow nature.
There is plenty of variety when it comes to enjoying a golf holiday in Ireland, with some high-quality Championship courses to take advantage of, a seaside golf course, and golf courses set in the rolling hills of County Wicklow.
It will be hard to keep your eye on the ball with golf courses with as picturesque views as these. But are you up for the challenge? We think so!
So, let us guide you towards your golfing dream destination, with the five best golf courses in Wicklow.
5. Wicklow Golf Club – for a memorable golfing experience
Situated just outside of Wicklow town, you will find this majestic and oh so picturesque golf course, which features 18 holes to try your hand at.
Excellent on-site facilities include a superb bar and restaurant to keep you fed and watered as you admire the panoramic views of the Wicklow coast.
If it is a memorable golfing experience with an excellent quality course offering a bit of a challenge that you are looking for, then this is the spot.
Visitors happily say that it gets better and better each time you go. So, perhaps more than one visit is on the cards.
Address: Dunbar Rd, Corporation Lands, Wicklow
4. Woodenbridge Golf Club – one of the country's top-class courses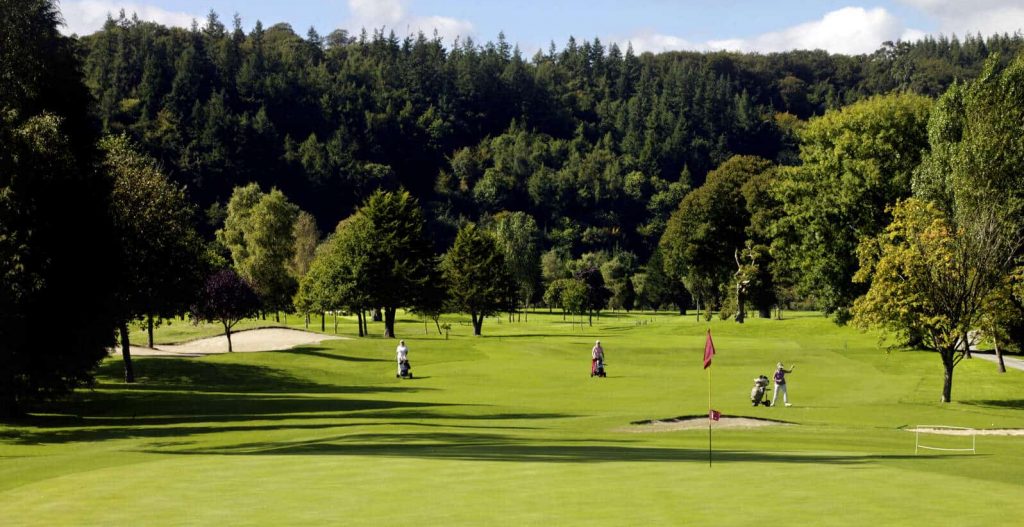 Situated just south of Avoca and surrounded by rivers and ancient forests, Woodenbridge Golf Club is one of the country's top-ranking golf courses for great reason.
It has been described as one of the most scenic golf courses in Ireland, thanks to its fantastic natural landscape. Woodenbridge Golf Club is truly a hidden gem, which makes it one of the best golf courses in Wicklow.
It is renowned for the impeccable condition of the course, its fantastic layout, and unbeatable scenery that offers breathtaking views, which keeps golf enthusiasts coming back whenever they get a chance.
Don't miss out on some delicious food served at the golf club to keep up your energy.
Address: Avoca, Arklow, Co. Wicklow
3. The European Club – one of the last links built in the 20th century
Famed for being one of the last excellent links courses to be created in the 20th-century, The European Club, located in the fantastic coastal area of Brittas Bay, has been ranked as one of the best golf courses in the world.
These Irish links provide magnificent views of the nearby dunes, and you can take in the seaside views from 19 of the 20 holes. The proximity to the beach is one of the unique attributes that this spectacular golf course has.
Address: Ardanairy, Brittas Bay, Co. Wicklow
2. Powerscourt Golf Club – featuring two championship courses
Featuring not one but two Championship golf courses set amongst the fabulous surroundings that make up the ever-popular Powerscourt Estate, the Powerscourt Golf Club is the perfect choice to tee off in one of the oldest estates in the country.
The 36-hole golf resort was designed by former Walker Cup captain Peter McEvoy and David McLay Kidd, which sits at the green Wicklow hills and is just a short 20 km (12.4 miles) journey from Dublin.
This is one of the best golf clubs in Wicklow, which has to be seen be appreciated. Also, in our opinion, if you are looking for a Wicklow golf club to join, you couldn't go too far wrong here.
Address: Powerscourt Estate, Enniskerry, Co. Wicklow, A98 K376
1. Druids Glen Hotel & Golf Resort – one of the best golf courses in Wicklow
This five-star golf resort is one of Ireland's most famous, and you will know why as soon as you feast your eyes on it.
It has a fantastic modern hotel to avail of throughout your stay, a health club and spa to help you feel your best, and a world-class course that hosted the Irish Open four years in a row.
This tranquil course with gorgeous views, set in Newtown Mount Kennedy, was designed by Pat Ruddy and Tom Craddock. Since its opening in 1995, it has been a top choice for golf enthusiasts locally and internationally.
The Clubhouse can be found inside the beautiful 400 year old Woodstock House, in which guests can host private dining events. 
As of 2022, the course is undergoing a fantastic restoration and will be back with a bang in 2023, ready to welcome you all.
Address: Leabeg Upper, Newtown Mount Kennedy, Co. Wicklow, A63 DW08
Notable mentions
Bray Golf Club: This Championship golf course is your first stop for golf in Wicklow and Dublin, offering a spectacular 18-hole parkland for your golfing pleasure.
Blainroe Golf Club: For an enjoyable yet challenging golfing venture, Blainroe Golf Club is your course, featuring 18 holes with stunning sea views.
Woodbrook Golf Club: This historic golf club, steeped in heritage and tradition, is genuinely different from all the rest, offering excellent quality golfing in an ambient atmosphere.
Coolattin Golf Club: A hidden gem of a golf course designed by Peter McEvoy offers an ideal setting with stunning views for a fantastic golf holiday.
Macreddin Golf Club: Located in the picturesque Macreddin Valley, the beautiful surroundings are only one appeal of the stunning Macreddin Golf Club.
Djouce Golf Club: The fantastic Djouce Golf Club is situated in undulating landscape of the picturesque Wicklow Hills.
Roundwood Golf Club: Located in Newtown Mount Kennedy, Roundwood Golf Club offers plenty of highlights and plenty of variety for those looking to enjoy a game.
FAQs about the best golf courses in Wicklow
What are the best golf courses in Ireland?
Ireland possesses some of the most widely acclaimed golf courses globally, including Lahinch, Ballybunion, Portmarnock and The European Club.
How many golf courses are there in Wicklow?
Wicklow has 27 golf courses, according to the Golfing Union of Ireland's books. There are 494 in total on the whole island of Ireland.
So, do you fancy yourself as the next Rory McIlroy or Padraig Harrington? If so, you will have plenty of courses to play at.
What is Wicklow known for?
Wicklow is famous for the stunning Wicklow Mountain National Park. You can also visit Glendalough, Powerscourt House, and various historical sites in and around the county. It is also known as the garden of Ireland.
It is known that golf has existed in Ireland since the 19th-century; we have some of the best courses in the world. Thus, making Ireland a top golfing destination for people of all levels.
So, next time you find yourself in the garden of Ireland, be sure to stop by for a game of golf at one of the five best golf courses in Wicklow for an unforgettable experience.
Get featured on Ireland Before You Die
Do you want to get your Irish business more online exposure? Especially to those interested in travelling the best places in Ireland? Then why not get a dedicated feature on Ireland Before You Die. Find out more 
here.