Landed estates are a very significant part of our Irish heritage. Let us share with you five of the best country houses in Ireland.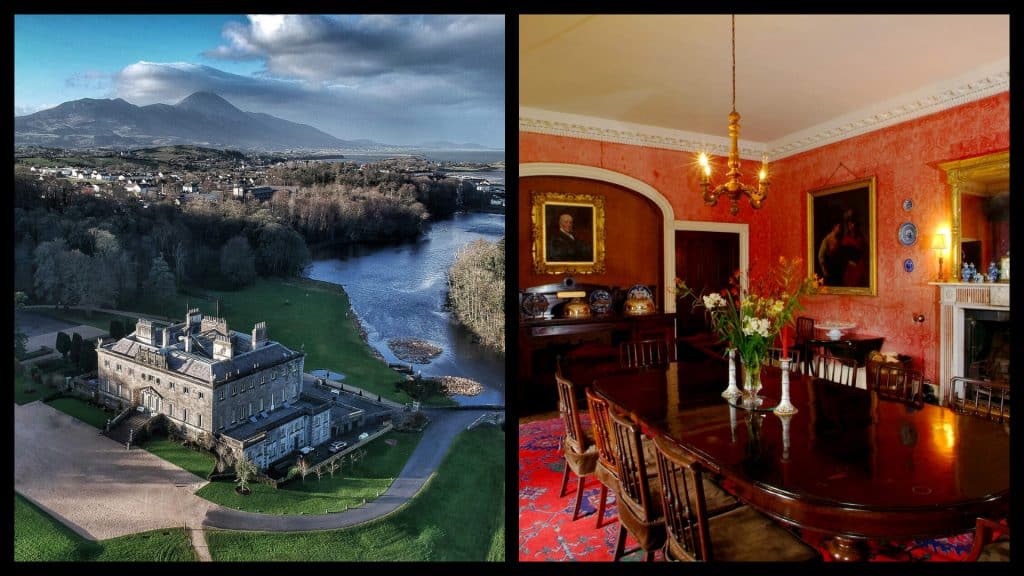 Ireland's country houses are not just a great place for a family day out. Rather, they give a glimpse into the country's rich culture and heritage.
Dating back hundreds of years, they prove an educational and fun-filled activity suitable for all ages.
So, if you're looking for something fun to do, here are the five best country houses in Ireland you need to visit.
5. Avondale House, Rathdrum, Co. Wicklow – the former home of Charles Stewart Parnell
This homely Georgian house was built in 1777 and is set in a fabulous 500-acre forest park near Rathdrum in County Wicklow.
It was the birthplace and home of Charles Stewart Parnell, who was born into a family of Anglo-Irish Protestant landowners.
Parnell became an Irish Nationalist and statesman who led the fight for Irish Home Rule in the 1880s. Recognizing the unfair land system in the country, Parnell was dubbed the 'uncrowned king of Ireland'.
He was voted as an MP but fell out of favour due to an ongoing affair with Katharine O'Shea, with whom he had three children. He died while trying to fight for political survival at the age of 45.
Address: Avondale Forest Park, Avondale House, Avondale, Rathdrum, Co Wicklow A67 P303  
4. Farmleigh House, Phoenix Park, Co. Dublin – former residence of the Guinness family
Farmleigh House is an Edwardian Country House on 78 acres of parkland in one of the largest enclosed public parks in a European capital city.
The house is home to an art gallery, a working farm, and is the official Irish state guest house.
The house has welcomed important visitors from all over the world to include Presidents, Prime Ministers, Queens, Emperors, and UN Secretary Generals.
Edward Cecil Guinness purchased Farmleigh on his marriage to his cousin Adelaide Guinness in 1873.
Edward was the great-grandson of Arthur Guinness, the infamous brewer of the black stuff. Take a deep breath as you walk into the ballroom; it will blow your mind.
Wander into the conservatory and breathe in the fabulous scents of the flowers that are in full bloom.
An absolute favourite is the Gentleman's Library, which is panelled in Austrian oak with neo-Jacobean style carvings and boasts an extensive collection of interesting books.
Address: Farmleigh House, Whites Road, Phoenix Park, D15 TD50 
3. Westport House, Westport, Co. Mayo – the former home of Grace O'Malley
Westport House is situated in the vibrant town of Westport in County Mayo, nestled in 400 acres of grounds for you to explore.  On the edge of the Wild Atlantic Way, we think it's a fabulous place for a day out.
The house was built during the 18th-century and was designed by three very prominent architects: Richard Cassels, James Wyatt, and Thomas Ivory.
It is one of the best country houses in Ireland and has been described as one of Ireland's national treasures.
The Browne family lived in the house up until 2017. They are direct descendants of Grace O'Malley, the famous 16th-century Pirate Queen.
The house has survived years of social, political, and religious change and is a testament to the family who protected it.
Address: Westport House, Quay Road, Westport Demesne, Westport F28 TY45
2. Marlay House, Rathfarnham, Co. Dublin – one of the best country houses in Ireland
Marlay House has to be one of the prettiest Georgian houses in Dublin.
David La Touche III built the house as a holiday home for his wife Elizabeth Marlay (hence the name Marlay House) in 1764.
Marlay House is surrounded by 300 acres of parkland designed by Lancelot Capability Brown, a landscape garden designer who was the master gardener for King George III at Hampton Court in London.
From the Ball Room and drawing rooms, you will find spectacular views of the Dublin Mountains.
The house oozes wealth and glamour with the fabulous stucco work on the ceilings in the main reception rooms. It certainly brings you back to a bygone era of wealth and opulence.
Address: Marlay Park House, Grange Road, Rathfarnham, Dublin. D16 W5F7
1. Strokestown Park House, Strokestown, Co. Roscommon – be transported back in time
Strokestown House was home to the Packenham family for over 300 years and has six acres of walled gardens to stroll around in.
We can truly say that it is a place where time has stood still and stands out as being one of the best country houses in Ireland.
Olive Packenham Mahon was the last descendent of the family to live in the house. She left in the 1970s, leaving behind all the family possessions accumulated over three centuries.
The house played a pivotal role in the history of the Irish Famine during the mid-1800s.
Today, you can visit the galleried kitchen (the last of its kind in Ireland), the elegant reception rooms, and the children's nursery and schoolroom.
Address: Strokestown Park House, Strokestown, Co Roscommon. F42 H282
By Liz Pilkington