There is something rather amazing to be said about Irish street art. So, these five street art capitals are not to be missed if you want to see what this creative trend is all about.
If you are someone who truly appreciates beautiful street art in all its forms, then you are in for a treat; there are many places in Ireland that are home to some fantastic pieces just waiting to be discovered.
What we love about street art is that you can come across some of the most amazing works of art just by turning the corner, catching you completely off-guard and leaving you wanting to find more.
Did we mention that it is one of the coolest free activities in Ireland, too?
Well, if this is your niche, then you are in luck because there are several ideal spots to go to delve a little deeper into the world of Irish street art. So, here are the five best cities and towns for street art in Ireland.
5. Sligo – from photos to paintings and architecture to colourful murals
If you have never heard of the Sligo Street Art Trail, then you need to check this out, especially if art is high on your list.
The beautiful town of Sligo is steeped in history. Thus, this street art trail will be the perfect way to merge cosmopolitan street art with huge murals of Irish heroes and historical imagery.
You will also encounter images of those with associations with this region of Ireland, including Bram Stoker and W.B Yeats, to name but a few.
The street art scene in Sligo is booming. So, now more than ever is the perfect time to explore the streets of both Sligo town and surrounding areas to see what new artworks have popped up.
However, you can follow the online map of the street art trail if you prefer not to miss out on anything.
4. Galway – a traditionally creative city
Galway is already renowned for its artsy, alternative character, which draws many visitors to its cobbled streets year in and year out to uncover all the City of Tribes has to offer.
However, if you didn't already know, Galway is a fantastic place to go on a street art crawl, and some of the best spots to check out are the riverwalk, the city centre, Sally Longs Pub, Abbeygate Street, Shop Street, and Salthill.
A walk around Galway in search of the latest creations is a fantastic idea. Still, if you fancy a little more structure, there are plenty of street art walking tours available in Galway, too.
These will give you some background to what you are seeing and the chance to meet other like-minded people.
3. Dublin – one of the best cities and towns for street art in Ireland
As the largest city in Ireland, Dublin is a haven for those who love to marvel at street art. Here, you will find impressive colourful murals, one-off pieces of street art, works done by international artists, and those created by locals.
The capital city is a paradise for this creative trend; buildings that were once grey have been transformed into real life-size canvases, which are to be greatly admired.
Some of the best street art neighbourhoods to discover beautiful murals in Dublin include Drury Street, Temple Bar, Tivoli Car Park, Richmond Street, and, of course, Love Lane.
These are some top spots. Still, keep your eyes peeled because the unpredictability of this trend means works can pop up anywhere at any time. Ah, the beauty of it all!
2. Belfast – for a fantastic contemporary street art tour
No art-inspired trip to the island of Ireland is complete without witnessing Belfast's famous street art. Falls Road, Talbot Street, North Street, Kent Street, and Hill Street are worth checking out for awesome street art.
The city is home to both political murals and non-political pieces of street art. Not to be confused with the city's huge murals, its cool street art scene is ever-changing and can be found down the most hidden of alleyways if you take the time to look.
Don't miss their two-hour street art walking tour every Sunday at noon, which will take you to some of the off-the-beaten-path hot spots for street art and makes for an epic activity to venture upon in the city.
1. Waterford – the home of the Waterford Walls festival
Waterford, located in Ireland's Ancient East, is now an up-and-coming hub for artists. So, if street art is your thing, you may not need to leave the east coast of Ireland to find some incredible works of art.
With several guided art tours on the rise in Waterford, there are many opportunities to get out and about with a group of other art lovers to see what art in the city is all about. However, you can take the time to explore at your own pace too.
Waterford even hosts an annual event known as the Waterford Walls Street Art Festival, which cannot be missed if street art is something that interests you.
We have to say that Waterford truly is the one to watch, and we can see this being a hot spot for more and more artists as time goes on.
Notable mentions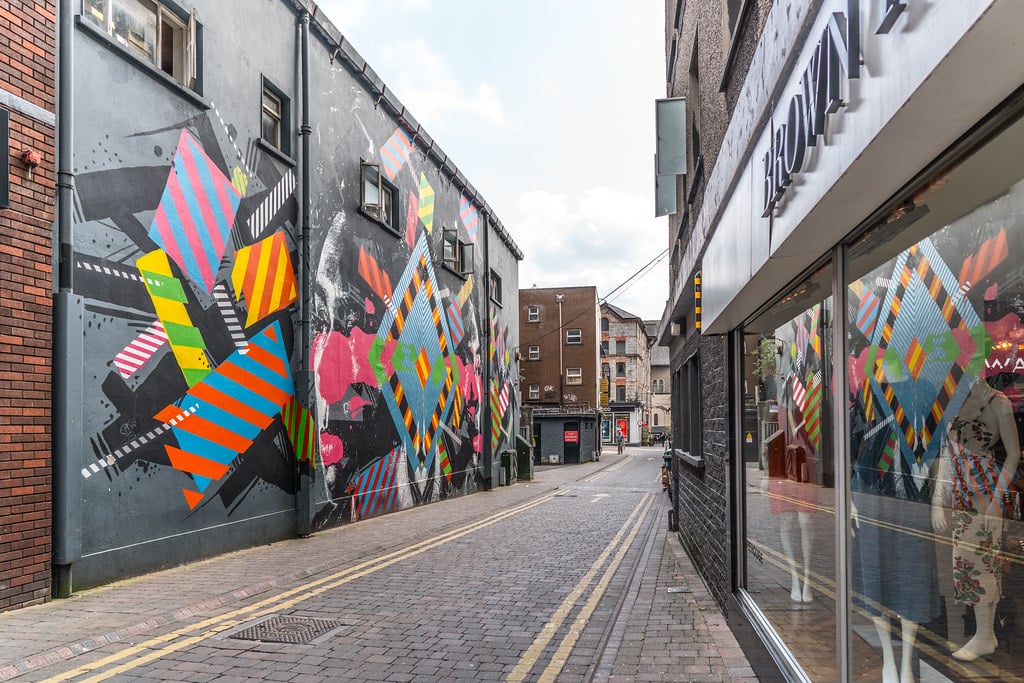 Cork: Some of the best places for street art in Cork are Kyle Street, Fitzgerald Park, and Coleman's lane. The Ardú Street Art project is a must to include on your street art map.
Portstewart: The seaside town of Portstewart is a great spot on Northern Ireland's street art scene. It is home to an amazing street art trail inspired by the famous street artist Banksy.
Limerick: An up-and-coming hub for Irish street art, with its very own self-guided street art trail to follow.
FAQs about the best cities and towns for street art in Ireland
What city has the most street art in Ireland?
Dublin and Sligo have the most street art.
What city in the world has the best street art?
Santiago, Chile and Berlin, Germany, are regarded as having the best street art in the world.
Where are the best murals in Ireland?
The Bobby Sands mural in Belfast and the Fikos mural in Limerick are regarded as the best murals in Ireland.
Hopefully, these five best cities and towns in Ireland for street art have inspired you to take on one of the interactive street art trails. So, you will have plenty of day trip ideas in whatever city you choose.