There is a wide range of enticing options when it comes to venues for a night out in Belfast City. These are the best of the best that you will not want to miss.
Belfast, Northern Ireland, is a top European city for a night out, and you will regularly see groups of people in the city to enjoy a weekend full of fun. There is certainly no shortage of fun in Belfast that is for sure.
No matter what you classify as your ideal night out, Belfast has something for everyone. From themed bars and traditional pubs to chic rooftops and everything in-between.
So, sit back and take it all in while we inspire your next Belfast night out with these awesome picks. Here are the five best bars for a night out in Belfast.
5. Robinsons Bar – five venues in one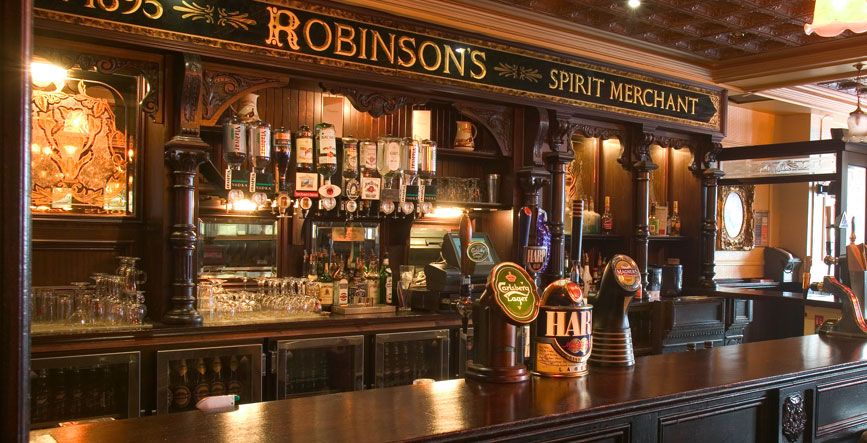 If you are not sure what you're looking for but are sure you want a great night out, then make your way to Robinsons Bar. It has five venue options under one roof – the Saloon, the Bistro, Fibbers, BT1, and Robinsons pool loft.
In Robinsons, you can have some delicious grub at the Bistro, listen to some trad music in Fibbers, or have a few local pints at the Saloon.
You can host a karaoke session at BT1, or have some pints while watching sports or enjoying a game at one of the pool tables at the Pool Loft, all without much effort.
Address: 38-40 Great Victoria St, Belfast BT2 7BA
4. Granny Annie's – a renowned live music venue in Belfast
What can we say? Granny Annie's is renowned as one of the top live music venues in the city, as well as having a range of signature drinks, a gastro menu with delicious seasonal food, and a quirky yet homely atmosphere.
This popular spot also hosts events, has an award-winning beer garden and kicks off the weekend on Fridays at noon with a live band, setting the tone for the rest of the weekend.
With some awesome specials during the week such as steak night and epic happy hour deals, there is no excuse not to take advantage of everything on offer here.
This is one of the best bars for a night out in Belfast, and one you will most definitely return to time and time again.
Address: 81 Chichester St, Belfast, Northern Ireland BT1 4JE
3. Bert's Jazz Bar – a night out in 1930s New York
If your aim is to get dressed up and have a classy and memorable night out, then you will want to head to Bert's Jazz Bar, which has a theme like no other.
Here you will notice that the theme is of course 1930s New York. This is the city's only dedicated jazz bar, offering incredible jazz music seven nights a week.
Set in the Five Star Merchant Hotel, this hot spot offers an expansive beverage list, an ever-changing French-style bistro menu, as well as a sophisticated and ultra-cool ambience.
Address: 16 Skipper St, Belfast BT1 2DZ
2. Margot – a stylish, underground cocktail bar with live music
For an ultra-stylish night out, featuring top DJs and signature and classic cocktails, this underground cocktail bar has to be on the list of one of the best bars for a night out in Belfast.
Not only is it open seven nights a week, so you can have the best night out whenever you feel like it, but it also hosts the 'Late Late Club' on Friday and Saturdays until 3 am so that you can get the most out of your night in Belfast.
Margot is just a two-minute walk from Belfast City Hall. Away from the hustle and bustle of the busy Belfast streets, this popular cocktail venue is a real winner when it comes to having a unique, fun-filled night where you can let your hair down.
Oh, and make sure to try Margot's signature Irish coffee while you're here.
Address: 18 Donegall Square E, Belfast BT1 5HE
1. The National – three unique floors to choose from
With three floors to choose from, complete with a roof terrace, chic cocktail bar, and a nightclub to dance the night away in, you can ensure you will have a night to remember in this venue.
You will be amazed by the sophisticated vibes, airy space, and intricate traditional features, which have been restored to perfection. As one of the best bars Belfast has to offer, this is a place you won't want to leave.
Hosting a variety of music genres such as funk, disco, house, RnB and electro swing, you can be sure that The National draws in an eclectic crowd.
Address: 62 High St, Belfast BT1 2BE
Other notable mentions
The Harp Bar: For a lively night out with an eclectic crowd in a traditional Irish setting.
The Dirty Onion: A trendy bar in the Cathedral Quarter of Belfast, complete with craft beers and an onsite restaurant.
The Duke of York: For a local night out in a cosy and intimate Irish pub, perfect for people of all ages, and buzzing on the weekends.
Babel Rooftop Bar: A chic rooftop bar that hosts live music and BBQs during summer. It has a panoramic view overlooking Belfast City Centre and beyond.
Ulster Sports Club: Set by the Albert clock in Belfast City Centre, Ulster Sports Clubs hosts some of the best DJ nights the city sees. They have a great selection of craft beers as well.
Lavery's: Belfast's oldest family-owned pub, Lavery's is a great Belfast bar. It has a fantastic, huge outdoor terrace, and hosts great club nights on the weekends.
Kelly's Cellars: Kelly Cellars is one of the best traditional Irish pubs in Belfast. It hosts traditional music sessions throughout the week. A Belfast bar that is synonymous with the city.
Belfast Empire: Belfast Empire is one of the best venues in the city if your night out consists of great live music.
The Spaniard: The Spaniard is a great bar in Belfast. With a 1920s-style rooftop bar, you can enjoy a selection of beers and cocktails.
FAQs about bars for a night out in Belfast
Is Belfast safe?
Yes, Belfast is considered a very safe city, but you should always be vigilant in areas you don't know.
Belfast had a reputation of being a dangerous city during the times of The Troubles, but those days are long gone, and there is no need to be worried when visiting the city.
What time do bars shut in Belfast?
It depends on the bar you visit. Some pubs will close at midnight throughout the week. However, you can find bars and clubs like Kremlin, Union Street Bar, or Thompsons Garage staying open to 3 am on the weekends.
Is Belfast expensive for a night out?
Belfast can be classed as an expensive city for a night out, similar to the costs of Dublin, with a beer costing around £4.42 (€5.32) and a cocktail costing about £8 (€9.63).
An average return journey in and out of the City Centre by taxi costs approx. £10.70 (€12.88)
Get featured on Ireland Before You Die
Do you want to get your Irish business more online exposure? Especially to those interested in travelling the best places in Ireland? Then why not get a dedicated feature on Ireland Before You Die. Find out more 
here.