Looking for ways to keep the kids entertained this autumn? If so, here are five epic autumn activities for kids in Cork!
Welcome to Cork, where you will find no shortage of choices when searching for fun for families and kids.
Whether it's a short stop at the Halloween Workshop at St. Peter's North Main Street or making a splash at Leisureworld Churchfield, Cork's only swimming pool with an indoor slide, we have narrowed down the top five best autumn activities for kids in Cork.
If you are a native Corkonian or just visiting, there is plenty to see and do in the Rebel County. You might even pick up some of the local slang along the way, like!
5. Farran Wood – discover nature and thrills in one place
Farran Wood is a small but activity-packed Forest Park located on the south shore of the Inniscarra Lake and offers stunning views of the reservoir. You can also spot the rowers who train here.
There are two walking trails to be found at Farran, 1.1 km (0.8 miles) and 3 km (1.86 miles), which lead you around the perimeter of the deer enclosure and duck pond. Both are child and buggy friendly.
Kids are sure to love spotting the red and fallow deer, which can be hiding behind the trees or roaming around watching their visitors!
Another popular activity located at Farran is Zipit. Zipit offers a fantastic Aerial Trail with 86 activities and 800 m (2,625 ft) of ziplines for kids and families alike to enjoy.
Address: Aglish, Co. Cork, P31C427
4. West Cork Model Railway Village – a treat for all ages
All aboard! The next stop on our list of best autumn activities for kids in Cork is Clonakilty's Model Railway Village. A full-scale, handmade model of the historical railway line in West Cork.
Kids will adore the fully working miniature trains and will have lots of fun feeling like giants as they walk among the little towns that the railway served in the 1940s.
Clonakilty is situated close to other lovely West Cork towns that the whole family can spend the day getting to know.
Address: Inchydoney Road, Clonakilty, Co. Cork, P85 HR26
3. Cork City Gaol – step back in time to see what life was like inside these Cork prison walls
Adults and kids of all ages and interests will love looking into the prison cells to see who lived there and reading the stories on the walls.
Countess Markievicz called it "the most comfortable jail" she had ever been in, and we are sure your kids will be just as satisfied!
In 2019, the Gaol hosted 'Halloween @ Cork City Gaol'. So, keep an eye out for the event again this year! The Gaol is a must when visiting and why it's a perfect choice as one of the best autumn activities for kids in Cork.
Just a stone's throw from the city centre, families won't be short on things to see and do.
Address: Convent Avenue, Sunday's Well, Cork City, T23 VX25
2. The Farm Grenagh – Ireland's premier Working Farm Experience
We had to give the Pumpkin Patch a mention when listing the best autumn activities for kids in Cork. What could be more fun for your little monsters than picking out their own pumpkins from an actual pumpkin patch?
This takes place partially indoors but mostly outdoors, so appropriate clothing is necessary. The entry price for the pumpkin patch includes one pumpkin per person, and children under one receive a "Munchkin Pumpkin".
Aside from the pumpkin patch, the Farm is a wonderful place for families and kids to explore. A few activities from the extensive list the Farm offers are a working farm where you can visit animals, feed the donkeys, take a spin on the barrel train, go back in time to the 1950s, and even discover magic in the Fairy Garden.
The Farm has an all-day café and a restaurant for hungry kids and families after a busy day of exploring and learning.
Address: Ballymorisheen, Co. Cork
1. Fota Wildlife Park – let your wildlife warriors run wild for a few hours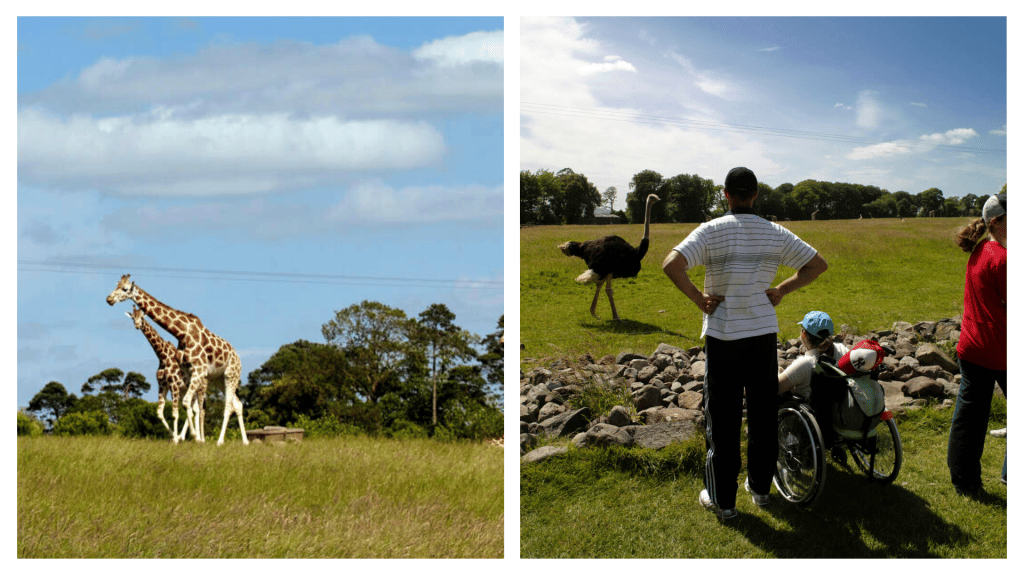 Pouncing into first place in our list of best autumn activities for kids in Cork is Fota Wildlife Park. It's a haven for wildlife and conservation where you can coo at the meerkats on arrival, and awe at the lions and tigers in the Asian Sanctuary.
You can even pop into the toasty Tropical House for some warmth, and mimic the very chatty monkeys who can be heard all around the park.
Families can easily spend up to three to four hours at Fota Wildlife Park, and there are two cafés located on-site and a gift shop at the entrance.
If your kids love films, they will be thrilled to spot Melman and Marty from Madagascar on the African Savannah and King Julien on the Palm Walk.
There are plenty of locations around the park to enjoy a cosy picnic, and there is a playground located by one of the cafés further in. Keep an eye out for animal feeding times throughout the park, too.
If you're still looking for more after your visit to Fota Wildlife Park, check out neighbouring Fota House and Gardens, which is spectacular during autumn and the nearby town of Cobh, which boasts the Titanic experience.
Fota is 15 minutes from Cork City and easily accessed by car or train.
Address: Fota, Carrigtwohill, Co. Cork, T45 CD93
Notable mentions
Crawford Art Gallery: While exploring Cork City, take a trip to the Crawford Art Gallery, where any budding Picassos may find some inspiration among the many paintings, statues and displays.
Fitzgerald's Park: A short stroll from Cork City and close to UCC, Fitzgerald's Park offers kids a fantastic playground all year round. Visitors can enjoy walks through the various avenues while taking in the beautiful orange and gold autumn colours. Make sure also to check out Cork's famous Shakey Bridge.
Blackrock Castle Observatory: Exciting for adults, teens, and kids alike, this is an out-of-this-world experience and is sure to be one of the best autumn activities for kids in Cork.
There is an on-site café and restaurant and outside of BCO is a long walk along the water. Make sure to pack the kid's scooters.
The Observatory also has a link where teens and kids can enjoy some at-home experiments. Booking is recommended for the Observatory as limited numbers are allowed in.
With so much to see and do, we hope that this list will help you and your kids to enjoy beautiful County Cork!
By Éabha Cremin