Known as the Walled City and named the first UK City of Culture in 2013, Derry is one of Ireland's most fascinating cities.
Situated along the banks of the river Foyle between the rolling green hills of Donegal and Antrim's mighty Giant's Causeway, it enjoys a truly stunning location.
Vibrant, picturesque and full of history, Derry city holds a great selection of watering holes with something to cater for everyone.
From craft beer to traditional music, as up in Derry, you can expect culture and craic every night of the week. Here are the top 5 pubs in Derry we have selected below.
1. Peadar O'Donnell's
Famed for its great pints of Guinness and even better traditional music, Peadar O'Donnell's is a lively bar which hosts conventional and contemporary music each and every night, dressed up with classic decor and quirky little touches.
It's homely, warm and welcoming and upon entering, you'll never want to leave. The perfect snug of an Irish bar to visit, for when you just want to chill out and soak in the atmosphere.
The Gweedore is a live bands venue which is an adjoining bar to Peadar O'Donnell's, providing traditional and contemporary music every night in a distinctly Irish setting, which gives you two great Irish pubs in one!
Address: 63 Waterloo St, Derry, BT48 6HD
2. Badgers Bar
Located in the heart of the city mid-way between two of Derry's most famous theatres, Badger's is the perfect place to suit all tastes.
A fine polished-brass and stained-glass Victorian pub with wood-panelled nooks and crannies, and an outdoor terrace, Badgers offers a quiet haven on Orchard Street in the City Centre.
No matter what time of day you pop into Badgers bar, there always seems to be a few locals propping up the bar, which helps keep the atmosphere authentic.
The award-winning Badgers has been serving food and drink for over 30 years to the people of Derry, so, if you fancy a refreshing tipple in a traditional pub setting, then make sure Badgers Bar is your first port of call.
Address: 18 Orchard St, Derry, BT48 6EG
3. Grand Central Bar
This traditional Derry watering hole has been a local favourite since 1922 and still maintains its original design and interior to some extent.
Located on the lively Strand road in the heart of the city, The Grand Central Bar while it may not seem too grand in size, it surely has a larger-than-life personality, with its cosy atmosphere, friendly staff, great food and excellent beer menu, it is a relaxing place to spend an afternoon.
The Grand Central Bar is also known for its infamous quiz nights and live local music with acts from far and wide. Steeped in history from over a century, combined with a modern twist, this is one Derry pub not to miss.
Address: 27 Strand Rd, Derry, BT48 7BJ
4. Walled City Brewery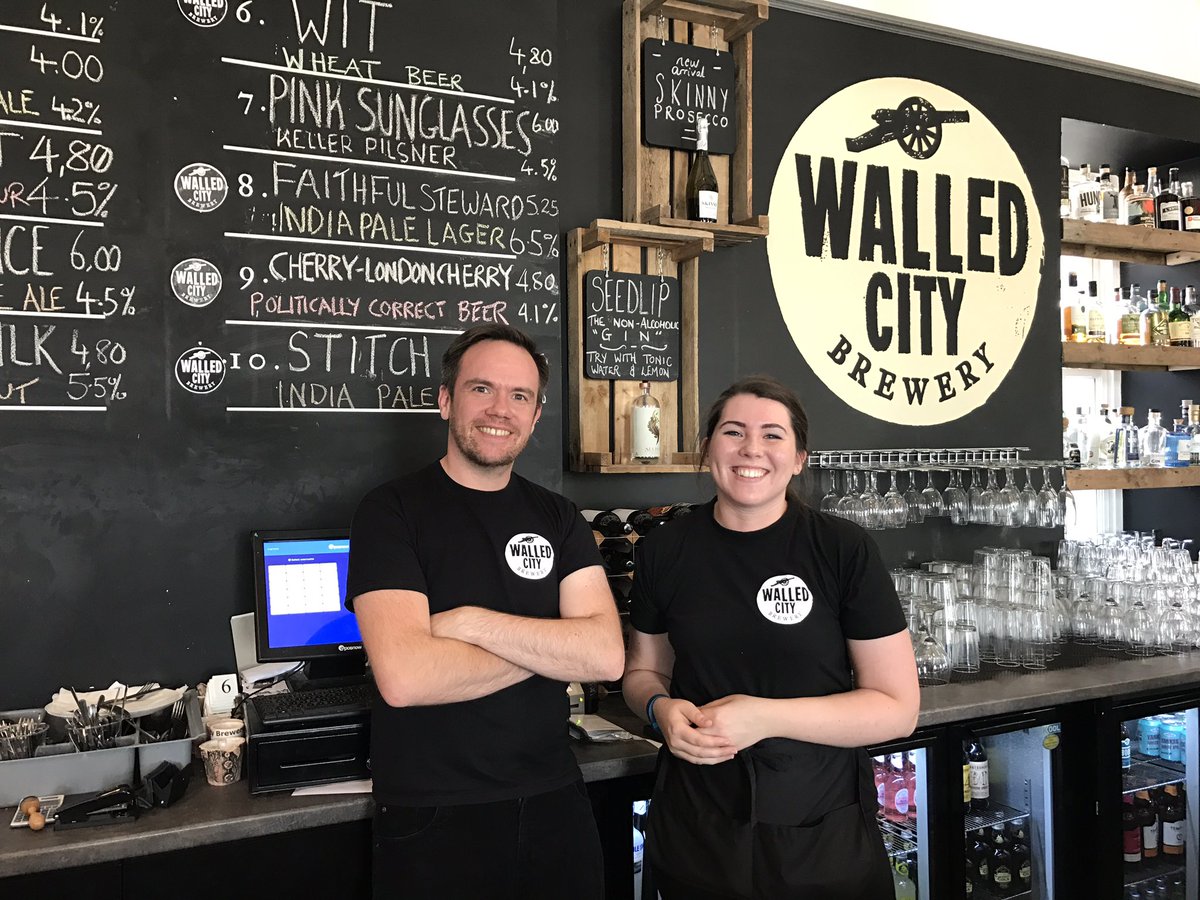 This family-run Craft Brewery & Eatery is housed in the former army barracks on Ebrington Square in Derry City.
Voted the 'Best pub in the North' at the Pub and Bar Awards, Walled City Brewery is an exciting craft brewery bar and restaurant run by the master brewer and Derry local James Huey.
As well as having 10 craft beers on tap, this trendy city centre spot is the first of its kind in the country to have a fully operating brewery and accompanying restaurant in the same building.
The ethos behind the business is to provide both locals and tourists with a "Taste of the North West" through crafting local, authentic, premium quality and flavoursome beer and food. For a complete taste of Northern Ireland, Walled City Brewery is a must-visit.
However, please note that this venue has a restaurant licence and alcohol is only permitted to be served with a meal.
Address: Ebrington Square & Parade Ground, 70 Ebrington Street, Derry, BT47 6FA
5. Blackbird
This newly established bar boasts the best craft beer from all over Ireland as well as some of the tastiest cocktails in the North.
With wooden booths, a long bar, leather sofas and roaring fires, this spacious Derry hotspot hasn't sacrificed comfort and cosiness in its bid to create a hip, modern space for you to enjoy.
Blackbird hosts live music many nights during the week and offers something a little different to other pubs in Derry, slightly more of a grown up, old school feel with a modern twist.
It is almost like stepping back in time when you arrive at Blackbird bar, so, if you like classic cocktails and craft beers in a cosy vintage setting in the heart of Derry City, this is just the spot for you!
Address: 24 Foyle St, Derry, BT48 6AL
Written by Gráinne Gallogly
Get featured on Ireland Before You Die
Do you want to get your Irish business more online exposure? Especially to those interested in travelling the best places in Ireland? Then why not get a dedicated feature on Ireland Before You Die. Find out more 
here.