Doolin is known as the home of traditional Irish music in Ireland. Planning a visit to this charming town? These are the best pubs in Doolin for food, pints, and live music.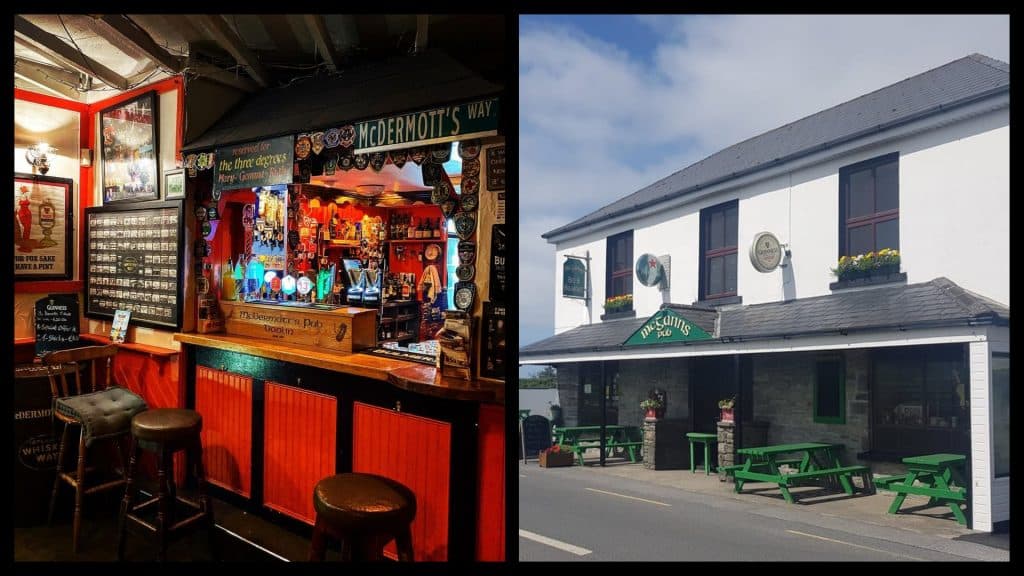 Located on the west coast of Ireland in County Clare, a mere stone's throw from the Burren and the famous Cliffs of Moher is Doolin, one of the most stunning towns along the Wild Atlantic Way. Known the world over as the 'home of traditional music in Ireland', there is much to love about this sleepy coastal town.
With a small but dynamic local community, B&Bs, restaurants, nearby sights, and local charm, Doolin is a favourite of local and international travellers year-round.
If you're considering a trip, best start here: these are the top pubs in Doolin for food, pints, and live music.
4. Fitz's Pub – the Hotel Doolin pub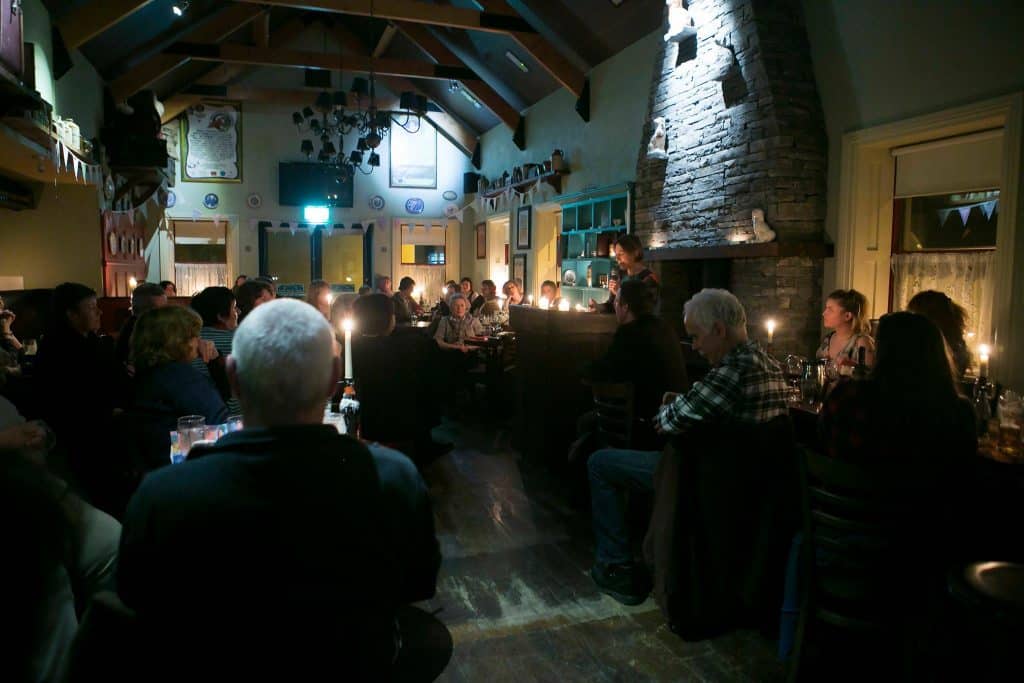 Located in Hotel Doolin is Fitzgerald's Pub, or as it is more commonly referred 'Fitz's Pub'. This makes for one of the best pubs in Doolin if you're travelling to the town for a short break. Have a night to remember in the downstairs pub before seamlessly sauntering to your room in the hotel.
As 'home of the Wild Atlantic Session', you can expect fantastic music performances at Fitz's pub nightly. The bar is open 365 days per year, and music peppers the calendar each and every night without fail.
Think cosy fires, pints of Guinness, warm hospitality, and fantastic trad music: this is Fitz's Pub. Not to mention the food on offer here: whether you're a pescetarian, vegan, vegetarian, or meat-lover, there are tonnes of dishes to chose from at Fitz's Pub.
Address: Rivervale, Teergonean, Doolin, Co. Clare, Ireland
3. Gus O'Connor's Pub – for its mouthwatering menu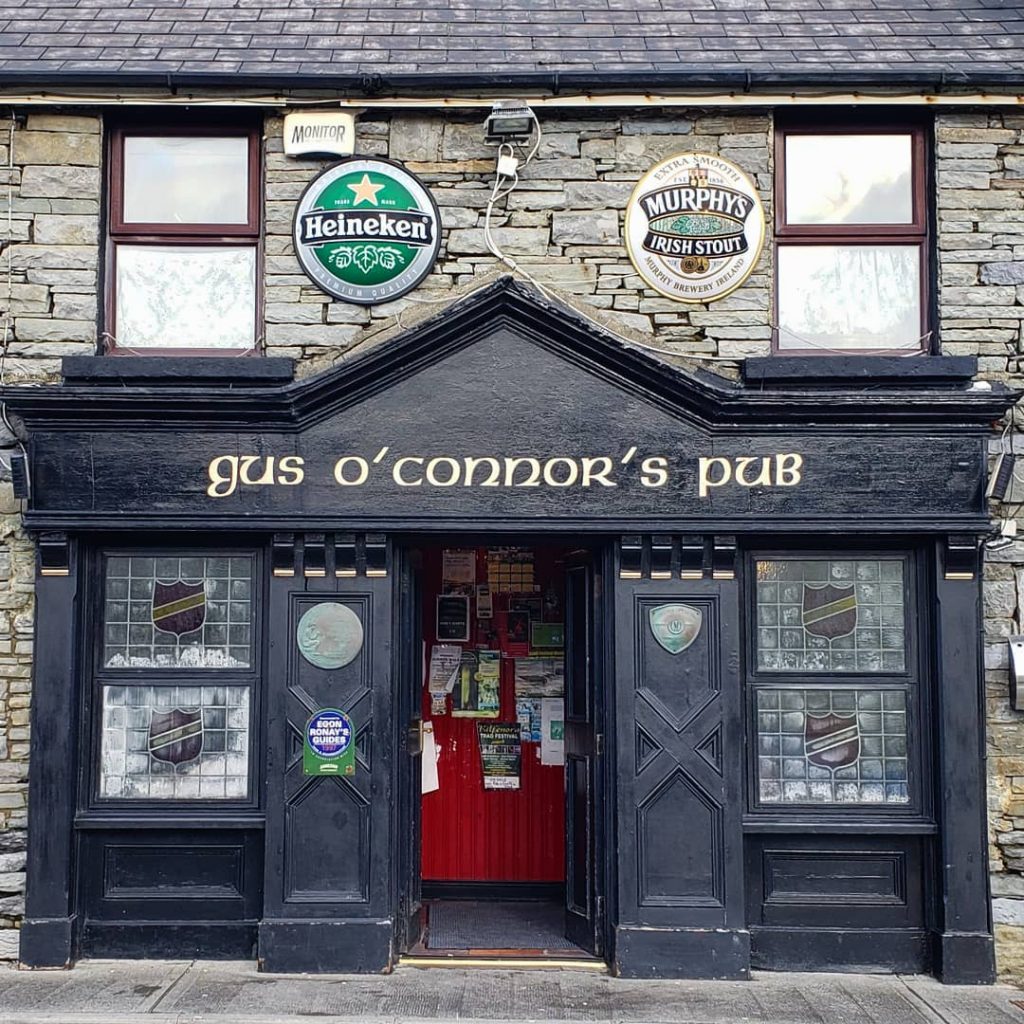 Located on Fisher Street in Doolin is a fantastic little Irish pub worth adding to your Doolin bucket list called Gus O'Connor's. Embracing an air of authenticity rarely seen in big-city bars, this pub offers one of the most wholesome, warm, and welcoming atmosphere's you're likely to experience.
Established in 1832, Gus O'Connor's is one of the best pubs in Doolin for many reasons. Its menu is mouthwatering, with dishes ranging from pan-fried Doolin crabs and Irish steak to local fish and chips. There's even a vegan corner and a dessert menu to die for.
Music also thrives at Gus O'Connor's, with trad sessions seven nights a week (February until November) and each weekend throughout the year. Big names to have played include James Cullinan, Yvonne Casey, and Micho Russell. As well as Noel O'Donoghue, Wille Clancy, Dermot Byrne, Tommy Peoples, Sharon Shannon, Christy Barry, and Kevin Griffin.
Address: Fisher St, Ballyvara, Doolin, Co. Clare, V95 FY67, Ireland
2. McDermott's Pub – the four-generation family-owned pub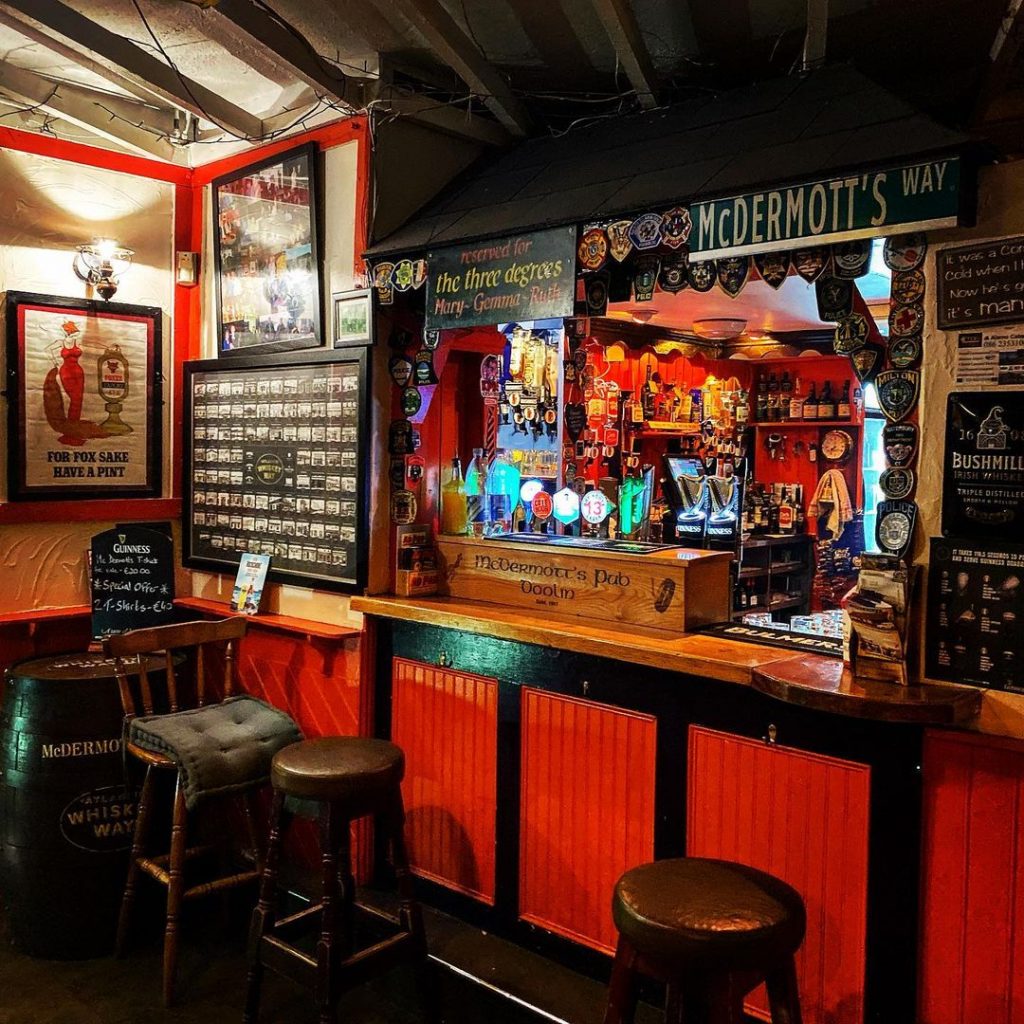 They say that Doolin is the centre of live traditional music in Ireland, yet it may come as a surprise that Doolin leads with quality over quantity. McDermott's is one of just four pubs in Doolin for food, pints, and live music.
Traditional in its appearance and atmosphere, guests here can expect a warm Irish welcome and free-flowing Guinness. Food is served daily from 1 pm, and there is indoor and outdoor dining (for those sunny Irish days).
The pub, which is now run by Patsy & Steven McDermott, has been in the family for four generations. Plus, the venue comes alive nightly with traditional music.
Regular musicians at McDermott's include Dubhlinn, a three-piece band of uilleann pipes, bouzouki, and fiddle. You might also get the chance to see Mark & Anthony, a duo who play the accordion and banjo. Or Tola Custy, a well-known fiddle player on the traditional Irish music scene of note.
Address: Toomullin, Doolin, Co. Clare, V95 P285, Ireland
1. McGann's Pub – for spontaneous live music sessions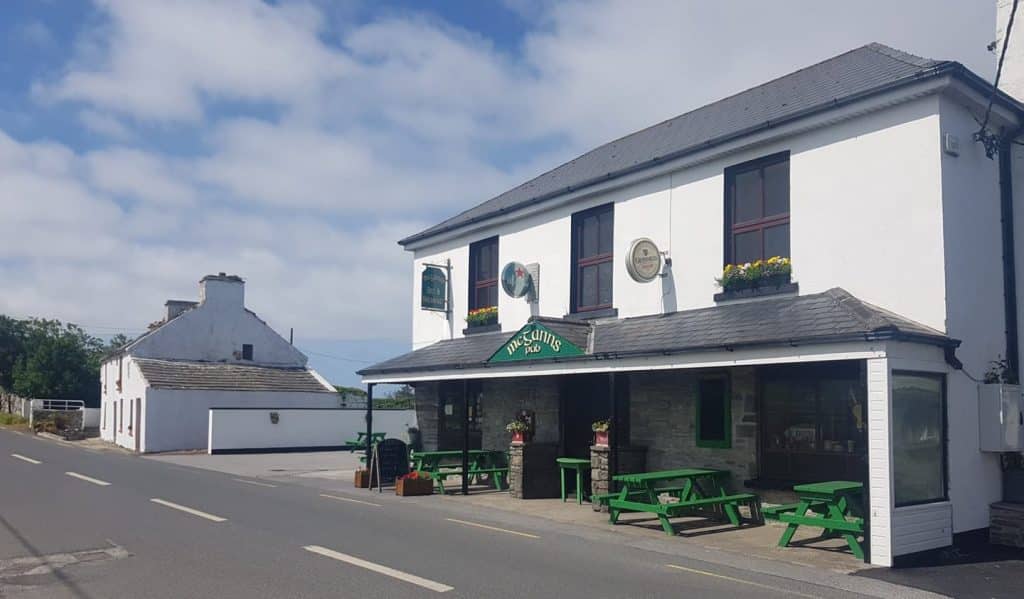 McGann's Pub is open seven days per week and welcomes laid-back locals and out of towners who share a love of good food, great craic, and music.
With a menu of traditional Irish fare, including heavenly Atlantic seafood chowders, prime Irish sirloin steak, Irish beef & vegetable stew, and Burren smoked salmon, you'll be spoiled for choice. They also offer an ever-changing vegetarian option and a kids menu that's perfect for fussy eaters.
Spontaneous live music sessions are one of the reasons that McGann's makes our list of the best pubs in Doolin for food, pints, and live music. That being said, a healthy roster of musicians take centre stage (or corner snug more accurately) each night. So, it's never a dull moment at McGann's.
Address: Main Street, Toomullin, Roadford, Co. Clare, Ireland
Get featured on Ireland Before You Die
Do you want to get your Irish business more online exposure? Especially to those interested in travelling the best places in Ireland? Then why not get a dedicated feature on Ireland Before You Die. Find out more 
here.