For those looking a blast from the past, here are twenty old photographs that show what Belfast looked like back in the day.
It is always fascinating to find rare photos of the city you live in and to see how much it has changed. This is certainly the case for the city of Belfast.
Below are a collection of rare old photographs of Belfast that will show you a small piece of Northern Ireland's history.
Take a step back in time and check out these incredible moments in history below.
20. Tate's Avenue – 1940s
This is a great shot of Tate's Avenue, found around Lisburn road.
At the time this photograph was taken, it transversed by the tracks of the Great Northern Railway that travelled from Belfast to Dublin.
19. North Street – 1920s
This photograph depicts British soldiers from nearby Victoria Barracks at the junction of Carrick Hill and North Street.
This was a common sight given the major disturbances that broke out in Belfast following the partition of Ireland in the early 1920s.
18. Linenhall Street – 1913
A clear view of City Hall looking up Linenhall Street in 1913.
The peaceful nature of this photograph disguises the horrors of the Great War which would break out the following year.
17. The Athletic Stores – 1970s
Before the days of JD Sports, Belfast had its very own sportswear shop, The Athletic Stores.
It was found on the corner of Wellington Place and Queen Street.
16. City Hall – 1969
This press photograph of 'the tree' was taken from City Hall in 1969.
15. Falls Road – 1995
It's the 30 November 1995 and Air Force One has just landed in Belfast.
The President and First Lady make a whirlwind tour of West Belfast speaking to locals on the Falls and Shankill Road.
14. Cornmarket from High Street – 1980s
Looking down Cornmarket from High Street in the mid-1980s. It is hard to believe that every single shop seen in this picture is now gone.
13. Westlink underpass – 2008
It should have been an ordinary summer's day in August 2008, but then this happened.
The NI Roads Service launched an investigation after the Westlink underpass was submerged in 20 feet of floodwater.
12. The Great War – 1914-1918
This is perhaps one of the most tragic old photographs on our list. Chichester Street, Belfast, in May 1915. Men from all over Ireland volunteered for service in Kitchener's Army.
These men of the 36th Ulster Division parading past City Hall would soon leave Belfast to fight at the Somme, the majority never to return home.
11. Cavehill – 1980s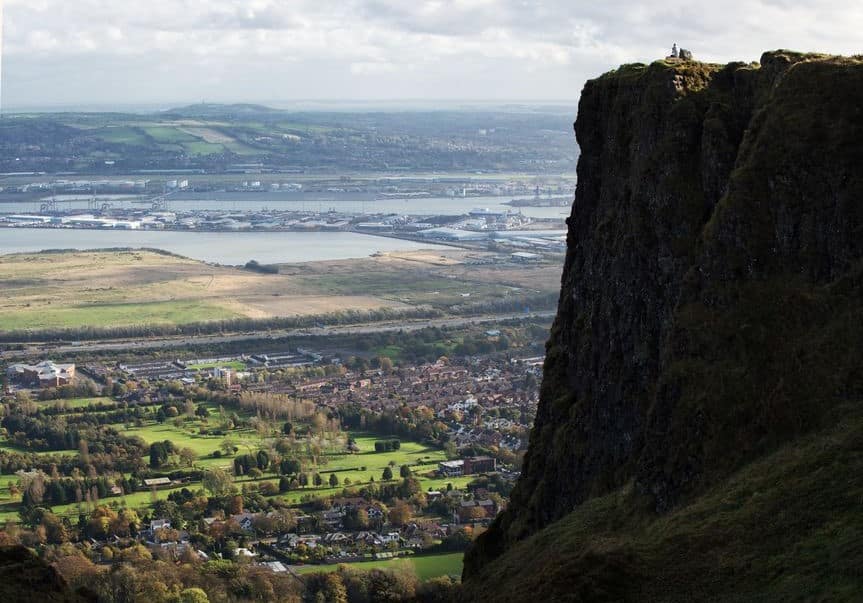 Here we see a perspective like no other with this incredible old photograph of '80s Belfast from Cavehill.
10. Robinson and Cleaver – 1900s
Robinson and Cleaver's store opened at Castle Place in 1874, before moving to High Street a few years later.
After another seven years, they had established the largest postal trade in the city.
9. The Grand Opera House – 1903
Here is a unique photograph taken of the Grand Opera House In 1903. For a short period of time, it was known as 'The Palace of Varieties', before reverting back to its original name.
The curtain rose on the first performance at the Grand Opera House on 23 December 1895.
8. Kennedy's Bread – 1960s
Kennedy's Bread was a successful supplier of bread. These were in the days when your loaf was delivered to the door!
7. DeLorean – 1980s
DMCL (DeLorean Motor Cars, Ltd.) produced a car in the late 70s, known as the DMC-12.
We all now know that it eventually gained worldwide attention after being featured in the popular Back to the Future films.
6. Victoria Shopping Centre – 1900s
The Jaffe fountain was placed in the historic Victoria Square in 1874.
For almost 75 years (from 1933 to 2007), it was relocated to the gates by Botanic Gardens. It was then fully restored to its (almost) original position at Victoria Square in 2008.
5. Royal Avenue – 1985
If you look closely, you'll see how much has changed in the city centre since the '80s. The old Provincial Bank of Ireland (AIB) building has since become a branch of Tesco.
As well as this, the gap site further down Royal Avenue on the left was where the Grand Central Hotel and the Head Office of the GPO used to stand. This is now the site of Castlecourt.
4. Gates into Belfast City Centre – 1970s
This photograph reminds us of what was almost considered "normal" when going to the shops in the city centre.
On the left is the first branch of Penneys to open in Northern Ireland – it moved into Brand's Arcade building after Birdcage Walk closed.
It then later relocated to a much larger premises at The Bank Buildings and changed its name to 'Primark'.
3. Ormo Bakery vans – 1950s
Remember the days when your bread was delivered to the door?
This particular photograph that shows this amazing fleet of vehicles was taken in Ormeau Park. This was just across the road from the Ormo Bakery.
2. West Side Stores – 1980s
Here we can see West Side Stores, situated opposite to what is known as Park Centre now. It was itself built on the site of what used to be Maguire & Patterson's match factory.
1. Aerial view of Belfast – 1953
This aerial view taken in 1953 is possibly one of the most stunning old photographs of Belfast on this list.
Thanks to Public Record Office of Northern Ireland and Old Belfast Photographs for some of the photos and information that inspired this article.