Ireland has some fascinating attractions, but it also has some downright weird ones. Here are the ten weirdest tourist attractions in Ireland.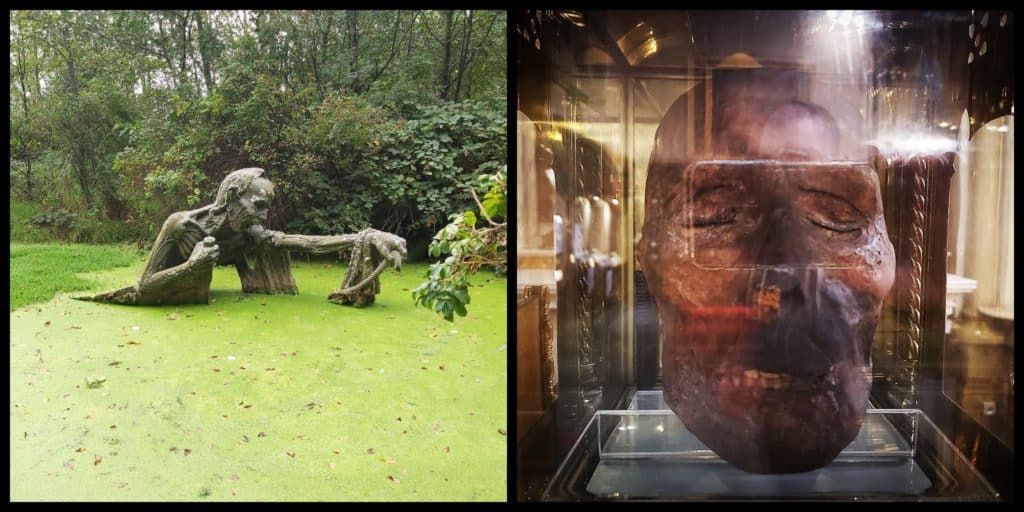 People come to Ireland to see the natural beauty of the landscape, to visit the interesting museums, to have a pint of Guinness in Temple Bar, and to listen to traditional Irish music.
They also come here to visit some of the weirdest attractions in the western world.
If you don't know what we're talking about, take a look at the top ten weirdest tourist attractions in Ireland, which have people flocking to them year after year.
10. The Hungry Tree, Co. Dublin – bench on the menu
Situated on the grounds of the King's Inn in Dublin, this weird tourist attraction features a rather large tree dating back to the 19th-century, which appears to be devouring a park bench.
This pretty unique and natural attraction has become so popular it has even featured on the cover of a guide book.
Address: King's Inn Park, Co. Dublin, Ireland
9. Kytelers Inn, Co. Kilkenny – in the heart of medieval Kilkenny
With a history dating back to 1263, making it one of the oldest inns in the country, this place has a unique story.
The original owner Dame Alice de Kyteler, accumulated a vast fortune from her four marriages. So much so that, perhaps out of jealousy, the locals accused her of witchcraft.
Luckily she escaped punishment, which would have been burning at the stake.
Address: St Kieran's St, Gardens, Kilkenny, Ireland
8. Victor's Way, Co. Wicklow – a unique experience in Wicklow
This Indian sculpture park is a top-rated attraction for people wanting to take some take to reflect.
Featuring many unusual sculptures made in India, each one telling a fascinating and spiritual story, Victor's Way in County Wicklow is well worth a visit.
Address: Mullinaveige, Co. Wicklow, Ireland
7. St. Michan's Mummies, Co. Dublin – what's beneath the surface is shocking
From street view, St Michan's Church looks relatively normal as old churches go, but it's in the basement you will find a sight to behold.
Behind creepy metal doors at the side of the church, a stairway leads to many tombs containing the preserved remains of some of the most influential families from 17th, 18th, and 19th-century Ireland.
Address: Church St, Arran Quay, Dublin 7, Ireland
6. The Wonderful Barn, Co. Kildare – a barn shaped like a corkscrew
Lovers of wine will recognise the shape of this barn to be corkscrew-like.
The unusual shape of this structure has attracted thousands of tourists over the years.
It lies on the Leixlip side of the popular Castletown House, and there are many theories as to why it has this peculiar shape.
Address: Celbridge Rd, Barnhall, Leixlip, Co. Kildare, Ireland
5. St. Patrick's Purgatory, Co. Donegal – the gateway to hell
As the story goes, this pit in the ground was shown to St. Patrick by God himself. It was claimed to be an entrance to purgatory that St. Patrick could show his followers as proof of the afterlife.
Today it is a well-known pilgrimage that lies on station island in the middle of Lough Derg – and one of the weirdest tourist attractions in Ireland.
Address: St Patrick's Purgatory, Ballymacavany, Co. Donegal, Ireland
4. Kinnitty Pyramid, Co. Offaly – a slice of Egypt in Ireland
No, your eyes aren't playing tricks on you; this is an actual pyramid in central Ireland.
Originally built as a tomb for members of the Bernard family, it took four years to complete and is now a popular, albeit weird, tourist attraction.
Address: Ballyshane Rd, Lismoney, Co. Offaly, Ireland
3. Cork Butter Museum, Co. Cork – we just love butter that much
This museum describes all things butter, from the traditional homemade process to the Kerrygold brand, which is known worldwide.
Butter plays a considerable part in the history of Ireland, and here you can learn all about it. Only in Ireland, eh?
Address: O'Connell Square, Shandon, Cork, Ireland
2. O' Sheas Pub, Co. Kerry – a faux pub in Ireland
Located on Valentia Island, this fake pub created by the Guinness brand to feature in an old advert was never a real-life business.
What makes this one of the weirdest tourist attractions in Ireland is the added bonus of being one of the farthest pubs in the world that won't actually serve you a pint.
The outside wall of the pub features the words 'Next Pint, New York'. And yes, people come from far and wide to visit a fake pub in Ireland, go figure!
Address: Coarha Beg, New Road, Co. Kerry, Ireland
1. St. Oliver Plunkett's Head, Co. Louth – can it get any weirder?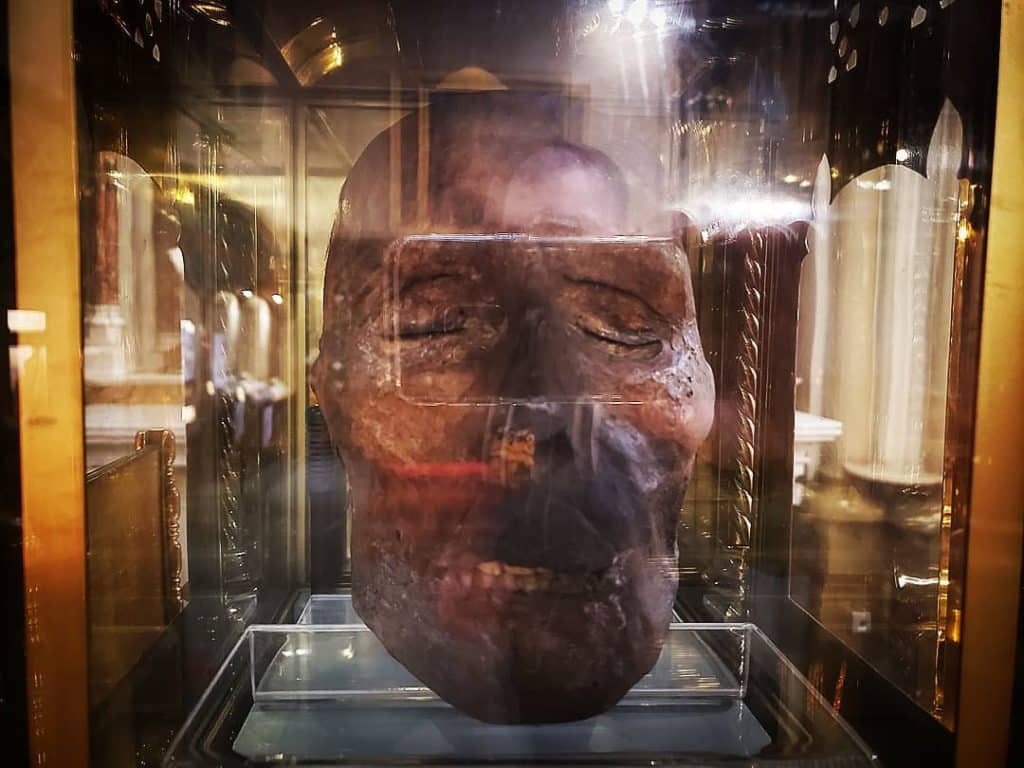 One of the weirdest and most disturbing tourist attractions has to be this severed head. Yes, you read that right.
In Drogheda, you can actually see the real severed head of the 17th-century Saint Oliver Plunkett.
Having been convicted of high treason, Plunkett was hanged and dismembered in a central public square.
His body parts were then buried, but a few years later some parts, including his head, were extracted – and you can still see it today in St. Peter's Church.
Address: West St, Downtown Drogheda, Drogheda, Co. Louth, Ireland