Once you've exhausted the usual sights of Dublin, try these 10 weird, quirky, and downright unusual things to do in the capital of Dublin.
When you've seen all the main sites in the capital, it's fun to do things off the beaten track. Here's our top ten list of weird, quirky, and unusual ways to spend time in Dublin!
10. Tropical Popical – for an over the top quirky nail party
Shot to international recognition by a certain Saoirse Ronan, the nail artists in funky Tropical Popical love their work, and it shows through the infectiously fun atmosphere as soon as you walk through the door.
Groups can rent out the salon for a private manicure party, and you can even bring drinks and playlists!
Address: 28 William Street South, Dublin 2.
9. Zoological Museum – an unusual day out for animal fanatics
In the heart of the iconic Trinity College campus, you'll find this quirky little museum that houses preserved remains of just about every animal you can think of…and many you never even knew about.
Though only open in the summer months, the reasonable €3 entrance fee makes this a cheap and quirky way to while away an afternoon in the city centre.
Address: College Green, Dublin 2.
8. Viking Splash – for history with a weird twist
Learning Dublin's history, going on a boat trip, AND frightening unsuspecting pedestrians?! Sign us up! The Viking Splash tour is a rollicking land and water experience that combines education and fun in a way that is suitable for all ages.
You also get to wear a pretty fantastic Viking hat and shout at passers-by. Quirky and productive!
Address: St Stephen's Green North, Dublin 2.
7. Sweny's Pharmacy – for an unusual literary experience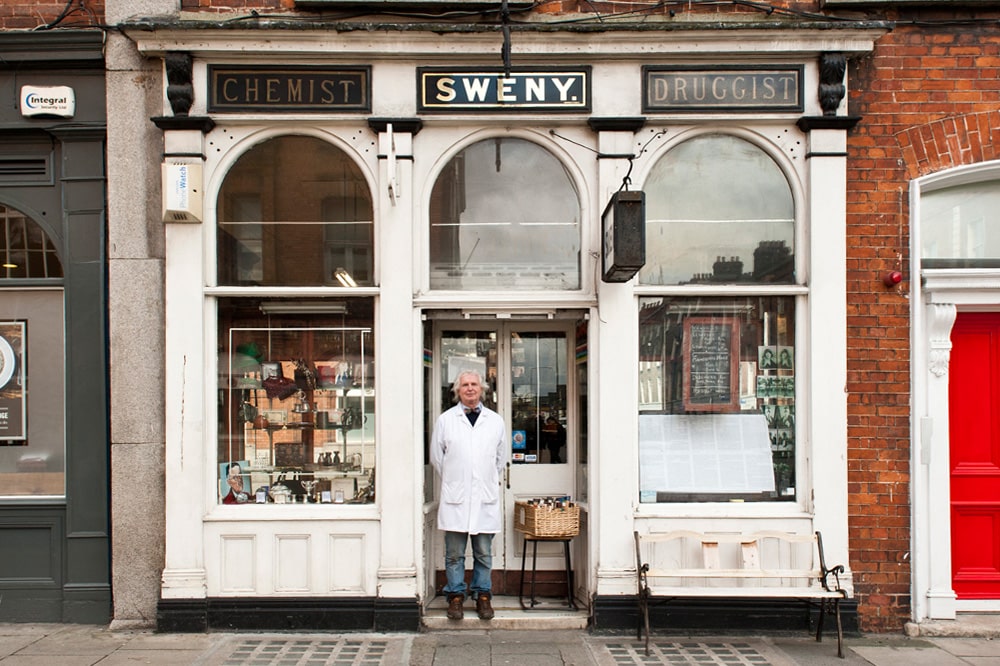 Super-fans of Ulysses may recognise this next spot as the pharmacy where fictional Leopold Bloom stopped to collect an errand for his wife on his voyage around the city.
Although no longer functional, Sweny's is kept running by volunteers who provide daily readings of Joyce's great work in the surroundings of an old Victorian-style shop floor.
Truly an experience you won't find anywhere else in the world.
Address: 1 Lincoln Place, Dublin 2.
6. St. Michan's Church – for a spooky day out
You might have thought a trip to Egypt was necessary if you wanted to see real-life mummies, but that's not the case! St. Michan's church contains a crypt where you can see exposed mummified remains of those buried.
Nobody is exactly sure how the bodies remain so well preserved while their coffins rot away – but one thing for certain is that this spooky activity makes for a pretty unusual afternoon in the capital!
Address: Church Street, Arran Quay, Dublin 7.
5. St. Valentine's tomb – for a weird romance
This one is for the romantics. A little known fact is that St. Valentine's heart (not his body, just his heart) is buried in Dublin – and you can take your love interest to see it on what would be one of the most unusual dates ever.
The unassuming Whitefriar Church may not look like much from the outside, but it's stolen the heart of one of the most famous saints in history… okay, we'll let ourselves out.
Address: 56 Aungier Street, Dublin 2.
4. Lip-sync for your life – for an unforgettable group experience
Any Drag Race fans in the house? You'll be delighted to hear that groups of ten or more can book a private lip sync battle in the trendy cocktail haunt, Drop Dead Twice.
You can even bring a bottle of spirits and allow the bar to mix you some custom cocktails while you strut your stuff!
Address: 19 Francis Street, Dublin 8.
3. Ye Olde Hurdy-Gurdy Museum – for a quirky day in the suburbs
In the seaside suburb of Howth, you'll find one of the most gloriously weird days out in Dublin, a museum of vintage communication and radio devices housed in a round tower – with curator Pat Herbert on hand to provide interactive demonstrations. Does it get any quirkier than that?
Address: Martello Tower, Abbey St, Howth, Co. Dublin
2. Token – for vintage games and funky food
Token has taken the city by storm with its combination of old school arcade games and trendy eating options. Where else could you play Pac-Man while munching on a vegan big mac, cocktail in hand?!
Note for gaming families – this is an over 18s venue only!
Address: 72-74 Queen Street, Smithfield, Dublin 7.
1. Secret Street Tours – for learning about the city while giving back to the community
For a quirky and unusual day out and for those with a heart of gold – look no further than Secret Street Tours. Local members of the homeless community guide these walking tours of Dublin's off-the-beaten-track inner-city locations, and the majority of the €15 fee goes directly into their pockets.
You'll laugh, you'll learn, you'll love it. This is our top pick for weird things to do in Dublin.
Address: Apt 48 The Windmill, Windmill Lane, Dublin 2.