Airbnb may be under severe scrutiny in the past year or so, but arguably, it has given people an opportunity to offer unique accommodation options off the beaten track and help boost household income, especially in rural areas. However, some of the most jaw-droopingly gorgeous holiday homes are Irish Airbnb's!
While the adventurers' way of travelling is becoming more and more mainstream; eager tourists are forever taking to online forums to discuss the unique stays on the Emerald Isle.
We, however, have taken the time to round up the top 10 most unique stays in Ireland on Airbnb, to save you the trouble; this certainly will be a stay to remember!
10. The Pendragon Houseboat
Ever considered yourself somewhat of a budding boatman or woman? Well maybe now is the time to take to the water and try sleeping on board a barge set in County Kildare, not far from Dublin.
This cosy and unique stay marries the outdoors and comfortable accommodation in equal measure, with all the amenities you could ask for: a wood burning stove, modern kitchen, full double bedroom and shower. Just imagine floating downstream with a cup of tea and a good book.
View it on: Airbnb
9. The Eco-Cabin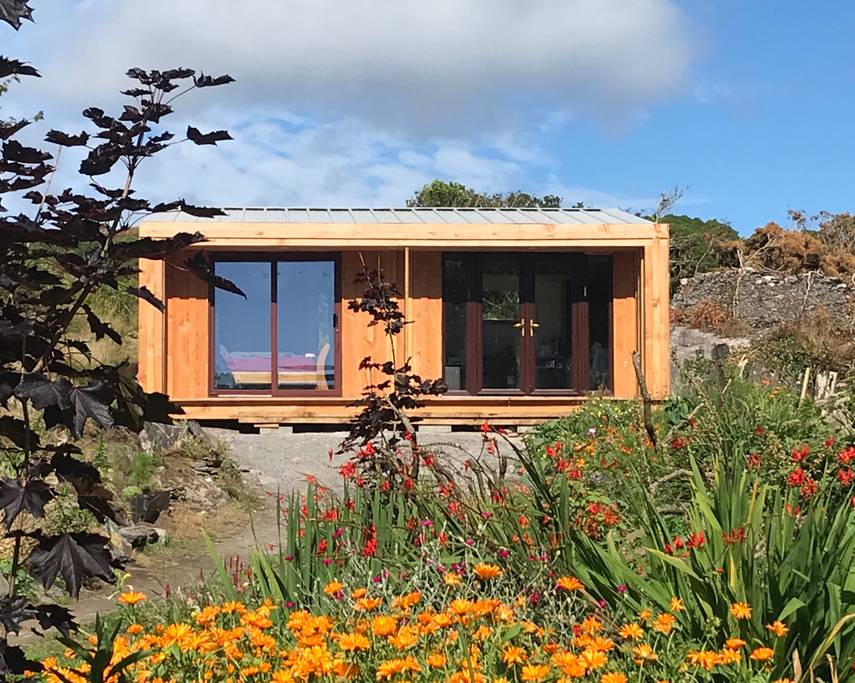 For those of you looking to maintain a more eco-friendly lifestyle, this one is for you. This eco-cabin is located in the rural village of Goleen, County Cork.
The cosy abode would be considered, what some may call a "tiny house", so guests should expect functionality over space — saying that, not one aspect of comfort has been compromised. This eco-cabin is modern, light-filled and comfortable without a doubt.
View it on: Airbnb
8. The Adventure Cabin
Looking for a unique holiday break with the family? This one is for you! This alternative stay is located in Port Laoise in County Laois and has three bedrooms accommodating up to seven guests.
The adventure cabin is kitted with all the necessary amenities you could ask for, but it is the unique extras which really make this property pop. A fire-pit with festival-style bunting is the centre focus of the garden, while hammock areas, swing sets and trampolines will keep the kids at bay — not to mention the abundance of on-site farm and exotic animals.
View it on: Airbnb
7. The Greenhouse Retreat
Escape to Donegal on your next break for a stay in this tranquil greenhouse lodge surrounded by native flora and fauna. Expect to lose yourself in this stay which offers guests a unique opportunity to experience county-life with all the traditional comforts one could wish for.
View it on: Airbnb
6. The Vintage Caravan
Ever wanted to try van life? Now is your chance! This unique Airbnb stay offers guests a quirky vintage caravan experience set on 18 acres of wild rolling hills in County Donegal.
Expect to wake up with the beauty of the Irish countryside on your doorstep in this unique Irish stay.
View it on: Airbnb
5. The River Cabin
This quirky cabin is located on the water's edge in County Galway, near Connemara National Park. Denoted by pop colours, eclectic décor, offbeat signage and character by the bucket load, this is sure to be one of the most unique homestays on the go.
Expect cabin cosiness in full bloom, bohemian vibes aplenty and homemade breakfasts, too.
View it on: Airbnb
4. The Mews
No list of unique places to stay in Ireland would be complete without the addition of a traditional mews (houses built from former stables).
While mews exist in Ireland in abundance, arguably the most stunning site on Airbnb has got to be this 18th-century mews located in Kilmainhamwood, County Meath.
Set on a farm of over 500 acres, this is the ideal destination for tourists looking to get a real insight into Irish farm life or couples looking for a secluded break. Outdoor activities such as 4×4 driving experiences, horse-riding and fishing are all available on site, at an additional cost.
View it on: Airbnb
3. The Nesbitt Boat
Scared of water, but love boats? This unique stay on Airbnb is for you. The Nesbitt is a land-based boat located in County Cork and consists of one bedroom, toilet, shower and cooking facilities.
While size may not be this property's strong point, this small boat packs quite a punch and would suit couples and small families.
View it on: Airbnb
2. The Mongolian Yurt
Care for the outdoors but not the weather? Forget camping and try this Mongolian yurt in County Cork.
Steeped in traditional décor, charm and character, you'll feel like you've travelled oceans to end up in this unique Airbnb in Ireland. The yurt consists of one room containing three beds and an outhouse toilet.
View it on: Airbnb
1. The Medieval Ringfort – Lord of the Irish Airbnb's
If in search of the ultimate unique Airbnb stay in Ireland, look no further than this Medieval Ringfort in County Wexford.
Prepare to be transported to times long gone with this truly immersive and experiential stay. This type of accommodation would have been common in Ireland about 1,500 years ago, and the ringfort has been constructed using the same authentic materials our ancestors would have used all those many moons ago.
View it on: Airbnb
Get featured on Ireland Before You Die
Do you want to get your Irish business more online exposure? Especially to those interested in travelling the best places in Ireland? Then why not get a dedicated feature on Ireland Before You Die. Find out more 
here.