Travel writer Paul Clements, the author of a new book on the river, lists ten ways in which the Shannon weaves its meandering magic, and where its essence can be distilled in an uncertain world.
The River Shannon is having a moment. From quiet spots to enjoy Ireland's fascinating history to beautiful cycle routes, farmers' markets to local crafts, there is plenty to do and see along the River Shannon.
The river, which is the longest in Ireland at 360.5km in length, stretches from the Cuilcagh Mountain in County Cavan to the Shannon Estuary in Limerick. Winding through a number of towns and villages on its way, it is no surprise that there is lots to do along the River Shannon.
Travel writer Paul Clements has written a new book on the river, and below he lists the top ten things to experience along Ireland's River Shannon.
10. The light of heaven – witness magic when a rainbow appears
There is a feel-good factor to the Shannon light, especially when a rainbow breaks through with a background of a bridge in Lanesborough or Rooskey.
Frequently you will find magnificent pilings of wispy cirrus cloud formations created by the sense of space.
Cloud shadows rarely race over the river but slumber sedately with the ebbing and flowing mirroring the water. The spears of light are known to some as the "light of heaven".
Address: N63, Lanesborough, Co. Longford, Ireland
9. Callows hay meadows – the perfect Instagram spot
When God designed the callows, he built-in social distancing – these tranquil hay meadows on natural grassland between Athlone and Portumna are mostly empty of humanity aside from farmers who divide it into strips.
Fragranced by the beautiful coumarin of freshly cut hay in the summer, there is a stillness here with more than enough room for everyone.
For one of the best things to experience along Ireland's River Shannon, you can dawdle amongst the wildflowers and Instagram the tall pink spikes of willowherb or wild valerian, checking the names with your Picture This app.
Address: Main Street, Raghra, Shannonbridge, Co. Offaly, Irelan
8. Heritage of the past – a less crowded approach to Ireland's past
While King John's Castle or Athlone Castle may steal the limelight in Limerick, the atmospheric suite of epic medieval ruins at Rindoon on Lough Ree or Beagh castle on the Shannon estuary offer less crowded fun.
The Workhouses in Carrick-on-Shannon and Portumna are also thought-provoking places in which to spend time contemplating the past.
The name 'Shannon's also also regarded as one of the most beautiful Irish names beginning with 'S'.
Address: Warren, Co. Roscommon, Ireland
7. Crafty jewellery and teddy bears – enjoy the local crafts
Want to buy some locally made crafts? Check out the funky Bastion Crafts, an Aladdin's Cave on the west bank of Athlone. Handcrafted jewellery, including ogham stones, pendants, and earrings are on display alongside ethically sourced gifts, Fairtrade products, Clonmacnoise pottery, and ceramics.
In west Cavan, not far from the Shannon Pot, if you fancy a teddy bear made of the finest mohair, then Bear Essentials at Bawnboy sells a vast range and holds 30-minute tours of its visitor centre.
Address: 6 Bastion St, Athlone, Co. Westmeath, N37 KX23, Ireland
6. Pack a picnic – head to Holy Island for a perfect afternoon
Jump on a boat to Holy Island on Lough Derg for one of the best things to experience along Ireland's River Shannon – and don't forget to pack a picnic lunch.
Ger Madden runs trips from Mountshannon Harbour, and you can easily spend a couple of hours wandering around the island drinking in its timelessness with your drinks and sandwiches.
There is a pervasive sense of history and mystery about the ruins with the roofless tenth century round tower dominating the skyline.
Address: Inis Cealtra, Knockaphort, Co. Clare, Ireland
5. Search for the Worm's Ditch – pack your wellies for this one
Bring your wellies, explore the riverbank, and launch a fun search for traces of the Black Pig's Dyke, an ancient ditch or earthworks that runs close to the Shannon at Jamestown Canal in Co Leitrim.
Stretching from Donegal to Down via Roscommon, Leitrim, and Longford, it has different names, such as the Doon or the Worm's Ditch.
On some maps, it is marked with a broken red line but requires clambering over five-bar gates and squelching through muddy fields to pin it down.
Address: Ardanaffrin, Co. Roscommon, Ireland
4. Tickle your tastebuds at food markets – enjoy the delicious local produce
One of the best things to experience along Ireland's River Shannon is an afternoon spent snacking your way around two of the Shannon's best farmers' markets for local produce and banter.
Every Thursday morning, the Market Yard in Carrick-on Shannon comes alive with lip-smacking homemade spelt breads, farmhouse cheeses, and organic fish.
Trestle tables at Reggie's Veggies are laden with strawberries, grapes, herbs, salads, and bananas while Leitrim Flowers offers scented daffodils alongside tulips, irises, lilac, and sweet pea.
The Milk Market in Limerick (Fri-Sun), is situated in a restored stone building and is a popular gourmet food and flower hub with traders from all over Munster. Artisan bread, fruit, and veg from Kerry, and a mouth-watering selection of organic sausages, olives, jams, chutneys, pastries, and local chocolate are on offer.
Address: Market Yard Centre, St Georges Terrace, Townparks, Carrick-On-Shannon, Co. Leitrim, Ireland
3. Cycle the 'Snake in the Lake' – a manageable route for all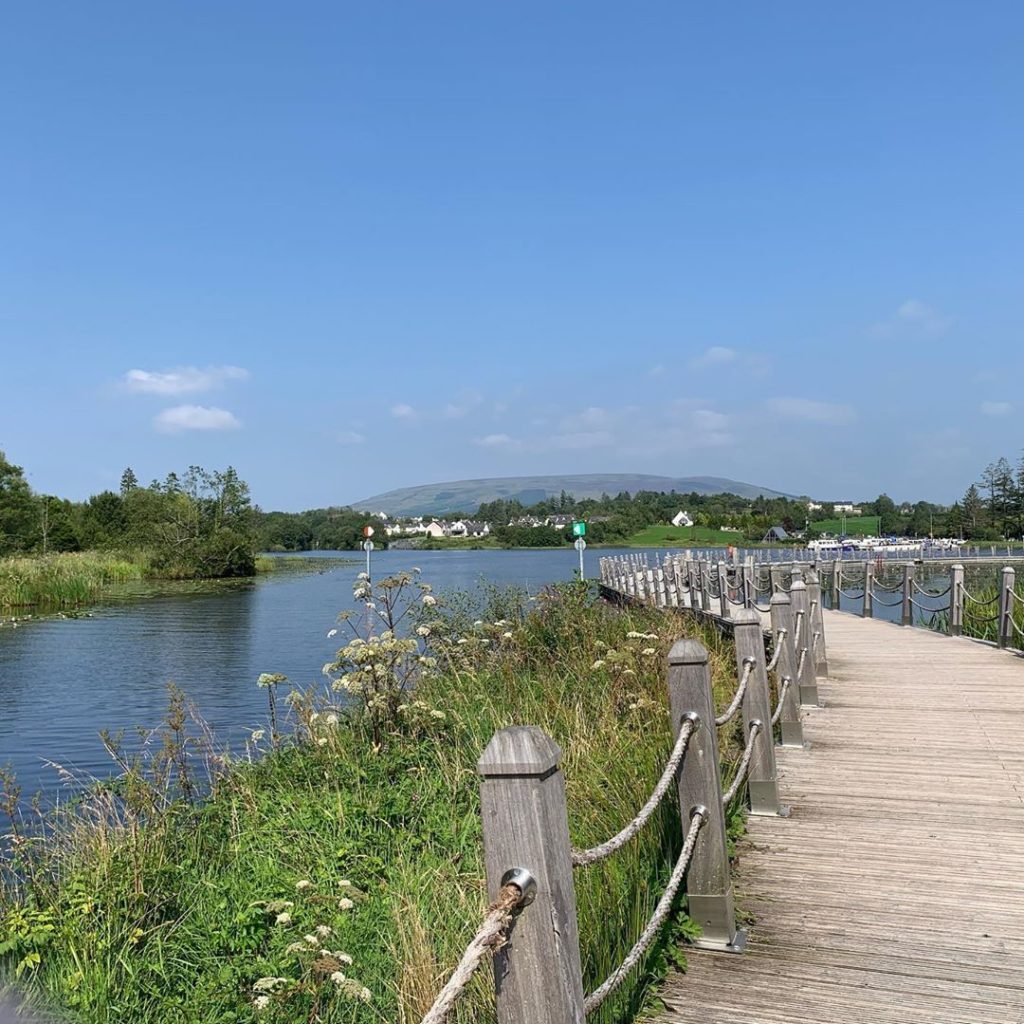 Schedule in an afternoon to cycle the "Snake in the Lake", named for the way it twists along a floating boardwalk from Acres Lake in Drumshanbo to Leitrim village.
Part of the Shannon Blueway, the cycle route has brought a new lease of life to the area.
You do not need an expensive bike or wardrobe full of Lycra to tackle it since the going is easy, especially if you hire an e-bike from Electric Bike Trails in Leitrim.
The route is on the flat with a natural stopping point at Battlebridge for a refreshing coffee.
Address: Leitrim, Leitrim Village, Ireland
2. Finding river fortifications – discover Napoleonic history
Scour the fields, and you will stumble across derelict structures such as the defensive Shannon Napoleonic fortifications brooding over strategic river crossing points.
This summer, Fort Eliza in Banagher, a five-sided four-gun battery built around 1812 and looking out over the river was awarded a grant of €35,000 from the Department of Culture, Heritage and the Gaeltacht (match-funded by Waterways Ireland as part of its Conservation Management Plan) for important renovation work.
And the locals in Mick Hough's pub will be quick to tell you: 'That beats Banagher, and Banagher beats the band.'
Address: Curraghavarna, Co. Offaly, Ireland
1. Go with the Shannon flow – explore the river by boat
Rivers shape the landscape, and one of the best ways of appreciating the Shannon is on the Viking longboat from Athlone to Clonmacnoise.
This sleek boat dates from 1923 and is a replica of a Viking Knarr, the Norse merchant ship used for Atlantic voyages. En route to the "celestial city", it passes quiet meadowland and a secretive countryside where it becomes an ecclesiastical superhighway.
Once you pass the Esker Riada, a glacial ridge that marked a political boundary line in ancient Ireland, you round a bend and the grey stone buildings of Ireland's preeminent holy site come into view in the watery distance.
Read our article on the ten best river cruises in Ireland with plenty of options giving you a tour of the iconic River Shannon.
Address: Athlone Castle, The Quay, Athlone, Co. Westmeath, Ireland
Shannon Country: A River Journey Through Time by Paul Clements is published by The Lilliput Press at £13. His biography Romancing Ireland: Richard Hayward 1892-1964, is also published by Lilliput at £15. Both are available from bookshops or from www.lilliputpress.ie