When the promise of an Irish escape stands before you, it is easy to forget the little things; that's why we've rounded up a list of the top ten things to do before you go on holiday to Ireland.
Ireland is an epic destination to visit year-round. From its balmy summers to its picturesque autumns, enchanting winters to blooming springs, there are endless reasons to visit Ireland at any time of the year.
While planning a trip may sound sublime to some, others will recoil at the thought of itineraries and to-dos. That's why we've devised this ultimate guide of the top things to do before you go on holiday to Ireland.
10. Know the road – the art of getting around
In Ireland we drive on the left-hand side of the road – similar to Britain, yet not like the rest of the European Union.
Make sure to rent a car for your trip if you hope to enjoy some off-the-beaten-track adventures. And remember, road-users on the Emerald Isle opt for manual cars, so if an automatic takes preference, this will need to be booked in advance.
9. Calculate the costs – the boring but oh-so-necessary element
It may seem like an obvious suggestion, but this is no doubt necessary. Many travellers make the mistake of saving for a trip but failing to dig into how much a casual day on the island of Ireland could cost.
These charges range widely, with cities including Dublin and Cork topping the list of priciest places to be. Besides checking how much attractions or accommodation costs, have a look at public transport and how much a pint will set you back.
8. Get acquainted with the culture – live like a local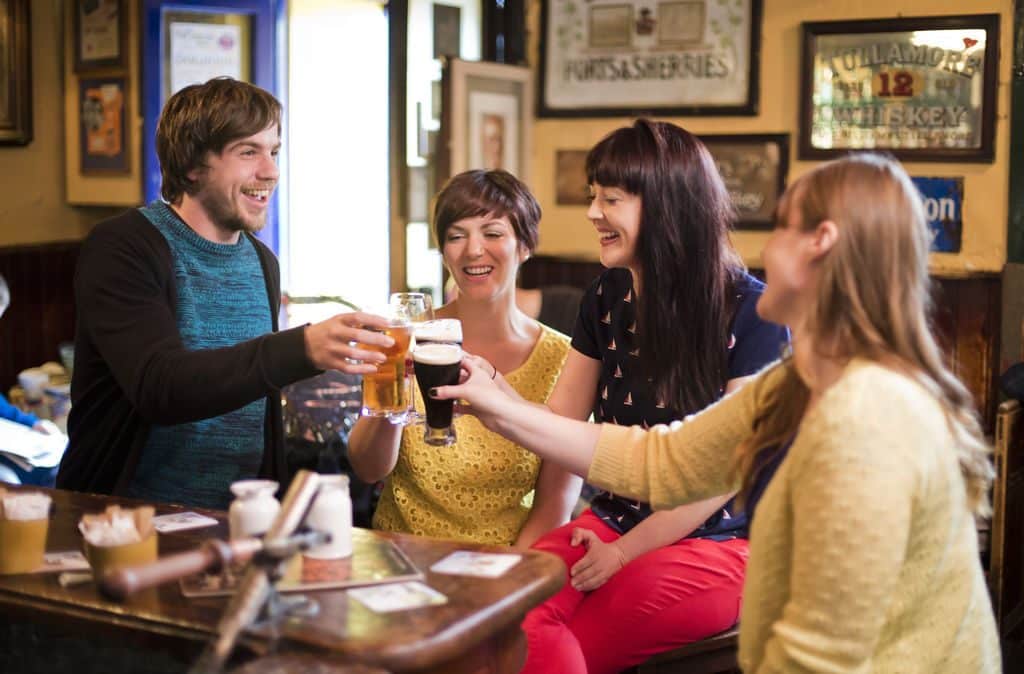 One of the top things to do before you go on holiday to Ireland is to bone up on its local customs and ways of life.
Researching history and heritage to grasp Ireland as a whole is advised, but it's the little things, like saying "thank you" to the bus driver that will make you feel one with your Irish comrades.
7. Speak like a local – get the gift of the gab
Both English and Irish are spoken in Ireland. However, if you want to find common ground with the locals, we suggest you learn some slang.
Varying drastically from region to region, there's much to discover. Although as long as you have "Slainté" (aka "cheers") in the bag, we're sure you'll do just fine!
6. Purchase travel insurance – the safety net
Often overlooked, this is, in fact, one of the most important things to do before you go on holiday to Ireland.
In a world where long-term planning seems almost impossible, and travel is being disrupted across the board, we suggest you add a safety net to your trip with travel insurance.
For more information on travel insurance, check out this link.
5. Check the weather – but don't trust the forecast
Ireland is infamous for its weather. Showcasing up to four seasons in one day, the weather on the Emerald Isle is truly a force to be reckoned with.
Make sure to keep an eye on the forecast in the weeks coming up to your trip as this could alter your plans. That being said, never trust the predictions to be gospel as it chops and changes on the go. Ireland in the autumn can be magic, and in the summer rotten depending on the day!
4. Pack appropriately – no matter the season, no matter the forecast
Say it with me: layers, layers, layers. Due to the ever-changing weather in Ireland, you may need to add and remove garments throughout the day to fit the current climate.
The easiest way to navigate Irish conditions is via thin, warm layers that are not cumbersome to carry.
Also, a good pair of walking shoes, a rain jacket, hat, and gloves will always come in handy when exploring the Emerald Isle.
3. Venture off the beaten track – for the authentic experience
Some of the most authentic experiences you're likely to find in Ireland will be off the beaten track, so be prepared to venture down lesser-known roads and away from the tourist traps.
This is where you will find real Ireland and make memories worth a lifetime.
2. Plan ahead – for the best prices
Many activities, particularly tourist attractions, can be more affordable if booked in advance online, so this is definitely one of the things to do before you go on holiday to Ireland.
Make a couple of bookings in each city or area you are visiting but remember not to overcommit yourself – which leads us onto our final point!
1. Don't over plan – allow for time to explore the island at ease
Some of the best experiences you are likely to have in Ireland will be the result of a chance happening: an impromptu trad session in a hidden gem pub, or discovering a remote beach along Ireland's majestic coastline.
Remember to allow for time to enjoy the island at ease and discover its wild beauty at your own pace.