With St. Patrick's Day fast approaching, Ireland is getting ready for a boom in tourism as people arrive to the Emerald Isle with the hopes of sharing in the Irish national holiday's celebration and camaraderie.
St. Patrick's Day is a cultural and religious celebration and national holiday which takes place annually on 17 March. The day is most known for its raucous celebrations, parades and all-around parties.
The event itself is celebrated in more countries around the world than any other national festival and it promises to be a day to remember.
Saying that, here are the top 10 things NOT to do on St. Patrick's Day in Ireland.
10. Wear Only an Irish flag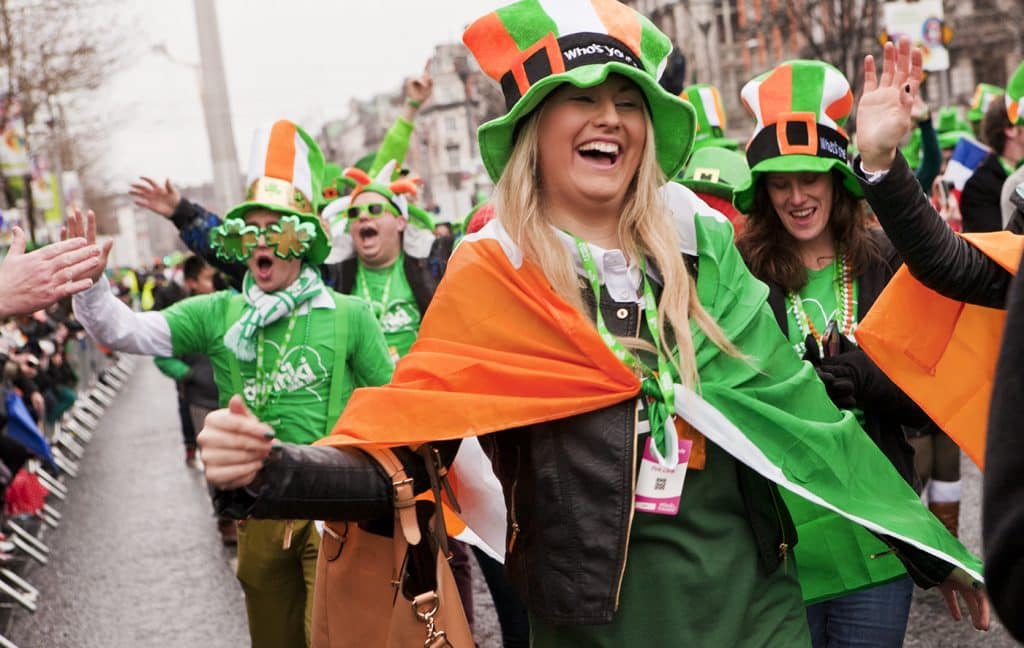 Dressing up is standard on St. Patrick's Day and you will be spoiled for choice when it comes to patriotic garb on sale.
Whether you're in the market for a tricolour flag, an Irish hat, crowns or a leprechaun costume, the options will be endless.
Saying that, remember it is March in Ireland. Not only is it likely to be chilly as hell, but impromptu showers of rain are also common.
Wrap up good and add dress-up items for accent. Whatever you do, don't fashion a dress out of a flag and freeze to death!
Idea: Carroll's do an epic Shamrock suit for 50 quid…
9. Don't Pinch Each Other
This is a St. Patrick's Day tradition that – although has been cited as being a story from folklore – it is not well observed by nationals, so we caution to avoid.
The concept states that people should wear green on St. Patrick's Day. By wearing this colour, you supposedly become invisible to leprechauns – who love to pinch people.
If you don't wear green on St. Patrick's Day sources say you're likely to receive a bucketload of pinches.
Saying that this isn't something that is popular in Ireland so we vote you steer clear of it!
8. Don't Wear a "kiss me I'm Irish" Shirt and Expect to Get Lucky
It's a shirt. It's not a magic shirt. And also, it's lame as hell.
7. Go to a busy parade
Many people come to Ireland from near and far to see the parades. Our advice though? If it's a really busy one, like the one in central Dublin, go to a smaller town or steer clear!
There's lots of parades around Ireland to choose from.
It's not only a source for serious crowd-control but it'll be a nightmare to get to and from.
Vantage points are limited also, making it frustrating unless you arrive insanely early.
6. Drink in Public
It may be Paddy's Day but the Irish police (the Garda) will be out en masse so you don't want to get in trouble with the law.
5. Ignore the Laws
Following on from #6, if you're celebrating St. Patrick's Day in Ireland, don't ignore the laws.
The only way you could look sillier in your leprechaun get-up is being arrested in your leprechaun get-up.
Also, remember to be careful the next day. Don't drive in the morning if you have been drinking a lot the night before.
4. Call it 'St. Patty's Day'
For the last time: IT IS ST. PADDY'S DAY.
3. Don't Attempt Public Transport at "St. Paddy's Day Rush Hour"
Should you be eager to experience a major Irish city on St. Patrick's Day, we advise you to plan ahead your travel route.
There will be congestion, delays and heavy traffic linking the cities to the suburbs. More so, many major roads will be closed down for the day.
If you're coming from afar to stay in a city for the festival, we vote you book central accommodation.
Choose somewhere close enough that it will be walking distance to all the mayhem but far enough away from it that you won't be kept up all night.
2. Disrespect the People and the Place
Many people come from all over the world to Ireland to experience St. Patrick's Day.
It is a fantastic festival and there will be tonnes of fun things to do all over the country.
Whatever you do though, don't disrespect the local people or the places you visit.
Not only is that a sure-fire way to get kicked out of venues but you're not likely to make many friends, either.
1. Be a Drunken Lout
Although it is undeniable that St. Patrick's Day is marketed as being a booze-fest, the worst thing you want to do is be a drunken lout.
Whatever you do, don't be wasted by lunchtime. There will be increased security in all bars and pubs and you're likely to end up in the back of a Paddywagon (a police car) or kicked of every venue you try to enter.
And, can you imagine coming all the way to Ireland for that?!
However, if you want to know what the best things TO DO are, read this article: The 10 Best St. Patrick's Day Events Happening in Ireland (2019)