Although they may seem to be plucked straight from the pages of a book, these are ten stunning fairytale towns in Ireland that really exist.
Characterised by colourful buildings, winding streets, charming churches, and rolling green hills, these fairytale towns in Ireland are nothing short of magic.
Perfect for a day trip or weekend getaway, you're sure to feel like you are starring in your own fairytale in these enchanting Irish towns.
10. Strangford and Portaferry, Co. Down – the lough that links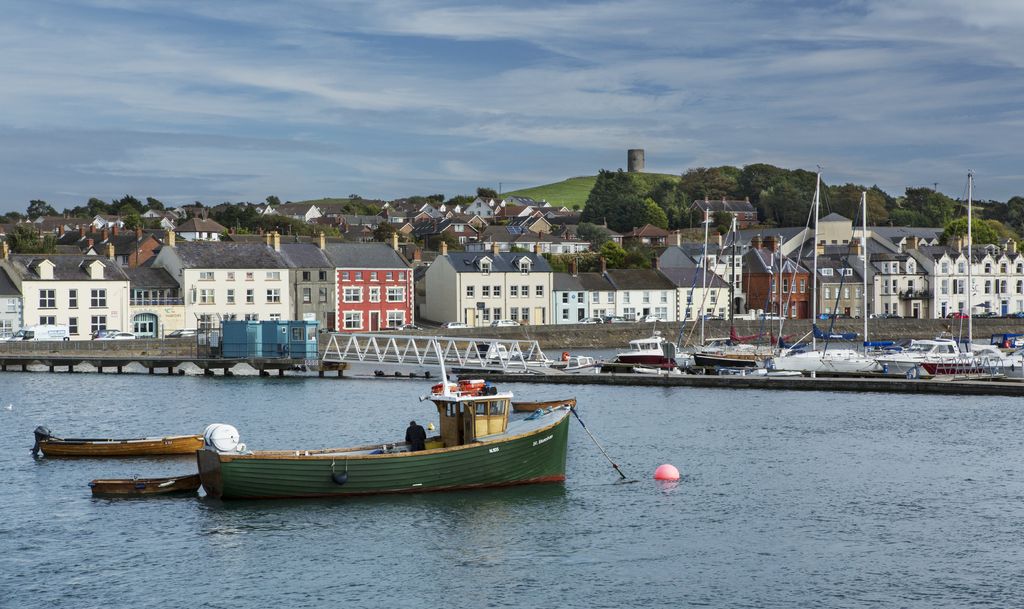 Separated only by a narrow stretch of lough are Strangford and Portaferry.
A traditional country town atmosphere is punctuated only by fishing boats and colourful houses which line the waterways. It is a fairytale scene for sure!
District: Newry, Mourne and Down
9. Lismore, Co. Waterford – for the fairytale castle
Ireland is famous for its castles, and the historic town of Lismore is no exception. This quaint town is home to its very own fairytale castle that looks like it has been lifted right out of a princess story.
The town itself is as quaint as they come with shops dotting a tree-lined main street where flower baskets and colourful buildings only add charm.
Province: Munster
8. Kilkenny, Co. Kilkenny – for medieval roots
Located in Leinster is Kilkenny, one of the most stunning fairytale towns in Ireland that really exists.
Celebrated for its medieval roots, Kilkenny town acts as a portal to the past with many heritage sites and places of interest.
Province: Leinster
7. Dingle, Co. Kerry – for a fairytale fishing village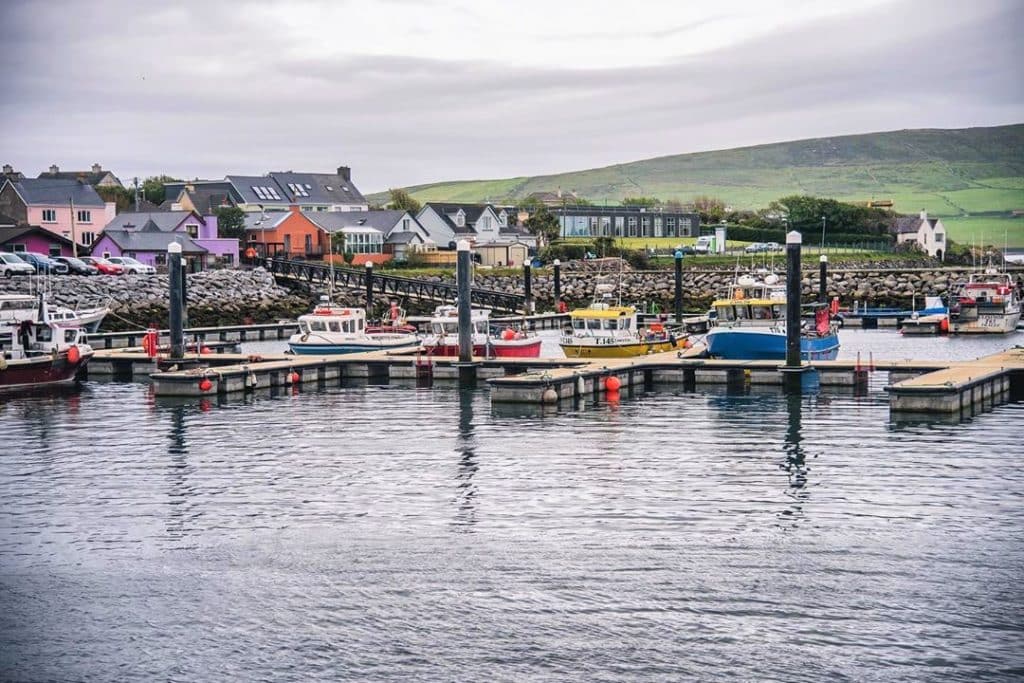 Dingle is a charming little seaside town that is nestled in the wild and wondrous County of Kerry.
Detached from the rest of the world, visitors will feel like they're in some far-away fairytale land.
Traditional pubs and independent stores fill the winding streets, and Irish hospitality is at an all-time high here.
Province: Munster
6. Westport, Co. Mayo – for a picturesque postcard town
Fairytale towns in Ireland may be a common feat. However, Westport is an extraordinary place that definitely deserves a visit.
An idyllic river runs through the centre and, on either bank, floral displays, cobbled roads, and one-of-a-kind boutiques paint quite the pretty picture.
Province: Connaught
5. Kinsale, Co. Cork – for seafood and shopping
With vibrant storefronts and a picturesque seaside location, this fishing village has become a firm favourite for those who seek fairytale towns in Ireland.
As it is a popular destination for holidaymakers in the summer months, we suggest you visit in spring or autumn to enjoy all there is to do and see at ease in Cork's fairytale village, Kinsale.
Province: Munster
4. Adare, Co. Limerick – for traditional thatched cottages and tea rooms
Adare may be a town that is most often used as a stopover on route to other major destinations, such as Dingle or Tralee, but that does not mean it should be overlooked.
This stunning fairytale town is known for its classic thatched cottages, tea rooms, charming main street, and the magical five-star Adare Manor Hotel. Adare is, without a doubt, a stop worth making.
Province: Munster
3. Allihies, Co. Cork – for lesser-known, but no less enchanting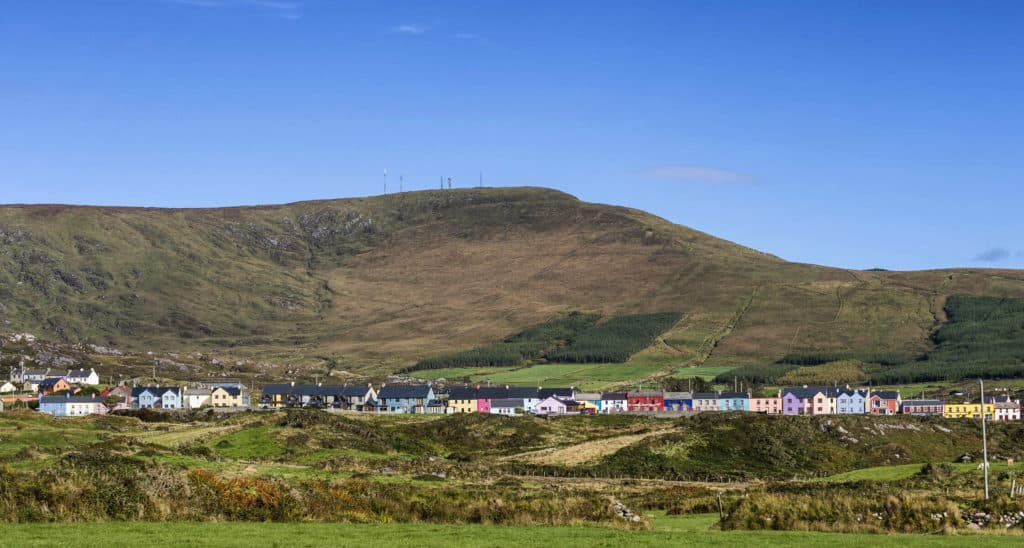 Indeed, Allihies may be one of County Cork's lesser-known towns, but that does not make it any less enchanting.
Remote and relatively untouched from the influences of the modern world, a visit to Allihies is like stepping into an Irish picture postcard.
Expect endless green landscapes, grazing sheep, colourful pub fronts, and quaint houses in abundance here.
Province: Munster
2. Clifden, Co. Galway – for a scenic backdrop
Surrounded by rolling hills and waterways, an image of Clifden looks almost too perfect to be true.
Yet, this is indeed one of the stunning fairytale towns in Ireland that really exists!
Known as 'the Capital of Connemara', this town is a hotspot for tourists in the warmer months. And, with tonnes of things to see and do, it comes as no surprise that many visitors return year after year.
Province: Connaught
1. Cobh, Co. Cork – for the ultimate fairytale town
Postcard-worthy takes on a whole new meaning in Cobh, County Cork. Without a doubt, this has to be one of the top fairytale towns, not just in Ireland, but in the world.
It is often known as the last port of call for the ill-fated ocean liner, Titanic, before it sank in 1912. However, there are many other, more uplifting, qualities that make this town memorable.
During your time in this stunning fairytale town, we suggest you check out Spike Island, Fota Wildlife Park, and the Titanic Experience Cobh.
Province: Munster