With restrictions easing and restaurants reopening for indoor dining, there is no better time to catch up with friends over a boozy bottomless brunch in Dublin.
There is no better way to start a weekend in the city than a boozy brunch with pals. Delicious breakfast food, free-flowing prosecco, bottomless mimosas, and a catch up with friends are exactly what's needed after a year of lockdowns.
If you're looking for bottomless brunch spots in the city for an unforgettable bank holiday or weekend brunch, you've come to the right place.
So, here are some top spots to start the weekend on a high with the ten best bottomless brunch spots in Dublin.
10. House Dublin, Dublin 2 – delicious, high-quality food
Served every Saturday and Sunday between 12 pm and 4 pm, the bottomless brunch menu from House in Dublin 2 is not to be missed.
With food by Gourmet Food Parlour, you'll have plenty of tasty options to choose from to soak up the abundance of prosecco coming your way.
With plenty of boozy brunch cocktails and classic brunch dishes to choose from, this is certainly one of our favourite bottomless brunch spots in the city.
Address: 27 Leeson Street Lower, Saint Kevin's, Dublin 2, Ireland
9. Platform 61, Dublin 2 – brunch seven days a week
With vegetarian, vegan, and gluten-free options to boot, Platform 61 is undoubtedly one of the best spots for bottomless brunch in Dublin, proving stiff competition against brunch spots in East London.
This low-key underground eatery serves up incredible brunch dishes seven days a week. Whether you're in the mood for an open steak sandwich or the traditional Eggs Benedict, this is certainly one of our favourite bottomless brunch venues.
Address: 27 William St S, Dublin, D02 RP86, Ireland
8. Beef & Lobster, Dublin 2 – for a laid back atmosphere
Serving great food with a side of bottomless cocktails every weekend is Beef & Lobster in Dublin 2. Located on Parliament Street, the casual vibes and brunch classics make this a boozy brunch spot you won't forget.
With a laid back atmosphere, this is the perfect place to sit back and relax with friends while enjoying fantastic food and drinks. Known for their surf and turf cuisine, this is one for the top brunch spots for meat and fish fans!
Address: Beef & Lobster, 39-40 Parliament St, Temple Bar, Dublin 2, D02 V593, Ireland
7. The Revolution, Dublin 6 – unlimited mimosas
Offering endless mimosas every Saturday and Sunday for just €16 per person, The Revolution is a must-add to your weekend brunch bucket list.
With a range of tasty brunch options, including American-style pancakes and carnitas tacos, accompanied by bottomless mimosas, brunch at this hotspot leaves nothing to be desired.
Address: 10 Terenure Rd E, Rathgar, Dublin 6, Ireland
6. Bow Lane Social, Dublin 2 – lots to choose from
Bow Lane Social in Dublin 2 serves a delectable bottomless brunch every Saturday, Sunday, and bank holiday Monday.
With a plethora of food and cocktail options to choose from, the indecisive among us may have to come back for a few visits to try all this spot has to offer.
From crab and king prawn hash to huevos rancheros, this is a must-visit on Dublin's bottomless brunch scene.
While on the theme, across the pond have a look at the rankings for some of the best places for bottomless brunch in Liverpool.
Address: Bow Lane Social, 17 Aungier St, Dublin 2, D02 XF38, Ireland
5. Thundercut Alley, Dublin 7 – for a quirky retro feel
Thundercut Alley is a retro café in Dublin 7 that had to make it onto our list of best spots for bottomless brunch in Dublin.
Serving craft cocktails, handmade sourdough flatbreads, and tasty brunch tacos, among other options, the delicious food will ensure you won't soon forget a visit to this quirky spot.
Address: Smithfield Smithfield, Dublin 7, Ireland
4. Wigwam, Dublin 1 – plenty of vegan options
For €30, you can get any brunch item and three drink tokens every Saturday and Sunday at Wigwam in Dublin 1.
Offering light bites to more hearty breakfasts to suit all dietary requirements, a visit to Wigwam will be sure to start your weekend off on a sweet note.
Some must-try brunch dishes here are chicken with waffles, vegan nachos, and acai granola bowls.
Address: 54 Middle Abbey St, North City, Dublin, D01 E2X4, Ireland
3. Exchequer Wine Bar, Dublin 6 – for a tasty Spanish brunch
Santander-born award-winning Head Chef José is the brains behind the fantastic Exchequer Wine Bar in Raneleigh.
This acclaimed restaurant is known for its Spanish-style cuisine. So, a bottomless brunch here will make you feel like you're on holiday, which is why we had to include it on our list of best bottomless brunch spots in Dublin.
Address: 19 Ranelagh Rd, Ranelagh, Dublin, D06 DW01, Ireland
2. Mackenzie's, Dublin 4 – for pancakes and French toast to die for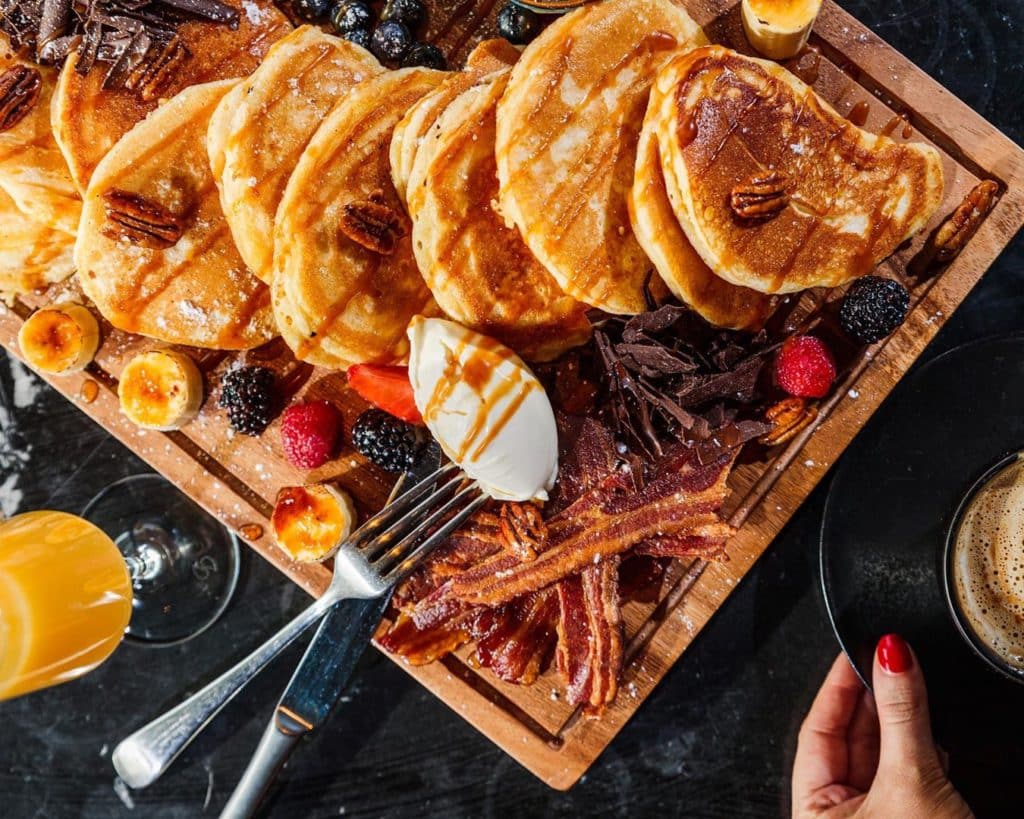 Mackenzie's is located in the trendy Dublin Dockland's area. Thus, making it the perfect spot for a sunny weekend brunch with friends.
Their pancake and French toast platters have taken social media by storm. However, if you're more of a savoury lover, you're in luck. Mackenzie's also offer brunch dishes such as a full Irish breakfast, Eggs Benedict, chicken and waffles, and more.
With such a relaxed environment and delicious free-flowing brunch cocktails, this is certainly one of our favourite bottomless brunch options.
Address: Opus Building National College of Ireland, 6 Hanover Quay, Grand Canal Dock, Dublin, D02 RR24, Ireland
1. Cleaver East, Dublin 2 – for an indulgent brunch in the heart of the city
Topping our list of spots for bottomless brunch in Dublin is the classy Cleaver East in Dublin 2.
Located in Dublin's Temple Bar area, Cleaver East serves bottomless brunch every Friday, Saturday, and Sunday. Choose from indulgent dishes like crispy duck dumplings, fried mac 'n' cheese, and pulled beef short rib tacos.
Certainly one of the best bottomless brunch spots in the city, the breakfast plates here are created from professional chef Oliver Dunne. So, this is certainly a must-visit spot for brunch.
Address: 6 Essex St E, Temple Bar, Dublin 2, Ireland
FAQs about bottomless brunch in Dublin
What does bottomless brunch mean?
Unlike your regular brunch, bottomless brunch includes a delicious brunch dish and bottomless drinks.
How many drinks do you get at bottomless brunch?
The whole point is that you can enjoy bottomless cocktails, but some places will cap the number to around six.