Waterford and wild swimming go hand in hand. So, if this has been something you've always wanted to try, then take a look at these captivating locations.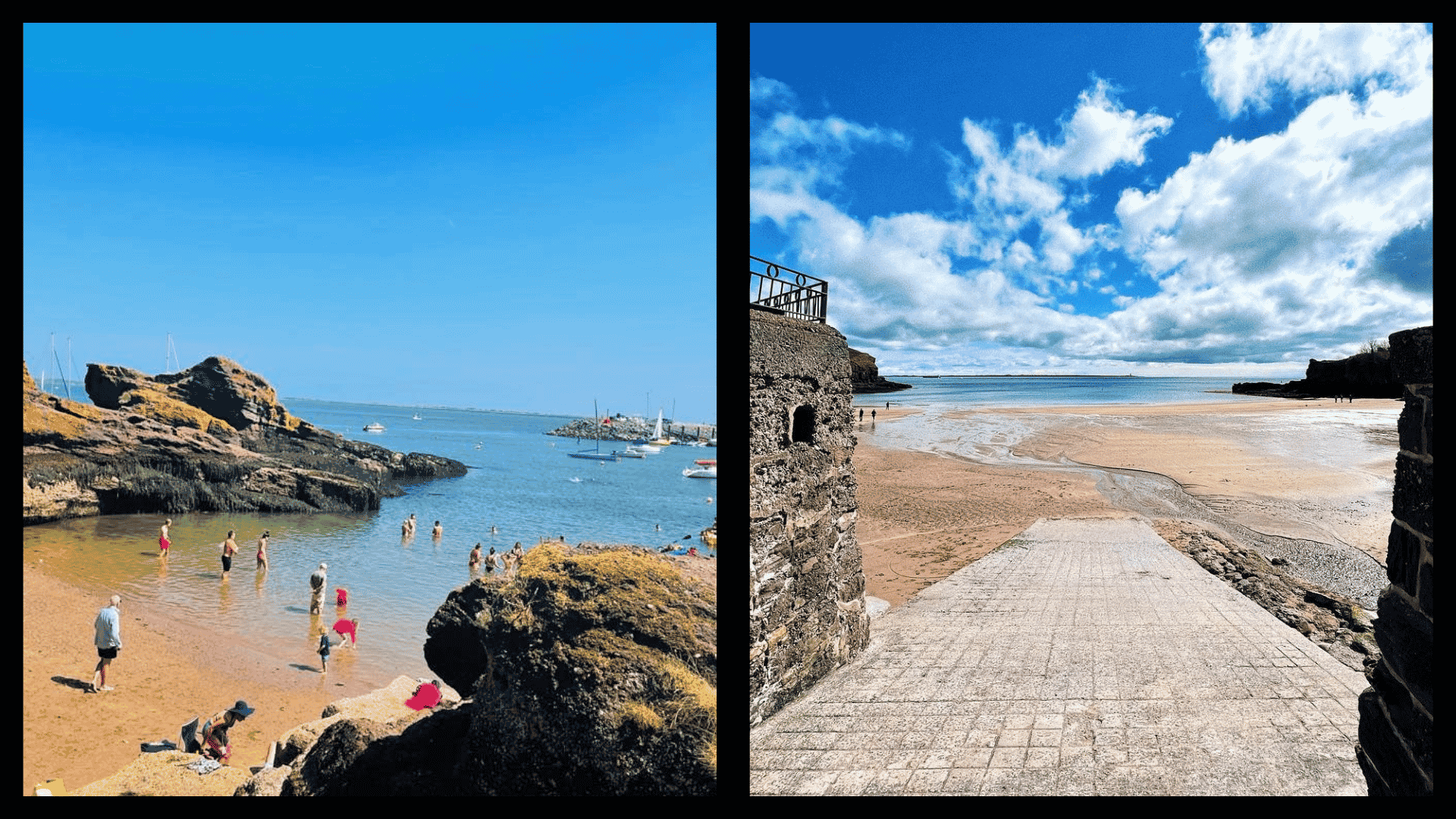 Waterford, which is just over two hours from Dublin along Ireland's Ancient East coast, is a stunning region to visit.
It is also home to some of our country's most beautiful beaches. So, it is no wonder that many are being enticed into the Irish waters for a refreshing dip.
Sea swimming has so many benefits, and swimming in cold water – which Ireland is known for – increases these benefits greatly.
So, if you haven't taken the plunge yet, you may be inspired after seeing these ten hotspots dotted along with the 147 km (91 miles) Waterford coast.
Be prepared to get energized with these top ten sea swimming spots in Waterford.
10. Tramore Bay Beach – one of the most famous beaches in the county
This popular sandy beach, which stretches for 5 km (3 miles), is an ideal spot for sea swimming, with plenty of waves, making it a hot spot for surfers.
The drive down to the beach will stay in your mind, with panoramic views of the famous Irish coastline and Clonea Beach.
Address: Tramore West, Tramore, Co. Waterford
9. Annestown Beach – one of the best sea swimming spots in Waterford
Due to its shallow waters, Annestown Beach is perfect for those looking for a calm swim or those just starting. Thus, making it one of the best sea swimming spots in Waterford, especially in the summer months.
The landscape and ambience change as the tide moves in and out, and more wildlife becomes apparent, making for a wonderful experience.
Address: R675, Co. Waterford
8. Benvoy Beach – a hidden gem along the Copper Coast
Located along the Copper Coast, Benvoy Beach is a beautiful spot you won't forget. The sheer sight of this beautiful area, backed with cliffs and rocks, will take your breath away.
Although the tranquil Benvoy Beach is just down the road from Annestown Beach, it offers that exclusivity that cannot be matched, which is why a swim here will be a truly unique experience and one of the best things to do in Waterford.
Address: R675, Co. Waterford
7. Trá na mBó – the strand of the cows
Head down to this hidden inlet, conveniently located just a short walk from Bunmahon Beach, for a secluded and peaceful experience and a heavenly bathing spot for local swimmers.
Translating as 'Strand of the Cows', this beach is well-known for its unusual stack of rocks resembling a totem pole – you can't miss it!
Address: Templeverick, County Waterford
6. Lawlors Beach – a picturesque beach with a traditional backdrop
This popular beach is close to bars and restaurants and joins in with Councillors Strand at high tide, forming one big sea swimming locale.
With the traditional Irish background of quaint little cottages, it is no wonder you will find many people enjoying this superb haven, especially on the weekends.
Address: Nymphhall, Dunmore East, Co. Waterford
5. Bunmahon Beach – the local beach of Bunmahon town
Bunmahon Beach is a stunning Blue Flag Beach that straddles the coastline next to the town of the same name. This stunning beach stretches for 2.5 km (1.5 miles) long, leaving plenty of space for everyone to enjoy.
While this area is popular with kayakers, surfers, and canoers, it is certainly not missed out by the sea swimmers who take advantage of both the wide-open space and sheltered areas.
Address: Bunmahon Beach, Muir Cheilteach
4. Portally Beach – a hotspot for snorkelling and swimming with clear water
Not only is there a super coastal walk from Dunmore to Portally, but upon reaching this spectacular inlet, you can take up the invitation to dive right in.
Sheltered by high rocks on both sides, this sea swimming spot makes a perfect location for a relaxing dip and snorkelling.
Address: Portally, Co. Waterford.
3. Ballydowane – an ideal spot for every level of swimmer
Ballydowane is popular with the pros and the locals alike, who are captivated by the giant cliffs overlooking the sandy cove.
Given that this is a sheltered beach with calm waters, it is ideal for families and newbies as well as leisure or pleasure swimmers.
Address: Templeyvrick, Bunmahon, Co. Waterford
2. Guillamene & Newtown Coves – home of a thriving swimming community
This local wild swimming spot is just 3 km (1.86 miles) from the Tramore promenade and is easily accessible for anyone looking to take a refreshing dip.
Following the signs for the thriving local swimming club, you will come across these bathing areas, which have been in use for over seventy years.
Address: Newtown, Co. Waterford
1. Badgers Cove, Dunmore East – a haven for sea swimmers along the Copper Coast
With both ladies' and men's coves to choose from, this is a haven for all swimming enthusiasts, especially those who are willing to brave the cold water in the wintertime.
This majestic little bay in Dunmore East is one of the best sea swimming spots in Waterford. It is suitable for both newbies (who can stay in the cove) or experienced swimmers who can swim out or even cliff jump.
Address: Dunmore East, Waterford
Safety precautions ‒ know before you go
No matter whether you're a pro or inexperienced swimmer, it is always important to check the weather and tides before heading out into the water.
The sea can be extremely unpredictable, even in the summer months. So, exercise extreme caution if you do decide to go for a dip.
If you are unsure of swimming conditions, it is always best to swim at a location with a lifeguard on duty. It is always advisable that you inform someone of your swimming location.
If you are wearing a swimming cap, wear one that is brightly coloured so that other water users can see you. Similarly, getting a brightly coloured tow float will help boat users spot you from a distance.
Notable mentions
Woodstown Beach: An idyllic sheltered beach surrounded by lush forest.
Kilfarrasy Beach: A fantastic beach coupled with 460-million-year-old rocky outcrops.
Stradbally Cove: This hidden and protected beach is ideal for visiting at high tide.
Kilmurrin Cove: At this stunning Copper Coast beach, you can take advantage of the many rock pools and horseshoe-shaped strands.
Whiting Bay: Located near the town of Youghal, Whiting Bay is another popular spot for wild swimming in the summer months.
FAQs about the best sea swimming spots in Waterford
Which Waterford beaches are best for swimming on?
Tramore Beach, Annestown Beach, and Stradbally Beach
Is Stradbally safe?
Yes, this beach is very safe for both adults and children.
Are there any good beaches near Waterford City?
Both Woodstown Beach and Tramore Beach are great options, just a 25-minute drive from Waterford City.
Well, if that didn't make you want to immediately dive head first into the nearest body of water, then we don't know what will.
So, next time you are after a real, local experience on the east coast, be sure to check out these ten best sea swimming spots in Waterford, which will guarantee to blow the cobwebs off.