Ireland is a beautiful place that offers variety of sceneries ranging from desolate and wild areas of the mountains to spectacular coastal drives, gentle pastoral landscape, watery ways and quiet inland lakes. This is a place where people are renowned for their utmost hospitality, good craic, conviviality, conversation and local beverages. Ireland offers hikes that will suit anyone.
10. The Slieve Bloom Way, Co. Laois & Co. Offaly
This is a 70 km route that covers wide circuit of isolated range of mountain in the central island that usually takes 2 days. The area provides panoramic views of bogland and not too strenuous hills.
9. The Carrauntoohil, Co. Kerry
Devils Ladder is the most famous route to Ireland's highest mountain, even if it's quite dangerous during wet weather. Tourists/walkers must scramble through wide gully which has slack boulders which can effortlessly dislodge. Return time takes 5 hours. If you're an experienced walker, this destination is a must try.
8. Grand Canal Way, Co. Dublin
This flat canal side walk leads to westwards from Dublin outskirts through central plain to Shannon Harbour village covering 80-miles distance. This walk offers diversity of canal features, wildlife and beautiful villages. You can stop for a while and explore the island's optimum monastic settlement in Clonmacnoise.
7. Burren Coastal Walk, Co. Clare
Apart from the stunning shoreline from the Black Head to Doonlin, walkers will also have to cross variety of terrains which includes beaches, sand dunes, limestone pavement all offering enjoyable walking among stones, rocks and grey walls. Moreover, you will also come across rare Arctic Alpine plants and seabirds in early summer and spring.  This 5-hour walk can also take you to Fanore beach – "European Special Area of Conservation".
6. Sawel Mountain, Co. Derry
Sperrin Mountains is a large expanse is in a thinly populated region of Tyrone. This walking covers heather, moorland and bog; this can take you to unobtrusive valleys and encounter birds and sheep.
5. Dingle Way, Co.Kerry
If you like dramatic taste of scenery, you can walk part or all of this 180 kilometer Dingle Way. It starts in Tralee and leads west to northern side Camp, then peninsula loops round, taking Brandon Mountain and down to the Clogher head prior turning back the southern section of peninsula.
4. Croagh Patrick, Co. Mayo
This is a well-trodden path that can take you to chapel of aloof peak, from where you can see Ireland beneath the Clew Bay.
3. Mount Errigal, Co. Donegal
This is also one of our favourite walks. Most direct route begins from Dunlewy -car park of the main R-521. Once you have crossed the heathery slopes, firmer footing will be revealed. This is relatively an easy walk to reach over loose rocks and stones. Be ready to be amazed by the view that takes large area of Ireland's North West.
2. Brandy Pad, Co. Down
This course follows old smuggler path through Mourne Mountains' northern section. The entire walk which is way marked throughout is 11 kilometers. This is not overly strenuous since the reward is remarkable views across Ulster highest mountain range.
1. Diamond Hill, Co. Galway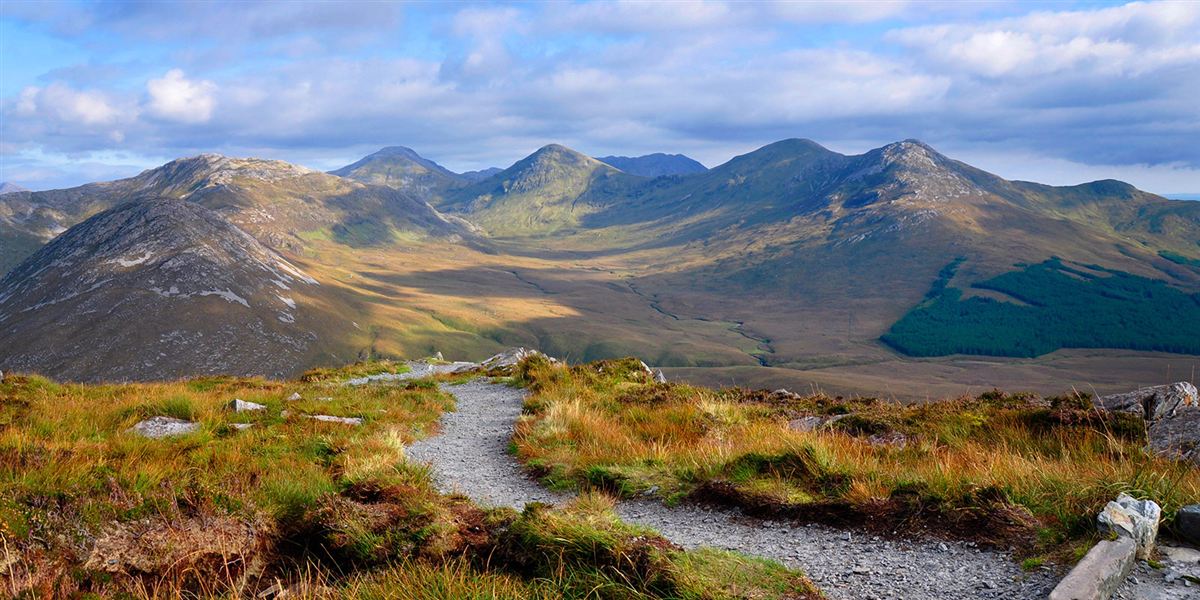 This is our favourite route which goes to Diamond Hil, beginning in Connemara National Park visitor centre. This is an 8-kilometre destination that starts along Scruffaunboy Nature Trail prior branching off toward Diamond Hill cone.
From the summit ridge cairn at 442 meters, you will get captivated by breathtaking views that embrace bays, mountains, loughs, beaches, and islands.