A land of stunning scenery, rolling countryside, and rugged coastal stretches, a drive through Ireland will leave you feeling inspired.
It is a well-known fact that Ireland is best explored by road. Therefore, we are here to fill you in on the top ten scenic drives in Ireland that should be on your bucket list.
Whether you're looking for a week-long road trip or just want a day out exploring somewhere new, there is something for everyone to enjoy on Ireland's most scenic roads.
10. Ring of Beara Drive, Co. Cork – explore Ireland's southwest
The Ring of Beara is a 130 km (80 miles) long route taking in the stunning coastal corners of County Cork in the southwest of Ireland.
Starting in Glengarriff, the Ring of Beara takes in all the most incredible sights and sounds of the Beara Peninsula, making it one of the scenic drives in Ireland that should be on your bucket list.
Some of the best bits of this route are Kenmare, Gleninchaquin Park and Uragh Stone Circle, Healy Pass, Eyeries, Ahillies, and Mare's Tail Waterfall. Other points of interest are Dursey Island and Bere Island.
9. Sky Road, Co. Galway – for the best views of Connemara
The Sky Road in County Galway is a 16 km (10 miles) looped route that takes you through some of the most picturesque parts of the Connemara region.
Starting from the historic town of Clifden, you will follow the N59 through the Kingstown Peninsula. Taking the upper road, you will enjoy fantastic views of the Atlantic Ocean, the wider Connemara region, the islands, and the coastlines of County Mayo and County Clare.
8. Glengesh Pass, Co. Donegal – a breathtaking drive
A winding section of road linking Glencolmcille to Ardara, the Glengesh Pass is a truly breathtaking driving route.
Magnificent scenery abounds along this meandering valley. Plus, you'll get a taste of Ireland's past as you drive by old cottages and farmsteads dotted along the route.
7. Munster Vales Scenic Drive, Co. Waterford and Co. Tipperary – a taste of Ireland's past
The Munster Vales Scenic Drive is a 230 km (140 miles) circular route that takes in the magical scenery of the Comeragh Mountains, the Rock of Cashel, and the River Suir.
Making the most of this entire route should take over a week to complete. However, if you're tight on time, there are plenty of shorter drives along the way that are just as spectacular.
6. Wicklow Mountains Drive, Co. Wicklow – step into a Hollywood film
To anyone who has visited the Wicklow Mountains and Glendalough region, it is easy to see why the area has been cast as a setting for numerous Hollywood films.
You can drive south from Dublin along the coastline through the towns of Enniskerry and Greystones before making your way up through the mountains towards Glendalough.
The entire loop from Dublin and back is 170 km (106 miles). Must-see stops on this drive are Sally Gap, Glendalough, and Lough Tay.
READ MORE: If you prefer a trip on the train, then you may appreciate our article on the 10 most beautiful and scenic train journeys in Ireland
5. The Copper Coast, Co. Waterford – explore Ireland's Ancient East
The Copper Coast scenic drive is 166km (100 miles) in length and is definitely one of the scenic drives in Ireland that should be on your bucket list.
You can start this drive in Dungarvan, County Waterford or Rosslare in County Wexford. Some of the best views are the Copper Coast European Geopark, Dunmore East, Hook Head Peninsula, and Tintern Abbey.
4. Atlantic Drive, Co. Mayo – one of the best drives in Europe
Recently voted one of Top Ten Road Trips in Europe by Condé Nast, the Atlantic Drive on Achill Island in County Mayo is not one to be missed.
You will enjoy the incredible scenery of Achill Island and Keem Bay. Plus the mountainous surroundings of Croagh Patrick, Clew Bay, and the Maamturks in Connemara. This is a drive everyone needs to experience.
3. The Ring of Kerry, Co. Kerry – one of Ireland's most well-known drives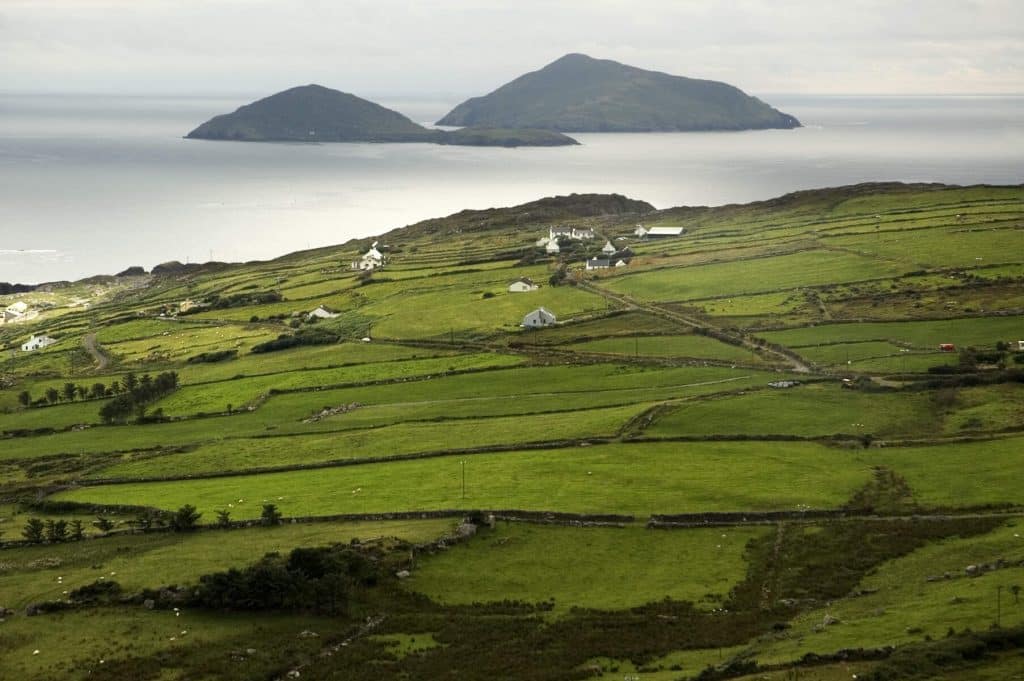 One of the most well-known drives in Ireland, the Ring of Kerry, certainly lives up to the hype as one of the most beautiful roads in the world.
This 179 km (111 miles) long drive takes you through the stunning scenery of Kerry's Iveragh Peninsula on a looped trail beginning and ending in the town of Killarney.
The best bits of this drive are Killarney National Park, Kenmare, and the Skellig Islands, to name a few.
2. The Causeway Coastal Route, Co. Antrim – for Northern Ireland's iconic tourist trail
Stretching 212 km (130 miles) along the north Antrim coastline from Belfast to Derry is the mythical Causeway Coastal Route.
Home to some of Northern Ireland's most iconic tourist attractions, including the Giant's Causeway, Dunluce Castle, and Mussenden Temple, the Causeway Coast is not to be missed.
1. The Wild Atlantic Way, Co. Donegal to Co. Cork – Ireland's most iconic tourist trail
Perhaps the most famous of the scenic drives in Ireland that should be on your bucket list is the Wild Atlantic Way.
This drive stretched an astounding 2,500 km (1,553 miles) from Malin Head, County Donegal in the north to Kinsale, County Cork in the south. Driving Ireland's iconic tourist trail will take you through nine counties and along some of Ireland's most breathtaking coastal paths.