Whether you're trying to impress a date, or eating out for a special occasion, dinner with a view will always be a winner. Here are the top ten restaurants with a view in Northern Ireland, ranked.
Northern Ireland is home to some fantastic scenery. And what better way to enjoy that scenery than over a delicious meal?
Time it right, and you could be enjoying a beautiful sunset while eating your dinner.
Or maybe you'd rather the boats come back and forth at one of the country's harbours?
Whatever you'd prefer, there's something for everyone.
So, for the next time you fancy trying out a new place to eat, here are the top ten restaurants with a view in Northern Ireland.
10. Entrada, Derry – for the best views in Derry
Opened in 2016, Entrada has definitely made an impression on Derry's foodie scene.
Overlooking the River Foyle and Derry's famous Peace Bridge, a meal at Entrada offers guests some of the best views in the city.
Recognised as the 'go-to' place for a steak in the city, the food at Entrada is also sure not to disappoint.
Head Chef Barry O'Brien prides himself on his unrivalled menu made up of locally-sourced ingredients.
Address: Custom House St, Queens Quay, Londonderry BT48 7AS
9. Harrisons of Greyabbey – for a beautiful outdoor terrace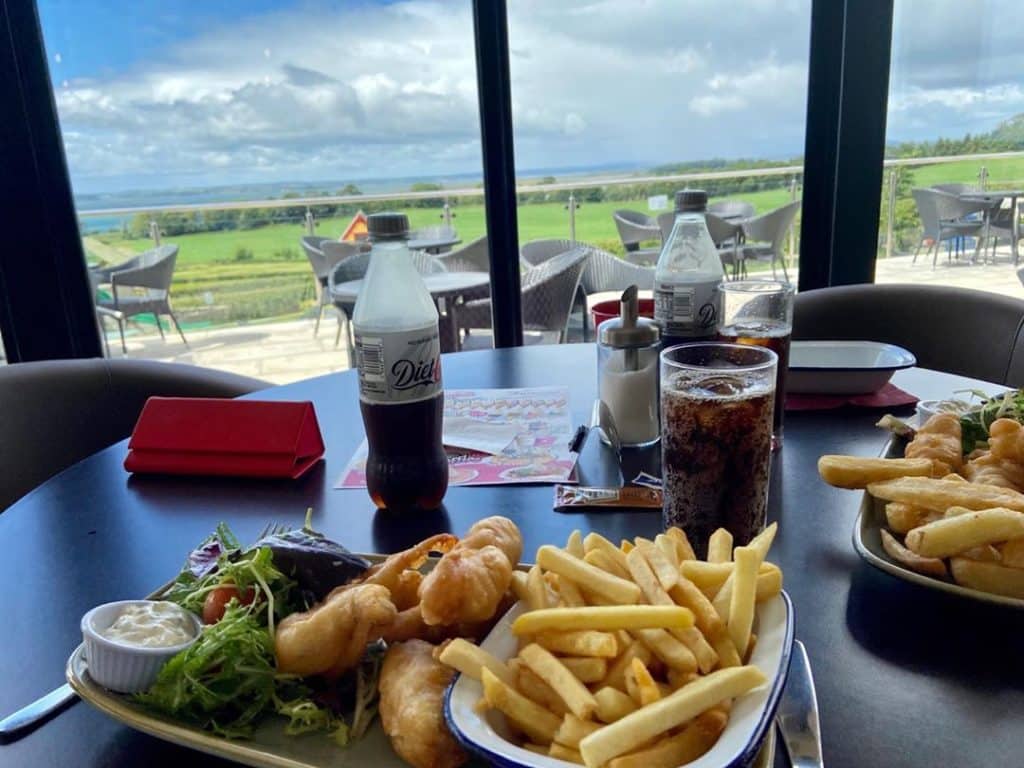 Tall windows and an outdoor terrace means there are no bad seats in Harrisons of Greyabbey on the Newtownards Peninsula.
Diners can delight in magnificent views out over the County Down countryside and Strangford Lough while enjoying a delicious menu full of great comfort food.
Address: 35 Ballybryan Rd, Newtownards BT22 2RB
8. Jamaica Inn, Bangor – for looking out over Belfast Lough
Boasting an eclectic menu of modern and classic dishes, as well as a buzzing atmosphere with live music, Bangor's Jamaica Inn is definitely one of the best restaurants with a view in Northern Ireland.
Looking out over Bangor seafront and Belfast Lough, guests can enjoy a delicious meal in an idyllic location.
Address: 188 Seacliff Rd, Bangor BT20 5HA
7. Basalt, Portrush – for enjoying a beautiful sunset
The most recent addition to Portrush's ever-popular restaurant group, Ramore, Basalt in Portrush is a must.
Located on the top floor of the Ramore complex, a meal in Basalt offers some of the best views in Portrush. Guests can enjoy Ramore dishes while looking out over Portrush harbour, town, and seafront.
Check what time the sunset is and time your meal so you can take in the stunning sight of the sun setting over the cliffs in the distance.
Address: 1 Harbour Road, Portrush BT56 8DF
6. Holohan's at the Barge, Belfast – for a unique dining experience
One of Belfast's most unique restaurants, a meal at Holohan's at the Barge is sure to be an unforgettable experience.
Diners can enjoy fantastic views out over the River Lagan and the surrounding area – you can even see Belfast's tallest building – while enjoying a delicious meal inside a converted barge.
We'd definitely recommend Holohan's at the Barge if you're looking to impress on a first date.
Address: 1 Lanyon Pl, Belfast BT1 3LG
5. Daft Eddy's, Killinchy – for great views over Strangford Lough
This family-run restaurant in Killinchy is a must. It not only offers a delicious, innovative menu, but guests can also enjoy unrivalled views of Strangford Lough from the terrace.
The menu is made up of the best local and seasonally available produce so, if you're a seafood fan, you will have plenty to choose from.
And, if you're not, don't worry because there are lots of other great options too!
Address: 1 Sketrick Island, Killinchy, Newtownards BT23 6QH
4. Tides, Portrush­ ­– for the best views on the Causeway Coast
This two-storey restaurant, on the road between Portrush and Portstewart, offers some of the best views on the north coast.
A sister restaurant to Newbridge in Coleraine and Urban in Portrush town centre, Tides is a firm favourite with tourists and locals alike.
Offering a casual dining experience and a menu that features everything from steak to salmon to goats cheese tarts and more, this is a great place to head for dinner with the family.
Address: 21 Ballyreagh Rd, Portrush BT56 8LR
3. The Dirty Duck Alehouse, Holywood – for a traditional pub experience
This classic pub in Holywood offers live music, international dishes, and incredible panoramic views over Belfast Lough.
During the winter months, diners can cosy up and enjoy the great food and pints in front of an open fire while taking in the stunning views through the restaurant window.
In the summer, head to the beer garden for a relaxing afternoon and catch-up with friends.
Address: 2-4 Kinnegar Rd, Holywood BT18 9JN
2. The Percy French, Newcastle – where the mountains sweep down to the sea
It doesn't get much better than enjoying a delicious meal with the Mourne Mountains that 'sweep down to the sea' as your backdrop.
Located right on the seafront, at the Percy French in Newcastle, guests will be treated to fine cuisine as the restaurant is part of the prestigious Slieve Donard Resort and Spa.
Address: Slieve Donard Resort & Spa, Downs Rd, Newcastle BT33 0AH
1. The Observatory at Grand Central Hotel – for the best views in Belfast
Number one on our list of restaurants with a view in Northern Ireland has to be the Observatory at Grand Central Hotel – Belfast's tallest hotel.
Although it's a bit pricey, its an experience well worth indulging in as you'll be treated to delicious food, cocktails, and unrivalled panoramic views out over the Belfast skyline.
Address: 9-15 Bedford St, Belfast BT2 7FF