Irish people love to eat, but they also love a decent view, so here are our top ten restaurants with a view in Dublin.
Dubliners are fortunate to have a huge variety of restaurants in the city and surrounding area. They are even more fortunate to have a vast choice of restaurants that don't just offer great food, but stunning views too.
Dublin is home to a long stretch of beautiful coastline, the Dublin Mountains, and a great view of Dublin City itself, which is something not to be sniffed at, especially at night.
We know it's always a tough decision to make, deciding where to eat out in Dublin, so we have created an epic list of our top ten restaurants with a view in Dublin to give you the best of both worlds. Let's take a look.
10. The Baths at Clontarf – it's like dining on a cruise ship
This family restaurant offers casual dining with many healthy options.
It also provides a great view of the famous Clontarf Baths, which were initially opened in 1886.
Address: 123a Clontarf Rd, Clontarf, Dublin
9. Locks, Portobello – fine dining overlooking the canal
Whether you prefer the intimate dining upstairs or the social buzz of being downstairs, Locks in Portabello is an excellent option for both.
A super popular restaurant with both locals and visitors, you can't go wrong with dinner here.
Address: 1 Windsor Terrace, Portobello, Dublin 8, D08 HT20
8. The Winding Stair – one of the best restaurants with a view in the heart of Dublin
Overlooking the River Liffey and the bustling streets below, this casual and cosy establishment is a perfect spot to enjoy dinner, a glass of wine, or even a cup of coffee and a slice of cake during a shopping break.
Don't forget to check out the bookshop downstairs!
Address: 40 Ormond Quay Lower, North City, Dublin 1, D01 R9Y5
7. MV Cill Airne, North Wall Quay – dinner with a difference
MV Cill Airne is a restaurant with a difference. This renovated vessel offers sensational views right on the water at Dublin's North Wall Quay.
It has a maritime style bar and deck seats, which offer the perfect location to eat on a sunny day.
Address: Quay 16, N Wall Quay, North Dock, Dublin 1
6. Fallon and Byrne, Dun Laoghaire – set in a Victorian seaside building
Overlooking the People's Park in Dun Laoghaire, just steps from the ocean, Fallon and Byrne is in an idyllic location for a delicious meal.
Diners can enjoy sea views over dinner, then head off for a relaxing stroll along the promenade.
Address: The People's Park, Park Rd, Dún Laoghaire, Dublin
5. Johnnie Fox's Pub, Glencullen – traditional food and an almighty view
If you want a panoramic view of the beautiful Dublin surroundings and the Wicklow mountains while enjoying some traditional Irish stew, seafood chowder, and a creamy Guinness, you need to go here.
Offering some of the best views in Ireland, it's no wonder it's so popular with tourists and locals alike.
Johnnie Fox's Pub just had to make it onto our list of restaurants with a view in Dublin.
Address: Glencullen, Co. Dublin
4. Kinara, Malahide – gaze out to the ocean
If you like Indian food and views to die for, you need to head to Kinara. This incredible restaurant overlooks the fabulous area of Clontarf and Bull island.
Address: 318 Clontarf Rd, Clontarf East, Dublin 3, D03 R522
3. Aqua Restaurant, Howth – gaze out to the Irish sea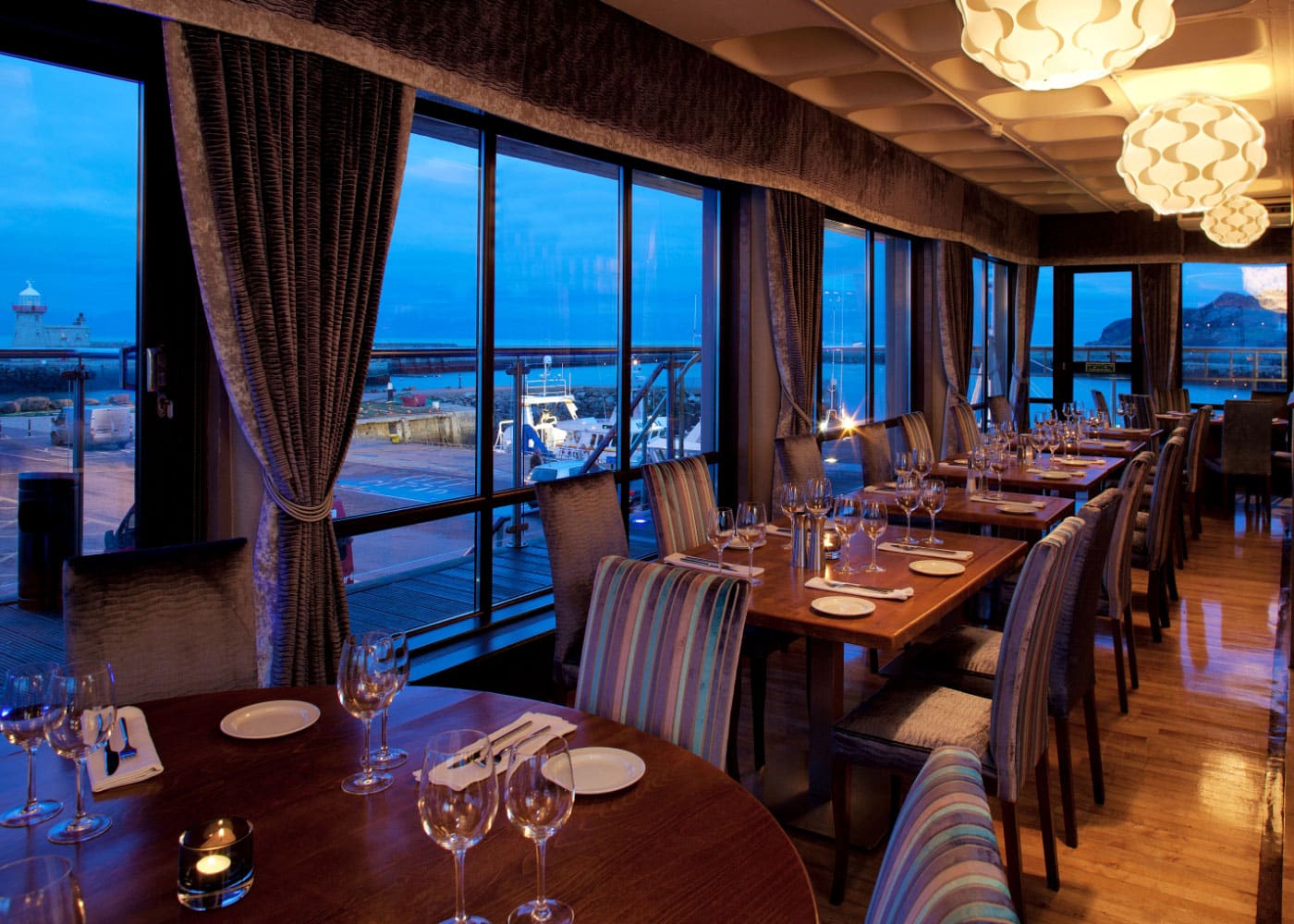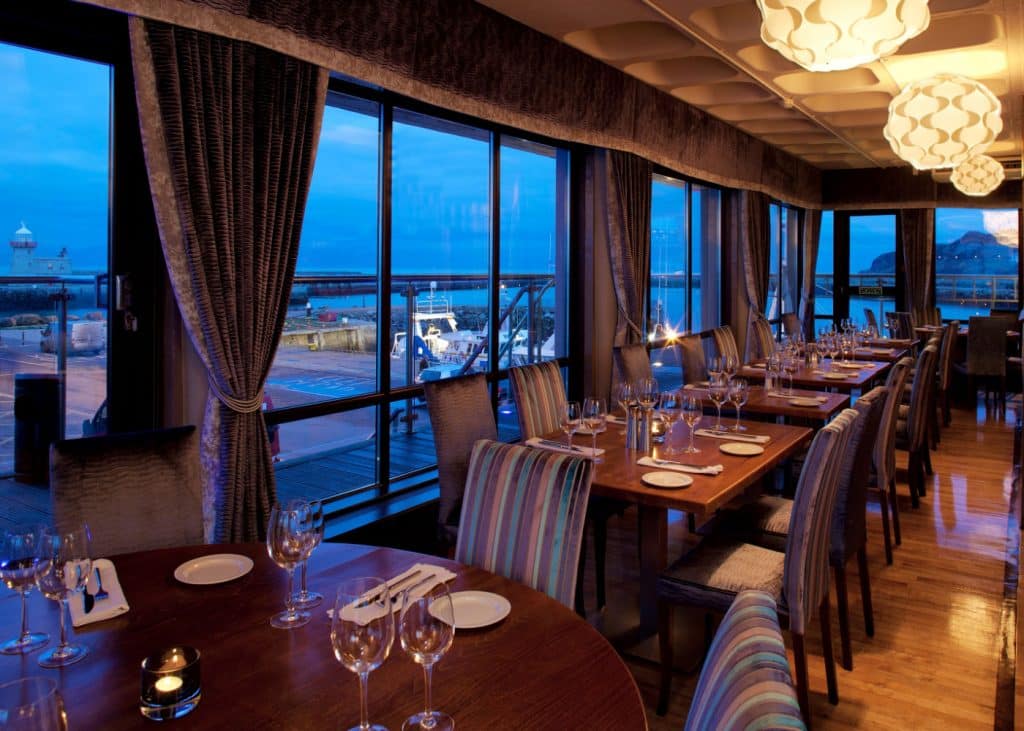 Overlooking Ireland's Eye and the beautiful coastal village of Howth, Aqua is the place to go for spectacular views and great seafood fresh from the Irish Sea.
Address: 1 W Pier, Howth, Dublin 13
2. Sophie's, Harcourt St – for great city views and delicious cocktails
Head on up to this epic rooftop restaurant and bar to enjoy some delicious cocktails, brunch, or a slap up meal.
As well as great food and drinks, diners at Sophie's can also enjoy a 360-degree view of the city.
Address: 33 Harcourt St, Saint Peter's, Dublin 2
1. Charlotte Quay, Ringsend Rd – Irish food with a Mediterranean twist
Set on the beautiful riverside, this incredible restaurant and bar is the ideal spot for dinner and cocktails as the city lights up around you.
Located in Dublin's modern Grand Canal Dock, Charlotte Quay had to be number one on our list of restaurants with a view in Dublin as it offers a superb atmosphere and the best cocktails around.
Address: Charlotte Quay Dock, Millennium Tower, Ground Floor, Ringsend Rd, Dublin
There are plenty of restaurants with superb views in Dublin City and the greater Dublin area.
So whether you prefer mountain views with traditional Irish food, or a classy brunch and cocktails with friends in the heart of the city, you have a massive variety of places to go.