There is a new destination on everyone's bucket list. Today, we are here to give you the scoop on why Cashel is Ireland's next must-visit destination.
People visit Ireland for many reasons, including the Irish culture, epic landscapes, and the vast history and heritage, all of which the area of Cashel in County Tipperary has.
If you are looking for a reason to visit this fantastic spot in Ireland, we can give you at least ten of them. This is an up and coming place full of activities and many places of interest, so this is your one-stop-shop for an epic Irish experience.
Here are ten reasons why Cashel is Ireland's next must-visit destination. Be prepared to be inspired!
10. Hotels ‒ the perfect place to stay
Visitors are spoilt for choice with accommodation options here, with various B&Bs, hotels, hostels, guesthouses, and luxury resorts of all ranges to choose from.
Not to mention the exciting new Cashel Palace Hotel opening this spring.
9. The local pubs and restaurants – the best place to dine
Cashel is well set up to feed and quench the thirst of anyone that stops by, and that is what makes it so welcoming.
You will find an array of well-priced pubs and eateries to choose from here, in the middle of all the sightseeing there is to do.
8. Cashel Heritage Centre and Museum – uncovering Irish history
This award-winning heritage centre, including a fantastic museum, is a great place to start when visiting Cashel. It has a craft shop selling local crafts and a tourist office, making it so accessible for anyone visiting the area.
The fact that it is so well set up here means that we can't deny that Cashel is Ireland's next must-visit destination.
7. Cycle or paddle the Suir Blueway – getting active
Cashel is not far from the River Suir, home to the Suir Blueway Tipperary.
This fantastic trail has 21 km (13 miles) of cycle paths and 53 km (33 miles) of waterway routes to take on if you are feeling adventurous.
Address: Co. Tipperary
6. St John's Cathedral – inspiring architecture
The Georgian architecture of this historic cathedral will impress you, and even though it was closed to worshippers in 1721, it is a great place to discover and, of course, admire for its vast history.
This is one of the main reasons why Cashel is Ireland's next must-visit destination.
Address: Saint John's Cathedral, John St, St. Francisabbey, Cashel, Co. Tipperary
5. Cashel Folk Village – the museum with everything
This small but epic museum is a spot that travellers and locals love to stop off when in Cashel.
It has artefacts from various events over the years, including the 1916 Easter Rising, The Great Irish Famine, Irish Civil War, and many more.
It is truly a one-stop-shop for anyone looking to learn more about Irish history and heritage.
Address: Dominic St, St. Dominick's Abbey, Cashel, Co. Tipperary
4. St Declan's Way – the Holy pilgrimage
One of the main reasons why Cashel is Ireland's next must-visit destination is because it is where the St Declan Way ends.
The pilgrimage route links Cashel in County Tipperary to Ardmore in County Waterford and follows the route that St Declan took to meet St Patrick in the fifth-century.
Address: Rock of Cashel, Rock Ln, Moor, Cashel, Co. Tipperary
3. Bru Boru Cultural Centre – home of the arts
This cultural centre has so much going on, from theatre performances to music events. It even provides much information on the area and promotes Irish traditional music, song, and dance.
Cashel was recently named one of the 'coolest places to go in the next ten years' by Forbes Magazine, so we recommend visiting before everyone else catches on to the secret of this town.
Address: Moor, Cashel, Co. Tipperary
2. Hore Abbey – a fantastic heritage site to see
These ruins of the Cistercian Monastery are close to the Rock of Cashel. They are definitely one of the reasons why Cashel is Ireland's next must-visit destinations.
Not only does this historical site date back to 1270, but the distinction of this one, in particular, is that the cloister lies to the north, making it unique in that sense.
Address: Rock House, St Patricks' Rock St. Patricksrock, Cashel, Co. Tipperary
1. The Rock of Cashel – an Irish icon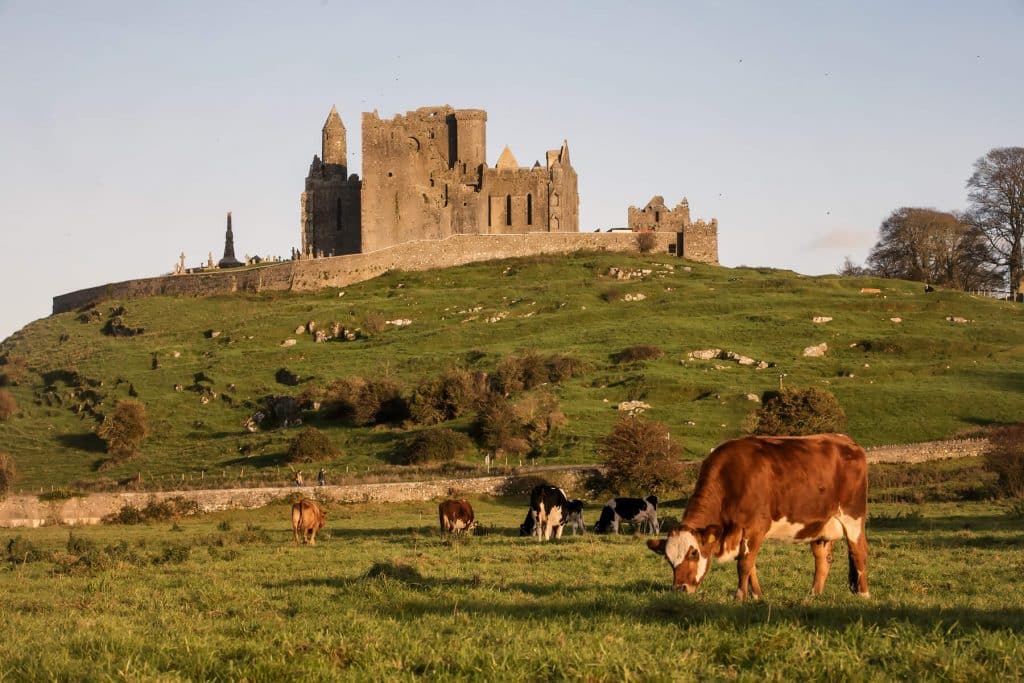 This famous historic site is one of the biggest attractions in the country and attracts many tourists both internationally and locally, all year round.
This is one of the most spectacular historical sites in Ireland and includes the iconic rock topped with an array of medieval buildings with historical significance. This should not be and most likely won't be missed on any trip through Cashel.
Address: Moor, Cashel, Co. Tipperary