Here's our list of the top 10 pubs and bars outside Belfast city centre where you need to stop for a pint.
Belfast's pubs and bars can be crazy busy at the best of times, especially on the weekends. If you're visiting this beautiful city and fancy a quiet pint outside the hustle and bustle of the city centre, or if you fancy somewhere a bit different, then don't worry — we've got you covered.
Read on for our list of the ten best pubs and bars outside Belfast City Centre!
10. Cassidy's – an old-fashioned pub with interesting décor
Boxing gloves, Irish scarfs, flags, and more adorn the walls of Cassidy's. It has a real homely feel and serves a killer pint of Guinness, with some of the friendliest barmen you'll ever meet.
The breakfast here is raved about by all who try it (us included), so make sure if you happen to be visiting here early that you give it a go!
Address: 347 Antrim Rd, Belfast BT15 2HF
9. McCartan's Fort Bar – for a pint in a traditional Irish pub
If a pint and a bit of craic in a traditional Irish pub are what you're after, then look no further than McCartan's. This place has an excellent friendly and cosy atmosphere — it's good vibes all around when you enter.
If you feel up to some karaoke at McCartan's, you're more than welcome to give it a go. Feel free to unleash your inner Cher.
Address: 25-27 Springfield Rd, Belfast BT12 7AB
8. The Playwright Liquor Lounge and Taphouse – for good tunes and beer
You'll find lovely staff and great (cheap!) cocktails at this bar. When the warmer weather comes in during the summer months, you'll more often than not find us in the outside seating area kicking back with a Corona.
Shoutout to the local musicians who play here, also. It always makes for a good night out.
Address: 5, 6 Lower Cres, Belfast BT7 1NS
7. The Errigle Inn – for a cosy pint
This quaint pub by the Ormeau Road is perfect for a few beers with friends in a comfortable and warm environment. The prices here are very reasonable as well, so if you fancy more than just a few, by all means go ahead!
The Errigle Inn shows live sports on their big-screen TVs, meaning you can keep up to date on all the footy and sporting action.
Address: 312-320 Ormeau Rd, Belfast BT7 2GE
6. The Parlour – an excellent student bar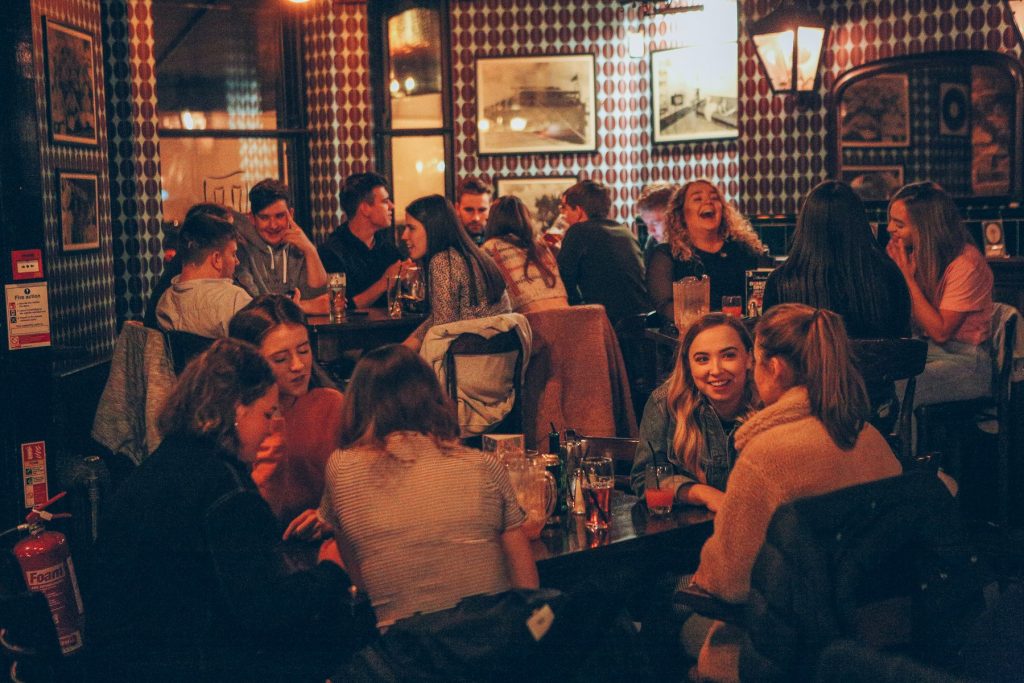 The Parlour always promises a good night out. It's a lively student bar with fantastic drink promotions and live DJs. It's a retro, 1930s-style bar which adds to the already exciting atmosphere.
If you start to feel a bit peckish while here, Parlour excels at making wood-fired pizzas, they go down a treat after a few drinks and the prices are all very reasonable — what more could you want?
Address: 2-4 Elmwood Ave, Belfast BT9 6AY
5. The Stokers Halt – great live music and draft beers
This multi-level watering hole offers a familiar pub menu and great views of the street outside. The beers are served ice-cold, and the staff are amazingly helpful. You'll be able to enjoy a selection of handcrafted ales and lager at The Stokers Halt — something we wholly recommend.
Address: 195-199 Upper Newtownards Rd, Belfast BT4 3JB
4. Horatio Todd's – for a lovely ambience
This beautiful pub and restaurant is located on Belfast's Upper Newtownards Road. It offers some great cocktails and fantastic European food, and the fact that it's not found in the city centre means that it's perfect for a quiet drink and bite to eat (assuming you don't arrive on a Friday or Saturday night) in a comforting atmosphere.
Address: 406 Upper Newtownards Rd, Belfast BT4 3EZ
3. Devenish Bar & Restaurant – a great pint of Guinness 
This bar has such a great mix of fantastic food and delicious beer. You cannot go wrong with a visit to Devenish. Staff are attentive and helpful, the atmosphere is always lively, and the regular sports screenings put the cherry on top for us.
Come here if you fancy an excellent pint of the black stuff (Guinness), or a huge, tasty cocktail.
Address: 33-37 Finaghy Rd N, Belfast BT10 0JB
2. The Poet Bar and Grill – great drinks and delicious food
Providing excellent food, drinks, and entertainment, The Poet is a must for anyone looking for mouth-watering grilled foods and a top-class cocktail menu. This place has such a beautiful setup; it's like the entire bar is one big Instagram picture. We can't recommend it enough.
Address: Kings Square, Belfast BT5 7EA
1. McEnaney's – for the best atmosphere in Belfast
You can't go wrong with a visit to McEnaney's. They knock it out of the park every time with their amazing traditional Irish pub atmosphere and fantastic drink selection. It's a great place to kick back and relax with a pint and watch the world go by.
With the friendliest bar staff we've ever experienced, great food, and a lovely atmosphere—this place easily takes the number one spot on our top 10 best pubs and bars outside the city centre.
Be sure to visit McEnaney's if you're looking a great atmosphere, it's one of our top bars outside Belfast City Centre that you need to try. You can thank us later.
Address: 1 Glen Rd, Andersonstown, Belfast BT11 8BA
Get featured on Ireland Before You Die
Do you want to get your Irish business more online exposure? Especially to those interested in travelling the best places in Ireland? Then why not get a dedicated feature on Ireland Before You Die. Find out more 
here.