Tipperary seems to have one time have been a county that was the hub of ancient architecture as it is now littered with castles and ancient buildings. It is a beautiful country with lots to see and do. Here is our top 10 places you should visit in Tipperary.
10. Roscrea Castle and Damer House
Originally it was wooden and built for protection purpose in Motte and Bailey style but in 1281 the castle as it stands today was rebuilt. It contains a gate tower, two corner towers and curtain walls.
Originally the tower was erected at the edge of Lake Cré, which has since been drained. Over the years is has been served as a school, sanatorium and military barracks. its architecture is pre-Palladian which is very rare in Ireland and contains a refurbished mill, original St. Cronan's high cross and pillar stone, a stunning central staircase and carved stone entrance.
9. The Swiss Cottage
This cottage is a beautifully constructed "Cottage Orné" built in the 1800. It houses a stylish spiral staircase and detailed Parisian wallpaper manufactured by the Dufour factory. Its sole purpose was for the use of the Lord and Lady Cahir when entertaining their guests.
Thankfully this scenic cottage is open to public and offers a guided tours approximately 30-40 minutes in duration. The cottage was taken over by the state 20 years ago and was in despair at the time.
8. The Galtee Mountains
This is a beautiful landmark stretched across Ireland's Golden Vale and stands at 3,009 feet. When traveling these mountains you see beautiful Corrie lakes including Lough Musky, Lough Curra, and Lough Bohreen. Nestled between this stunning region is a secluded valley known as Glen of Aherlow. Here you will find holy wells such as St Pecaun's Holy Well and St Sedna's Well in Clonbeg Churchyard.
7. Cashel Palace Hotel
This is a famous historical building due to its architecture. It dates back to 1730 and is now a hotel situated on approximately 25 acres It is classified as a cross between an Early Georgian and Queen Ann style with unusual features such as a red brick setting to the front and limestone at the posterior.
Beautiful gardens lie at the rear of the building and there are charismatic mulberry trees dating back to 1702. Luckily one can now stay here and embellish the historical ambiance.
6. River Suir
Surprisingly tucked away in Tipperary, in the centre of Ireland, is one of the country's best fishing grounds. The waters are still, banks are wide and there is endless flow of salmon and trout. Fishing here is so popular that there is a fishing visitor center where tourists can buy a day permit for fishing, this makes it perfect for the novice Fisher or even someone who has never done it before.
5. Cahir Castle
This is one of Irelands largest castles. It was built in 1142. It's a well-preserved castle and retains its original defensive structure. It has been the site of bombings and attacks for centuries. It has also appeared the historical fiction television series 'the Tudors' and in 1981 the battle scene in the film 'Excalibur' was filmed here.
4. Knockmealdown Mountains
Located in South Tipperary with the highest peak of only 794 metres. It is next to Sugarloaf Hill which gives you an added climbing attraction. The mountain is a very easy walking/climbing stretch for tourists given that there are no lakes, corries, deep glens or cliffs. Due to the extremely rich coverings of greens/flowers and the ease of climbing you feel like your simply walking around a garden.
3. St Patrick's Well
At the centre of this small lake in a picturesque valley, you can find a weather-beaten Celtic Cross descending from the early Christian era. You will then notice a large volume of spring water constantly rises from underground. There is a church at the site which dates back to the seventeenth century and within the walls of the church lies the remains of Nicholas White of Clonmel who died in 1622. One cannot help but feel a sense of mystery here as your imagination is evoked.
2. Loughmoe castle
Located in the centre of Tipperary is a castle in ruins that has first built in the 15th century. The castle has no visitor center or guided tour. It is simply left there abandoned for hundreds of years, perfect for the off the beaten track tourist.
The sheer size and intrinsic structures within and outside of the castle are so spectacular that you wonder why nothing has been done to restore it. The castle was the seat of the Purcell family. One story tells of a king who lived here that put his daughter's hand up for marriage for the man who could kill the gigantic boar from the nearby forest.
1. Rock of Cashel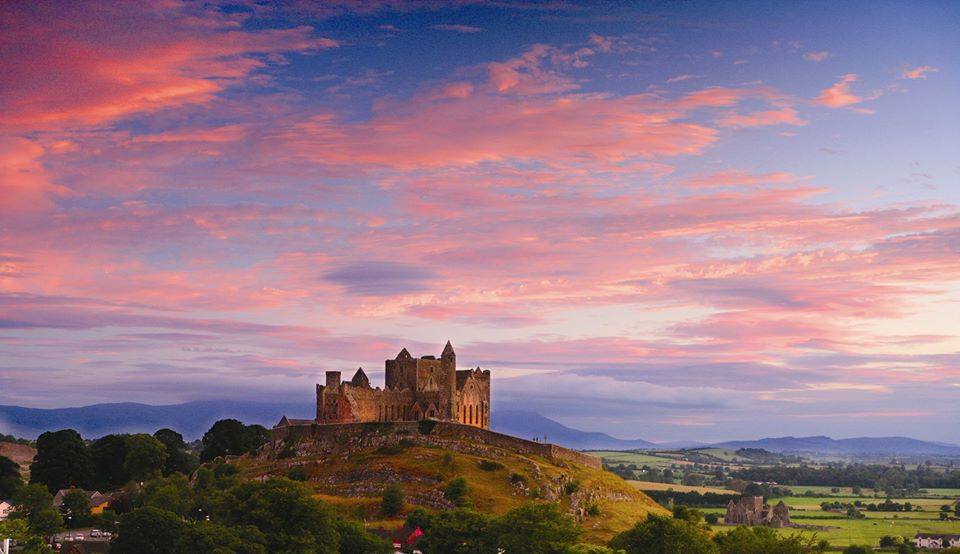 Here you find a collection of Medieval limestone buildings that are situated on a hill that was once resident to the Kings of Munster. It lies within the 'Golden Vale', known for its quality fertile land. It dates back to the 12th century.
Visitors come to admire the beautiful round tower, Romanesque chapel and gothic cathedral. However out of all these the most impressive is the remains of Romanesque frescoes dating back to 1134.
Note: our travel articles should be used only to plan future trips. Please stay at home until the government has advised otherwise.